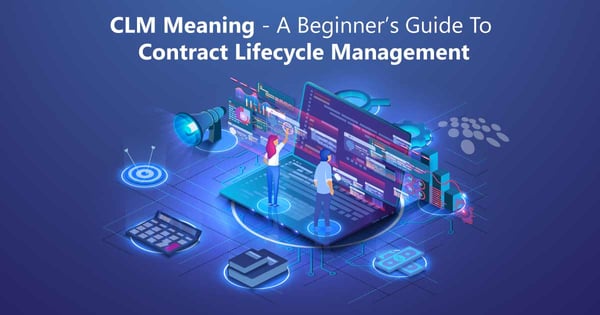 You may have seen or heard the term CLM tossed around in conversations and online. However, perhaps you do not have a comprehensive understanding of what it truly means. Contract management professionals, including general counsel and paralegals, should gain at least some conversance with CLM and how digital contract management software tools can be leveraged for success in contract lifecycle management. Read on to discover an introductory overview of CLM.
CLM Meaning
CLM means contract lifecycle management. Moreover, CLM software digitally unifies contract lifecycle management processes from contract requests through renewals in a centralized system – either web-enabled or deployed - that can include eSourcing and eProcurement tools for source-to-contract lifecycle management success. Leading CLM software unifies people, processes, and technology for streamlined contract lifecycle management processes.
Contract Requests
CLM software can help you automate contract requests that offer dynamic questionnaires and user-friendly intake forms to help delineate the type of contract request. Automated alerts and ad-hoc reporting features can help expedite contract requests that can be seamlessly ushered into the contract authoring stage. Without automated contract requests with the help CLM software, your contract management processes could be off to a rocky start.
Contract Authoring
Contract authoring requires language, formatting, counterparty information, milestones, key dates, and other crucial components. You can automate contract authoring procedures with the help of pre-approved contract templates and clauses from a secure language library, thorough version tracking, and rules-based authoring permissions from within a centralized CLM software. Without automated contract authoring tools, your internal stakeholders can find themselves disorganized and frustrated – especially when undesignated personnel inadvertently involve themselves in the contract writing processes outside of their expertise or permissions.
Discover how artificial intelligence with machine learning can help improve contract language and manage overall CLM risk.
Contract Negotiations
CLM software can help automate contract negotiations with complete version control, document collaboration, rules-based clause ownership, robust contract oversight with tracked changes, and more. While contract negotiations can take their necessary time, automating contract negotiation steps where possible allows you to focus more on contract content strategy.
Contract Approvals
Contract approvals require gathering confirmations from all necessary stakeholders before signing. Chasing down stakeholders via phone or other manual processes can prove inefficient. Fortunately, CLM software offers a contract eApproval that supports comprehensive audit trails to gather decisions from counterparties, including approvals and rejections – all within a centralized CLM system.
Contract Signatures
E-signatures can make online contract signatures a breeze. CLM software allows you to sign in the office or on the go with a mobile device and suitable Wi-Fi, especially with the help of an industry-leading CLM software mobile app, which can equip you to gather signatures from necessary stakeholders in record-time. A digital signature secures a signature's dates and time to demonstrate that it remains untampered with thereafter - reducing the need for a licensed notary.
You can request bulk eSignatures from a plethora of stakeholders with a few clicks. With the ability to request third-party signatures via email, stakeholders can quickly access requested documents to sign - without needing to download a specific program. Within a highly secure online signing portal, you can track the status of fully executed and partially executed signed documents – all while retaining your signatory records in a centralized CLM location.
Discover how CLM software can help you streamline your contract signing processes in the video below.
Contract Obligations
Managing contract obligations can be cumbersome when manually tracking what was agreed upon, which can cause you to waste time rereading contracts to sift through contractual obligation details.
Thankfully - you can remain abreast of timely obligations with the help of automated CLM software contract obligations - such as crucial task alerts, date awareness, virtually real-time obligation status reports, milestone tracking, dynamic graphical dashboards for optimized contract obligation oversight, and more. Rather than trapping contract obligations in static documents and allowing them to linger in the ethers of your mind, you can automate contract obligation tracking in a centralized location – freeing your mind to focus more on CLM strategy.
Contract Compliance
Manually reporting and auditing contract compliance with tools such as spreadsheets can be cumbersome. Fortunately, CLM software offers advanced auditing and reporting features - including visually engaging graphical dashboards - to help retain optimal contract compliance oversight within your organization and with external stakeholders - including DBE tracking for substantial supplier diversity, OFAC, and HITRUST. Leading CLM software offers robust contract compliance auditing and tracking features such as:
highly-configurable dashboards for prioritized contract areas of compliance.

ad-hoc reporting

for user-defined reports that can be exportable to MS Excel.

an online report designer tool to configure compliance report layouts which can be exported to multiple file types.
Contract Renewals
Without automated CLM software renewal tools, you can find yourself blindsided by a sudden renewal or miss anticipatory processes in maximizing your contracts' renegotiations. Automated contract renewal features - such as calendar alerts, opportunity realization options supported by artificial intelligence, clear audit trails for viewing approaching renewal dates, and readily available contract re-drafting features – can help you streamline the contract renewal process with confidence, empowering you with the foresight and knowledge you need to renegotiate effectively with counterparties.
CobbleStone Contract Insight® - Your Go-To CLM Software Solution
Streamline your CLM processes efficiently and effectively with CobbleStone Contract Insight - an end-to-end contract lifecycle management software solution, equipped with the necessary future-minded contract management tools that can help automate your CLM workflow.
CobbleStone's trusted, award-winning, fully integrated CLM software streamlines the contract management process with optimal governance, reduced friction, and high flexibility from contract requests to renewals. CobbleStone Software has been a visionary leader in CLM software for over twenty years. CobbleStone's user-friendly, robust, and scalable solution seamlessly integrates with mission-critical applications for unified and seamless contract management. It's no wonder why Forrester names CobbleStone a Leader in CLM software!
Discover why thousands of contract managers trust CobbleStone Software with their contract management needs. To learn more about CobbleStone's unparalleled contract management software, book a free demo with a CobbleStone Contract Insight expert today!
Are you interested in future-minded contract management software tools? Read 6 Critical Contract Management Tools for 2021 to learn how to leverage industry-leading CLM software tools for streamlined, user-friendly, and low-friction contract lifecycle management success!
To stay up to date on best practices, industry news, and CobbleStone Software updates, be sure to subscribe to our blog and YouTube Channel.