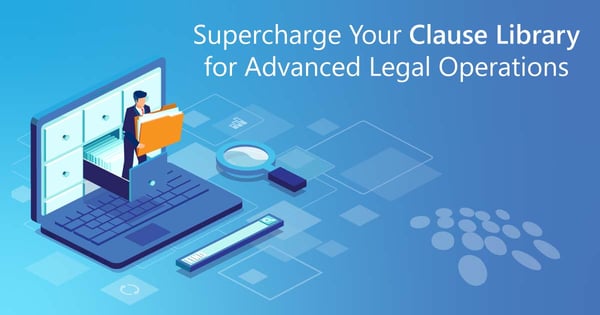 Clause libraries have proven incredibly useful for advanced legal operations and contract lifecycle management – if appropriately implemented. Unfortunately, your organization can mismanage your clause library with antiquated technology, manual clause tracking and clause storage, and the lack of an expeditious way to leverage clauses during contract authoring and contract negotiation. Luckily, you can supercharge your clause library with user-friendly and robust contract management software. Here's how.
Clause Library
A clause library is a repository of pre-approved template clauses that your organization can leverage during contract lifecycle management to improve and streamline contract authoring and contract negotiation. A clause library can save your organization valuable time, reduce the risk that arises from contract drafting errors, optimize contract efficiency and contract performance, and much more.
Robust contract management software can provide an incredibly secure contract clause library and various tools to streamline clause management.
Your Clause Library: A Centralized and Secure Repository
A user-friendly clause library within leading contract management software can equip your organization with a centralized repository to store virtually unlimited standard clauses, pre-approved clauses, alternative clauses, fallback clauses, and others. You can utilize this secure contract clause library for various purposes, including highly configurable, rules-based clause inclusion during the generation of new document templates. You can also leverage your clause library as a repository of contract language for improved contract negotiations. This contract language repository can allow contract approval personnel to easily access and insert standard and alternative clause language as redlines. Advanced CLM solutions, such as CobbleStone Software's contract lifecycle management software suite - CobbleStone Contract Insight® – can allow you to either bulk import or add clauses on a one-off basis as needed.
Streamlined Clause Merging
Your organization can also leverage its clause library within trusted contract management software to dynamically merge contract data fields with clauses from its pre-approved clause library. With CobbleStone® - for instance - your organization can easily configure a centralized and secure clause library to promote the drafting of accurate, compliant, and timely contracts. Your team can manage a virtually unlimited number of templates and document versions with mergeable clauses and pre-approved contract data fields.
Your contract management software clause library can also be leveraged for specific or situational templates - such as templates utilized for FAR, DFAR, and GSA contracts. You can utilize CLIN management (contract line item number management) and the seamless insertion of line items into contract templates. You can swiftly export documents as standard files such as PDFs and MS Word documents. You can easily configure user permissions regarding clause library access, and you can even assign a clause owner who is notified whenever there is an attempt to insert or change the assigned clause.
User-Friendly Clause Insertion
Advanced contract management software solutions offer convenient and seamless integrations for clause library management. For instance, CobbleStone Contract Insight offers the CobbleStone PC Helper App within MS Word.
With the "Create Clause" button within the CobbleStone PC Helper App menu ribbon, you can easily add updated standard language to your organization's clause library.
For example, say you would like to add a standard renewal clause to your clause library. You would first provide the desired clause language.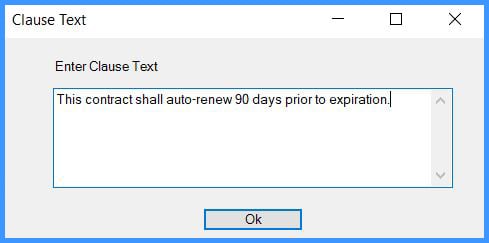 After you have entered the clause text, you can name your clause.

Presto! Just like that, your newly added clause can be easily accessed for inclusion. You can access your pre-approved clause library by clicking "Clause Menu" on the CobbleStone PC Helper App menu ribbon. From there, you can include clauses from your clause library within seconds! You simply need to locate your clause and click "Insert."
To streamline this process even more, clauses can conveniently be searched by type and keyword!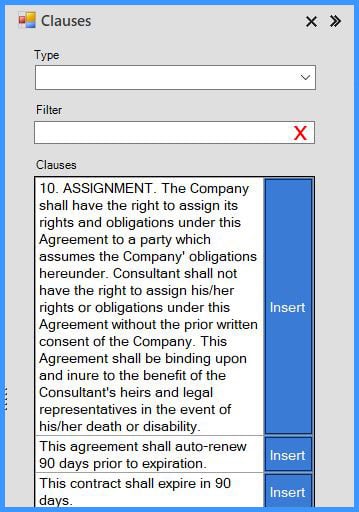 Optimize Your Clause Library With CobbleStone Software!
To supercharge your clause library for enhanced legal operations and unprecedented contract lifecycle management, you need a solution to automate clause management and secure your clauses. The only clause library that offers all of the tools mentioned above (and many more) is a clause library powered by CobbleStone Software.
CobbleStone Contract Insight is a seamlessly integrated contract lifecycle management software platform that has been trusted and selected by various contract management teams around the globe to assist them in meeting and exceeding their responsibilities. CobbleStone Software streamlines every stage of the contract lifecycle - including those involving clause management - with increased governance, decreased friction, and sky-high flexibility. CobbleStone has been a visionary developer of contract lifecycle management software for over 20 years – and continues to innovate CLM technology while garnering near-universal acclaim. CobbleStone's user-friendly, robust, and easily scalable solution seamlessly integrates with many mission-critical applications for centralized contract management. It's no wonder why Forrester names CobbleStone a Leader in CLM Software!
Discover why thousands of contract managers from a variety of industries trust CobbleStone with their contract management needs. To learn more about CobbleStone's unparalleled CLM software, book a free demo with a CobbleStone Contract Insight expert today!
To stay up to date on best practices, industry news, and CobbleStone Software updates, be sure to subscribe to our blog and YouTube Channel.