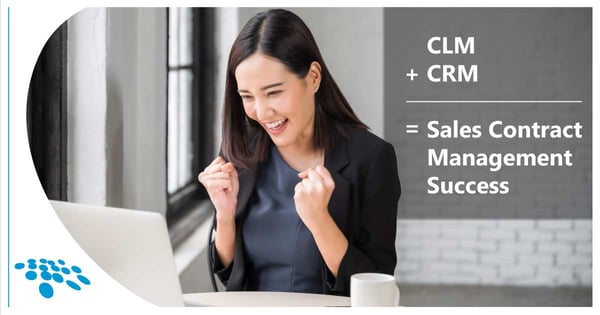 Managing your CRM (client relationship management system) separately from your CLM (contract lifecycle management system) can cause sales contract management bottlenecks - such as disorganization, miscommunication, and increased risk. Fortunately, leading contract management software can help you achieve sales contract management success by seamlessly connecting your CLM and CRM. Read on to learn how connecting your CLM and CRM can help expedite your sales contract management process by sharing relevant and timely information between sales and contract management teams efficiently – helping close sales deals quickly and track post-signature responsibilities effectively until renewal.

Sales Contract Management
Sales contract management is the process of vendors coordinating and finalizing an agreement with a client, based on an exchange of goods and/or services. Sales contract management involves pre-signature negotiations and post-signature obligations. Considering sales representatives track client history within a CRM and sales contracts within a CLM, strong sales contract management connects both systems for optimized oversight.
CLM Divorced From CRM in Contract Management
Divorcing your contract lifecycle management system and client relationship management system can create a recipe for miscommunication and delays. While CRM systems offer robust client history details, they can impose limits on file storage and limited document sharing flexibility. Moreover, separately entering and tracking sales contract management information within a CRM and a CLM can run the risk of deciphering inconsistent data by tracking contracts in various locations.
Once the sales contract has been negotiated and approved, it is in your best interest to make it as simple as possible for your new client to sign. However, many CRM platforms lack automated workflows to directly email a contract for signing. You would then need to email your client a PDF document for signing and then manually log the request and signature date within your CRM. As a more efficient alternative, you could directly email the approved contract for eSigning directly from your CLM which would track these interactions and provide user-friendly status-change alerts. However, this would then need to be re-logged within your CRM so that both systems share cohesive information. Inefficiencies, such as delayed signing that can reopen negotiations and missed post-award obligations, can cause you to lose sales opportunities and potential contract value.
Connecting CLM and CRM Systems for Sales Contract Management Success
Connecting CLM and CRM systems creates a recipe for effective and efficient sales contract management success. You can freely share sales contract management information between systems that helps close deals quickly and expedite sales contract management. Sales and legal teams can leverage pre-approved contract language, field merging, and clause merging for swift sales contract creation. After creating a sales contract, you can track internal and external changes during negotiations with detailed oversight, especially with the help of Microsoft Office 365 and Google Workspace connectors to cater to clients' negotiation platform preferences. Additionally, you can gather electronic approvals and eSignatures via email requests sent directly from a leading-edge CLM platform.
Sales contract management data can be shared between CLM and CRM systems, which helps reduce instances of duplicate data entry and inconsistent data between systems. Such seamless dialogue between CRM and CLM systems helps marry sell-side contract management with contract lifecycle automation. You can also leverage highly-configurable workflows with internal and external sales contract management stakeholders – including configuring post-signature obligation, compliance, and renewal alerts. Rather than reference sales contracts within CLM and CRM systems separately, you can quickly locate contract records based on shared CLM and CRM data between connected systems. Leading CLM software connects seamlessly with leading CRM platforms for seamless data sharing and overall sales contract management success.
CobbleStone Contract Insight® for Sales Contract Management Success
Achieve sales contract management success by connecting CobbleStone Contract Insight, a Leader in CLM software according to Forrester Research Inc., with your CRM. CobbleStone Contract Insight connects with programs such as:
Salesforce

MS Dynamics

HubSpot

Oracle

SAP

QuickBooks

And more!
Don't waste any more time juggling disparate sales contract management data with separate sales and contract management systems. See how you can unify your sales and contract lifecycle management processes by connecting award-winning CobbleStone Contract Insight CLM software with your CRM. Achieve sales contract management success by booking a free demo of CobbleStone Contract Insight today!
CobbleStone's trusted, award-winning, highly-integrated contract lifecycle management software streamlines the contract management process with optimal governance, reduced friction, and high flexibility from contract requests to renewals. CobbleStone's user-friendly, robust, and scalable solution seamlessly connects with external applications and offers VISDOM® AI with machine learning for natural language processing and risk management. Moreover, CobbleStone's IntelliSign® eSignatures can make one-off and bulk electronic signing a breeze.
To stay up to date on best practices, industry news, and CobbleStone Software updates, be sure to subscribe to our blog and YouTube Channel.
*Legal Disclaimer: This article is not legal advice. The content of this article is for general informational and educational purposes only. The information on this website may not present the most up-to-date legal information. Readers should contact their attorney for legal advice regarding any particular legal matter.