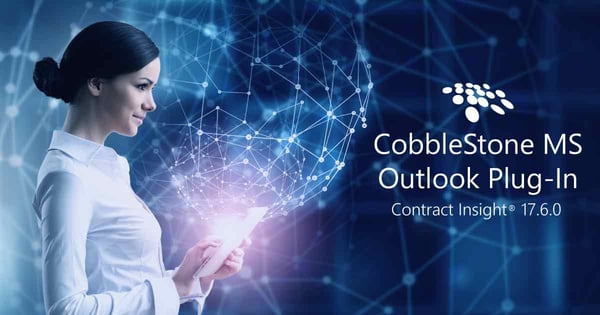 In a world where technology continues to evolve to conveniently integrate various applications for increased expediency and productivity, CobbleStone grows as well. CobbleStone's latest release, Contract Insight® 17.6.0, allows you to integrate a proprietary MS Outlook PC Plug-in for easy, quick, and user-friendly contract management software straight from your PC desktop MS Outlook application. Here's how to leverage the plug-in for better, faster, and smarter source-to-contract management today!
Get Started with Streamlined Contract Management Software
The CobbleStone MS Outlook plug-in toolbar is a helper application that works cooperatively with the Cobblestone File Utility. The Outlook plug-in helps CobbleStone users to upload files from MS Outlook to their Contract Insight software system.
Using the Plug-In
Before your first use of the CobbleStone MS Outlook plug-in, make sure that you are logged into your CobbleStone File Utility.

Once you are in an email window, navigate to the CobbleStone ribbon at the top of the email message.
After that, select one of the buttons to add a contract, request, purchase order, sourcing, or employee record. You can add these records, update them, or open them on a web page. Please note that some record buttons will open a side menu to the right for additional assistance with record creation.
Finally, you can start leveraging Contract Insight's MS Outlook Plug-In to extract key data from file attachments with VISDOM® intelligent, AI-powered contract creation!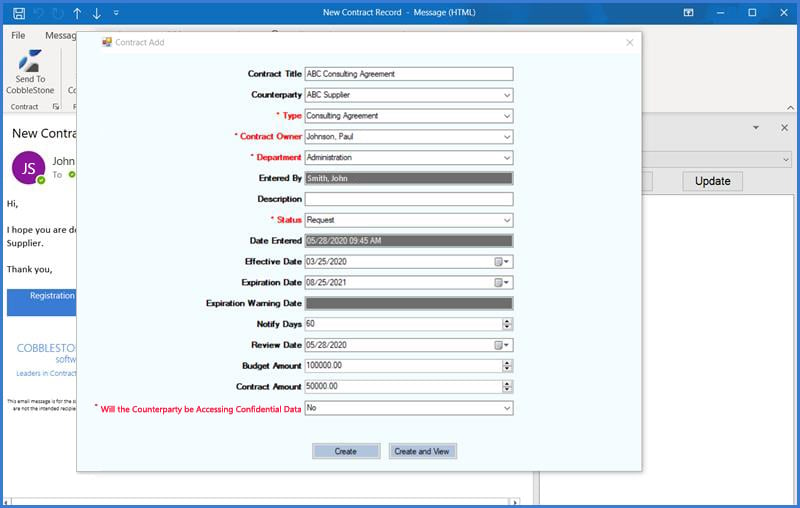 Get Started with Contract Insight Today!
It's time to take advantage of the convenient, simple, fast, and robust features of your contract management, sourcing, and eProcurement software platform right from your PC desktop MS Outlook email interface! It's time to get started with Contract Insight Enterprise 17.6.0.
Contact CobbleStone now for additional details regarding the features, updates, and enhancements to Contract Insight Enterprise Version 17.6.0.
Contract management, sourcing, and procurement professionals must be equipped with tools for success. Contact your account representative today for a free demo!