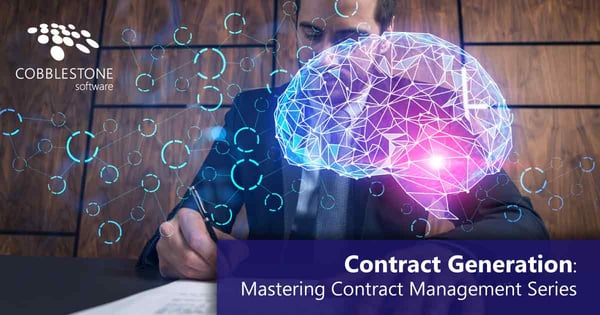 Generation of contracts can be challenging for contract, procurement, and legal professionals. Manual contract generation can be tedious, time-consuming, and error-prone. Moreover, a manual approach to document assembly can inadvertently put organizations in the precarious position of facing significant process bottlenecks, compliance issues, risks, fines, or legal ramifications. It's time to take control of contract generation. Learn how to transform your manual contract generation process into a value-centric strategy with the help of leading contract management software.
What is Contract Generation?
Contract generation is the assembly of documents and contracts. This process begins with a contract request, then moves to contract authoring, contract negotiations, contract approvals, signatures, and finally, contract closeout. Manual contract generation requires legal and IT teams to assist with document generation, data entry, formatting, storage, distribution, and collaboration - affording legal and IT teams less time to focus on their more mission-critical initiatives.
Contract generation challenges compound for organizations of ranging contract volume and contract complexity. When multiple people are involved in creating, reviewing, and revising contracts, productivity can suffer. Time can be wasted on creating documents, downloading templates, locating information, and manually entering data into hundreds of fields. Furthermore, static documents become obsolete when the correct document versions and templates are not apparent, increasing the risk of error. Contract compliance can become an issue when templates, approved language, and clauses are not up-to-date or standardized.
Automated Contract Generation
Contract automation is the solution to contract generation process inefficiencies. Contract generation software - also known as automated document assembly software - simplifies contract creation by eliminating bottlenecks. The generation of ranging contract types can be streamlined with standard agreement templates and pre-approved clause libraries - including the seamless merging of clauses with document templates, secure document storage, comprehensive version tracking, and seamless approval workflows. Business users can experience transparent and collaborative reviews and approvals between internal and external parties.
An automated contract generation system supports transparency, provides a complete audit trail, and facilitates collaboration and accountability. Accuracy, speed, and consistency translate to an unquestionable contract generation solution ROI.
Contract Generation Software - The Right Solution
Don't ignore the benefits a contract generation tool can provide compared to your organization. Your team needs a contract software solution that can positively transform contract generation. That solution is CobbleStone Software.
CobbleStone's acclaimed and seamlessly integrated contract management software suite - CobbleStone Contract Insight® - streamlines document assembly, helping organizations generate contracts that are accurate and compliant in record time. CobbleStone Contract Insight is highly configurable for your business rules and is built to support your team - with low friction, scalability, and robust contract lifecycle management features. It's no wonder why Forrester names CobbleStone a Leader in CLM software!
Effectively manage the full contract lifecycle from contract requests to contract renewals. CobbleStone offers advanced features to provide faster contract generation software ROI, including:
a pre-approved library of document templates and clauses.
rules-based clauses with seamless merging and clause ownership.
easy contract data field merging.
simplified contract approval routing.
a faster contract approval process.
full document version tracking.
ad-hoc reports.
simplified compliance and obligations tracking.
and so many more.
CobbleStone Contract Insight helps organizations from a variety of CLM software industries in both public and private sectors improve their business processes with a leading contract management system. Contract cycles transition from outdated and inefficient liabilities into assets that support contract management KPIs.
Are you ready to master contract generation? CobbleStone Software can support your digital transformation initiatives. See how we can help you control costs, reduce risk, and increase contract generation process productivity with a free demo.
To stay up to date on best practices, industry news, and CobbleStone Software updates, be sure to subscribe to our blog and YouTube Channel.