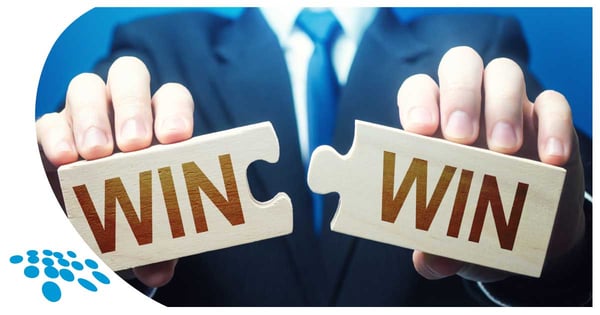 Nearly every business relationship involves a contract. At the crux of every contract is back-and-forth negotiation. This chess-like undertaking requires purposeful and good-faith cooperation on both sides.
The cutthroat, 1980s Wall Street businessman approach of trying to steamroll one's opponent into submission often depicted in movies does not reflect successful contract negotiation in real life. True contract negotiation requires active listening, considerate acknowledgment of both parties' pain points, and the ability to forge a win-win agreement.
As such, here are 8 contract negotiation strategies to improve your contract negotiation processes.
#1 – Begin Drafting the Contract With a Template
There is a lot to cover with initial contract drafting. There are myriad important contract terms, conditions, clauses, etc. to cover in written copy. As such, writer's block is common, and many don't know where to start.
This is where contract templates come in.
You should make sure you have a contract repository with standard templates. There are consistent elements to consulting agreements, MSAs, NDAs, and other common contract types. As such, beginning drafting with the help of a template that has type-specific sections, clauses, and approved language is a huge first step that so many business professionals have wised up to.
Start by selecting the best contract type for your process and – thus – the best template.
#2 – Gather Data & Items for Specific Draft
Now you are in a good place with a default template as a starting point. As such, it's time to dig into your specific data and items that will reflect the desired initial terms of your contract.
Begin with basic information that will be needed to power the contract, such as:
the name of your organization and that of your counterparty.
locations for both organizations.
the proposed contract term (duration).
effective date, expiration date, and other key dates.
key clauses.
The items above will be subject to business negotiations. However, gathering these basics is crucial before you can think about sitting at the proverbial table and negotiating a contract.
#3 – Combine the Contract Template & Data/Terms
Now you have decided on a specified contract template and gathered key information. The logical next step is to merge the two.
This step is critical. You want to come to the bargaining table with a good first draft. It sets the tone for contract negotiation.
As such, you want an accurate and efficient way to marry a contract template with your specified terms. One example is automated merging of contract templates with contract metadata and pre-approved clauses within contract management software.
Speaking of clauses…
#4 – Include Airtight, Accurate Contract Clauses
There is ample room for slip-ups during negotiation. The last thing you want is a legal dispute from unclear, vague, or inaccurate contract clauses. As such, many contracting professionals and business partners leverage a clause library.
There are many different approaches to a clause library – but automation is recommended. Opt-in for a system that supports a bank of standard clauses and the ability to recognize where to insert them.
BONUS TIP: Utilize auto-redline functionality for better experiences negotiating contracts. You can automate the inclusion of clauses from your approved library – virtually ensuring the inclusion of favorable clause language. This tool quickly redlines introduced clauses in favor of standardized clauses that work. CobbleStone Auto-Redline is compatible with MS Word and CobbleStone's native document editor.
#5 – Ensure Internal Approval Before Negotiating
Before you bring a contract to the negotiation table, ensure that all of your internal resources approve of your draft. To smooth out this process, utilize a system that allows your team to:
check-in and check-out a document so that multiple people are not making changes that get lost in the weeds.

clarify versions of a contract document with numbered version tracking and comprehensive audit trails.

automate contract workflows for a clear and defined approval process – ultimately seamlessly escalating to your decision makers.


#6 – Identify Counterparty Decision-Maker
During negotiation, it is important to know who will ultimately make the decision to reach a win-win contract.
Both parties want to ensure that only those who ought to be involved in negotiation are present at the "table." It is considerate to both your organization and your counterparty to make sure that both parties' big players are accounted for.
Approval workflows can be used to enable parties to add and edit a sequence of approval personnel to contract negotiations.
#7 – Do Your Research & Be Prepared
Contract negotiation skills are not simply the ability to play hardball and talk a lot. Perform "research" on your counterparty's needs.
For example, let's say the counterparty is seeking to buy contract management software. You should know:
How are they currently managing contracts?
Roughly how many contracts are they managing?
What costs have they incurred managing contracts manually?
How much are they currently spending on legal resources?
How will they scale as their business grows?
Which features/packages will best serve them?
This process is less about knowing your enemy – and more about knowing your friend! Business partnerships should be seen as just that: partnerships. It helps to display empathy in knowing your counterparty's long-term goals to reach an agreement that is suitable for all parties.
#8 – Assert Your Non-Negotiables
Although contracts are partnerships, you don't want to get steamrolled out of a beneficial negotiated agreement. Don't play hard for playing hard's sake – but know what you want and make it clear.
There may be aspects of a contract on your end that are "make or break." This is fine. Your business might have hardline financing limits. Maybe your legal department has intellectual property demands.
Regardless, you will want to make sure you don't suggest flexibility where there is none.
BONUS TIP: With clause ownership functionality within contract management software, you can prohibit access to certain clauses unless approved by that clause's "owner."
From here, your organization can enter the signing process and automate it with electronic signatures. After signing, you can prepare for post-award contract management.
Closing
Hopefully, these strategies have made you more confident in contract negotiation's importance and how to go about it. Given how complicated and crucial negotiations are, you ought to be equipped with the best tools for the job. The premiere solution for contract negotiations is CobbleStone Contract Insight®.
CobbleStone® is award-winning contract management software that has been acclaimed by clients and third-party analysts alike. It offers all of the features above and more for contract negotiation and the other stages of contract lifecycle management.
Quadrant Knowledge Solutions recognizes CobbleStone as a CLM Leader in the Spark MatrixTM Report - and it's plain to see why!
CobbleStone's cloud-based CLM software serves as a single source of truth for contracts and more. Get started today by booking your free demo.
Stay up to date on best practices, industry news, and CobbleStone Software updates; subscribe to our blog and YouTube Channel.