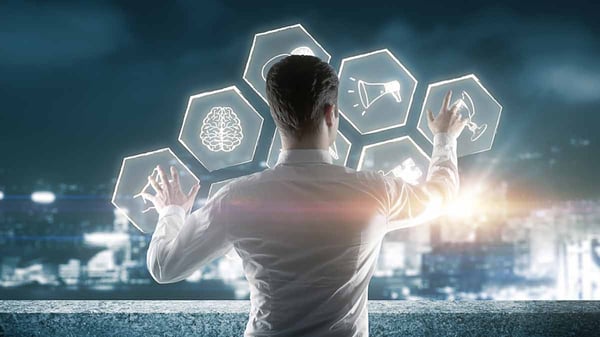 The IT Industry is facing unprecedented challenges with digital transformation. Whether you're an IT service provider, CIO, CTO, or work in a corporate IT department, the future state of your organization is weighing heavily on your team. To future-proof and take control in the face of stringent compliance requirements, security threats, and privacy and data breaches, IT professionals must be able to respond effectively to organizational change, technological advances, cybersecurity demands, and behavioral, legal, and regulatory compliance requirements.Technology, security, and compliance are critical parts of contract management, and contracts are at the core of every organization. Contracts may surface within your IT department, throughout your organization, and with vendors, partners, or customers. With budget constraints and lack of communication being critical issues, improving the way your organization manages contracts is a strategic step in the right direction to realize organizational innovation, digital transformation, and improved IT HR efforts through the attraction and retention of the digital native workforce.
Is Your IT Team in the Dark Ages?
Most modern organizations strive to be agile; however, too-often technology-centric organizations and IT departments still manage their internal processes manually. IT professionals need to maximize their time but find themselves wasting that precious time with data entry, paper or email-based workflows, and too much reliance on spreadsheets to manage contracts, SLAs, and vendor agreements.
Contract management is a business process that should be improved. Effective contract lifecycle management can increase productivity, enhance communication, improve cybersecurity, provide supply chain risk management controls, support people management in times of rapid change, and deliver analytics and AI for security, data management, and opportunity realization for IT, sales, marketing, and the entire organization.
Business Process Improvement (BPI) With Contract Management
IT departments and technology companies have large volumes of contracts and documents to manage. With the organizational benefits and new opportunities contracts can provide, countered with threats around risk, compliance, lost opportunities, lost trust, and cybersecurity, it's a logical step to prioritize contract management automation aligned with a focus on BPI and digital transformation initiatives.
The first step for BPI is to document current processes with a detailed process map. Here are six questions to get you started:
How are we currently managing contracts? Do we have disconnected repositories? Are we using a contract database that lacks required integrations? Are we relying on manual contract management with spreadsheets and emails?
What are our contract management objectives? Define your future state. Some examples include document automation, cloud-based, secure storage and collaboration, data protection, combating security threats, better software license agreement management, and vendor management.
What are our most significant contract management pain points, and what matters most to our stakeholders? Focus on business impact around budgets, cybersecurity, compliance, and customer/vendor/partner experience.
How can we consolidate legacy applications and integrate with other systems that need access to

contract data?

Analyze your existing technology and required integrations. Create an accurate picture of current in-house systems.
How much do we lose due to inefficient contract management? In this context "lose" can mean money lost due to the direct costs of contract failures or revenue leakage from non-value added (NVA), poorly managed activities like contract tracking, processing, storing, data management, and communication.
How much risk are we exposing our organization to? Risk comes with manual contract management in the form of data loss, data breaches, lack of consistency, lack of transparency, lack of visibility, and compliance failures.
According to an IT industry survey, many organizations invest 25% or less of their budgets in software and security. With the risk and reward opportunity presented, IT professionals must lead digital transformation efforts to keep their organizations competitive, secure, compliant, and profitable. Since contracts can be found in every type of organization across all departments and initiatives, an investment in contract management software is a fast route to BPI and ROI. Organizations committed to improving how they manage contracts, agreements, and vendors can realize a streamlined process, innovation, boosted productivity, reduced risk, more compliance, and increased security.
The Benefits of Contract Management Software for IT Teams
Contract management software can benefit the entire organization, but IT professionals must find a strategy that helps avoid revenue-leaking contracts and poor provider delivery and response times while reducing damaging outcomes and saving on fines and litigation. Leading contract management software should be user-friendly with configurable features that enable IT professionals to:
Monitor agreed-upon business terms, service levels, milestones, discounts, and penalties
Create a better compliance management framework that reduces risk with a streamlined contracting process
Easily collaborate on documents, agreements, and contracts with internal stakeholders, customers, partners, suppliers, and vendors
Synchronize secure, cloud-based contract storage across different devices
Manage user permissions with rules based on department, employee, type, category, entity, status, contract amount, and location
Send secure emails to other contract management software users or vendors with expiration dates on email links
Keep

contracts GDPR compliant

with consistent data monitoring and protection
Improve vendor management and sourcing agreements through cost reductions, transparency, and consistent processes supported by contract data and analytics
Reduce vendor risk with scorecards, contract AI, and risk assessment mapping that includes monitoring for sensitive information including PII, employee data, routing numbers, credit card numbers, and social security numbers
Leverage pre-approved clauses, template libraries, and intelligent workflows for faster contract authoring, reviewing, signing, and approvals
How CobbleStone Helps IT Professionals
Gain control over contracts and documents with a secure, user-friendly, and configurable contract management software solution. CobbleStone addresses IT's biggest challenges with comprehensive contract management technology supported by AI. Contract Insight® provides the features IT professionals demand, from a secure data-center trusted by US state and federal agencies to unparalleled user-friendliness. CobbleStone's advanced functionality gives users the ability to create unlimited user-defined fields, intelligent workflows, easy searches and reports, auto-email and calendar alerts, and so much more.
CobbleStone believes your organization's data should remain secure and is committed to supporting your policies and procedures to protect sensitive information. As a SaaS and deployed software provider, CobbleStone has proven its commitment by achieving SOC 2 Type 1 Attestation.
Gaining and retaining trust is the mission of IT professionals and CobbleStone has the proven platform, experience, and client satisfaction track record that shows it is a provider your team can trust.
See for yourself. Schedule a free CobbleStone Software Demo today.