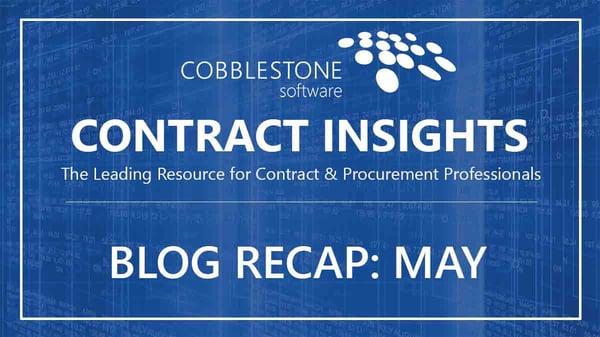 Did you miss any of our blog posts from May? Don't worry, we've outlined each of them for you. Stay up-to-date with industry topics, real-world case studies, and contract management best practices by reading CobbleStone's latest content.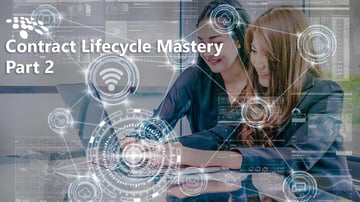 In this final blog post in the "Mastering Contract Management Blog Series," the reasons organizations should implement contract lifecycle management and the core functionality that should be considered in contract management software is revealed.

CobbleStone exhibited our contract management and eSourcing software at the 2019 NY GovBuy on April 30th and May 1st. If you didn't get a chance to attend 2019 NY GovBuy, we outlined some key takeaways from the NY state conference.


CobbleStone Software supports contract management, procurement, and legal professionals by releasing content to help you improve how you manage contracts. Follow the links to the content shown in this article and you will be on your path to leading the way for contract management.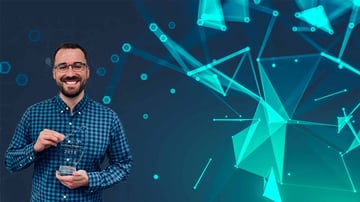 Matthew Hughes, a Senior Account Manager at CobbleStone, was recently awarded Account Manager of the Year for 2018. We interviewed Matthew about his experience at CobbleStone over the years and how he's become a Contract Insight® expert since starting in 2012.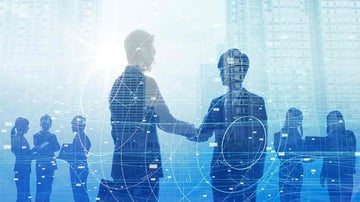 CobbleStone is exhibiting at NY Tech Summit on June 6-7, 2019. The conference is expected to be full of educational sessions, inspirational speakers, world-class collaborative workshops, and a chance for you to network with industry-leading exhibitors.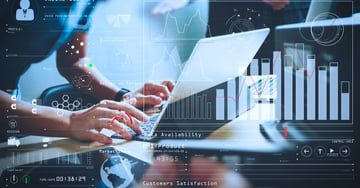 Organizations that make data-driven decisions position themselves for long-term success. Their culture, tools, and abilities are centered around the common goal of collecting quality data and analyzing it quickly and accurately. Learn how to turn contracts into a pivotal source of business intelligence that supports strategies, tactics, and goals.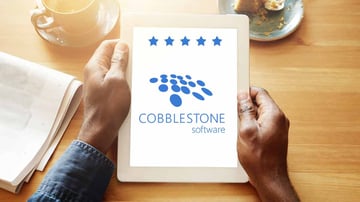 CobbleStone was recently recognized as one of the top five most popular contract management software providers according to Capterra's list of 20 Most Popular Contract Management Software. Our award-winning Contract Insight® has an overall perfect rating of "5 out of 5" on Capterra's website. Learn why we're an industry leader.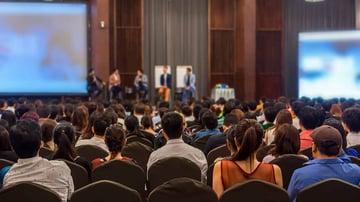 Contract management processes vary based on industry and organization, and government agencies should take advantage of conferences that are unique to them. That's why we've hand-picked some of the best government contract management conferences for 2019 so government contracting professionals can network and learn in a familiar environment and from relatable experiences.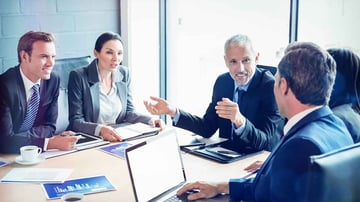 More than ever, there are increasing opportunities to drive value with the contract management process by improving communication, negotiation, conflict resolution, leadership, and technical capabilities with the right contract management tools. Each contract manager's challenge is to get buy-in on contract process improvement initiatives. Learn how.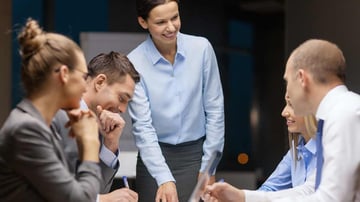 CobbleStone will be exhibiting at BIO 2019 and looks forward to showcasing their award-winning contract management software, Contract Insight®, at booth #2508 in Hall D. The BIO International Convention is being held on June 3-6, 2019 in Philadelphia, PA, and the event expects to attract thousands of biotechnology and pharmaceutical leaders from reputable organizations.


Whether you're an IT service provider, CIO, CTO, or work in a corporate IT department, the future state of your organization is weighing heavily on your team. To future-proof and take control, IT professionals must be able to respond effectively to organizational change, technological advances, cybersecurity demands, and behavioral, legal, and regulatory compliance requirements.

Now that you're caught up with our blog, be sure to keep an eye out for our June content. Never miss a blog post again, and let us notify you when new content posts, by subscribing to our blog!