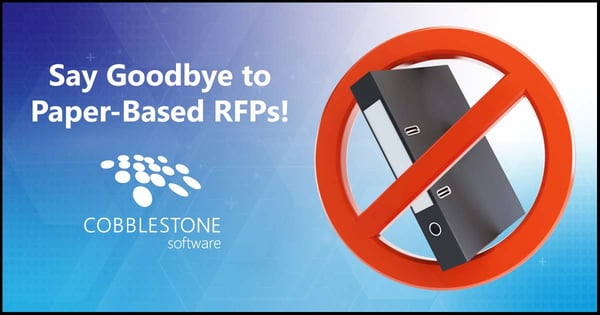 With recent developments of the COVID-19 pandemic, cities, counties, and agencies that previously relied on paper RFx submissions from vendors need a way to accept bids electronically. In this challenging situation, CobbleStone's electronic sourcing software, which equips organizations with remote bid and RFx management, is the solution.
Say Goodbye to Paper-Based RFx Management
In the wake of unforeseen world events that necessitate organizations to function remotely, operations need to evolve accordingly. This necessary evolution applies to sourcing processes as well. Organizations now find themselves in a difficult circumstance. Vendors are reluctant to go to post offices to mail printed copies of responses, while buyers are disinclined to touch paper-based vendor RFXs to review their responses.
CobbleStone's electronic, enterprise-grade sourcing and bid management platform, is configurable and user-friendly. It is the ideal solution for remote sourcing and bid processes, electronically supporting sourcing lifecycle processes including:
purchase requisitions.
alerts and notifications.
streamlined document generation with RFx templates and clause libraries.
document version control.
bid advertisement.
online vendor Q&A.
electronic bid submission.
line-item bidding.
bid evaluation tools.
vendor response ratings.
vendor awards.
searching and reporting.
electronic signatures with IntelliSign℠.
order management.
& more.
Centralize E-Sourcing & Vendor Management
With CobbleStone eSourcing, organizations can monitor vendors and/or suppliers that proffer requested goods and services, and subsequently identify whether a request can be fulfilled internally or if it requires a contract or purchase order. Buyers can determine which items are in stock, which contracts are in place, if a request requires a formal bid or RFP, if company budget is available, and if a purchase order can be released. The aforementioned tasks can be performed electronically within the software, making remote vendor management and requests easy.
Faster Bid Document Creation & Advertisement
The scalable electronic sourcing solution that CobbleStone Software provides can help organizations to generate timely, detailed, and accurate bid documents. The ability to merge pre-approved clauses and data fields allows organizations to manage multiple document templates and versions in one secure, electronic repository - for the streamlined authorship of documents and easy exportation to standard file formats.
Once a document is generated, organizations can also promote their bids and set them to be advertised publicly, or to be accessible by invite only – greatly reducing manual and paper-led tasks.
It's time for organizations to stay productive with web-based, innovative bid authorship and advertisement features. It's time for organizations to equip users with the power to interchange clauses using an approved clause playbook, and make efficient the creation of requests with control over bid advertisement preferences.
Better Communication Between Vendors and Buyers
Communication need not suffer when sourcing is handled electronically. In fact, it can be enhanced! Once the RFP process begins, CobbleStone's e-sourcing platform allows bidding vendors to ask questions. A user-friendly, online question and answer portal connects buyers and vendors in a space for improved communication and understanding.
CobbleStone's Q&A portal with electronic sourcing software does not require buyers to manually send email reminders about due dates to respondents. Buyers can establish specific due dates for questions and answers, so that vendors are only permitted to ask questions within the timeframe that is allotted, as per a given organization's specific needs. Once a due date has passed, a buyer's system will no longer allow questions to be submitted, thus further providing e-sourcing lifecycle oversight.
Greater Control with Line-Item Bids
CobbleStone eSourcing features reverse line-item auctioning functionality, which assists organizations in enlisting specific bids for individual items. This functionality is hugely beneficial for bid processes that require organizations to award several vendors for different aspects of one bid, as this process can transpire electronically. Buyers can call out specific items on a bid, and respondents can select items and enter expected unit prices, allowing for easy respondent comparisons.
Vendor Bids/RFP Awards Simplified
CobbleStone electronic bid management and sourcing solution can be leveraged for an electronic vendor award process! Once a vendor is selected, buyers can send an email to the awarded vendor right from the corresponding sourcing record page – letting the vendor know they've been chosen. Award notifications can be further expedited when buyers use an approved email template.
Additionally, the system allows buyers to send emails to their unsuccessful respondents, thanking them for their interest while also letting them know them that a different vendor has been awarded.
After a vendor has been awarded, organizations can undergo the contract process. CobbleStone enables organizations to create a new contract – or link to an established contract record – right from their sourcing record page. When this record is generated, the organization's standard contract lifecycle progresses electronically.
Trust CobbleStone with Your Sourcing Needs
Amid uncertain times that require your organization to function remotely, don't struggle to keep operations running. Experience advanced electronic sourcing with CobbleStone Software.
CobbleStone's trusted, award-winning integrated eSourcing platform helps support a simplified bid process in or out of the office with a cost-effective electronic solution that provides transparency and governance from sourcing to post-award contract management.
CobbleStone's user-friendly and flexible solicitation and RFx management software integrates seamlessly with mission-critical applications by streamlining and centralizing electronic bidding, purchasing, vendor management, contracts, agreements, leases, obligation records, and more.
See for yourself why CobbleStone Software's electronic sourcing platform is trusted by contract managers and procurement professionals today!
For those eligible, CobbleStone Software is conveniently available for purchase through GSA schedule 70.