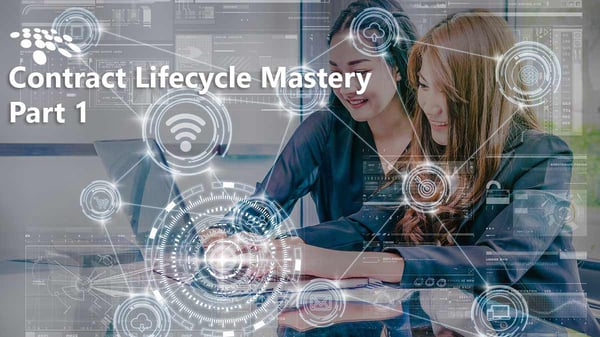 Contract lifecycle management requires a well-thought-out strategy, careful planning, and the right technology. Without all three elements, managing contracts will not only be challenging for contract, procurement, and legal professionals; it won't be possible to get the most business value out of your organization's contracts. Too many organizations are missing end-to-end contract management that provides a clearly defined process, actionable insights, and accountability, ultimately negatively impacting productivity, profitability, risk exposure, and compliance. Learn how to master contract lifecycle management in this blog.
What is Contract Lifecycle Management (CLM)?
Leading organizations may already use a contract repository to store, track, and collaborate on their contracts. While a secure cloud-based repository improves visibility and accountability, it's not enough to drive maximum business value from contracts. Contract lifecycle management focuses on the entire contract lifecycle from request to renewals.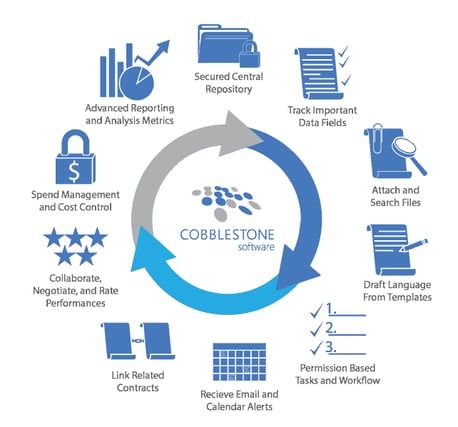 Buy-side and sell-side contracts will impact your entire organization. When taking a manual approach to managing contracts by using spreadsheets, emails, and shared drives – even a secure document repository – you may still be missing the integral combination of people, process, and technology required to get the most out of your contracts.
Contract lifecycle management takes all three of these elements, so your contracts can benefit your entire organization and stakeholders. Procurement is focused on compliance. Legal wants to reduce risk. The CFO is looking at top-line and bottom-line results. The head of sales must simplify contract creation and accelerate contract-close outs. The fastest way to get the most out of your contracts and benefit your organization, customers, vendors, partners, and stakeholders is with contract lifecycle management.
Contract Management Challenges
Too often, organizations that fail to create business value from contracts lack an easily accessible repository, contract reporting and analytics, streamlined authoring and negotiations, contract data integration into invoicing or purchase order management systems, and the ability to link contracts to results. Contract "mismanagement" may initially seem to be siloed organizational challenges, but mismanagement brings challenges across the entire contract lifecycle including but not limited to:
Organizations that manage contracts manually (spreadsheets, email, paper documents, shared files, etc.) and even organizations that have some form of basic contract repository software still face a slow contract management process with manual workflows, limited visibility and collaboration, and a lack of integration with other systems.
An ineffective contract management process leads to high contract failure rates, turning contracts from the business value-driver and asset they can be to a source of revenue loss and increased risk.
Your contract management challenges aren't the problem; they are the symptom of an organization that doesn't leverage contract lifecycle management.
What are the Benefits of a Contract Lifecycle Management System?
A contract lifecycle management system allows organizations to manage and automate the entire lifecycle of their contract process. Consider the following questions:
If you answered "yes" to just one of the questions above, the way you are managing contracts today is most certainly increasing contract turn-around times and exposing your organization to more risk and is not positioning you to get the most value out of your contracts.
How do the areas you struggle with within contract management impact the entire contract lifecycle? Download the "8 Critical Stages of Contract Management" today to find out.
Stay tuned for "Contract Lifecycle Management Mastery Part 2" and be sure to read all of the articles in the "Mastering Contract Management Blog Series."