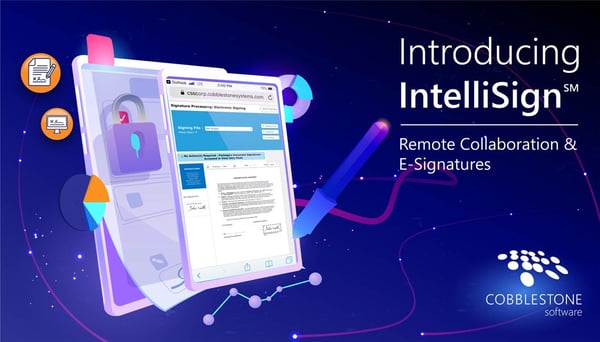 Whether it is due to the increasing digitization of the modern workplace or because of an unforeseen circumstance, working remotely is becoming progressively more commonplace. As such, it is important that professionals in a myriad of industries are supported with sufficient tools to keep contract management, procurement, and sourcing operations running smoothly. IntelliSign electronic signatures with CobbleStone's Contract Insight® equip organizations with a configurable, streamlined, and user-friendly document collaboration and signing process both in-office and on the go. This article will explain how.
Faster Signing
With Contract Insight's E-Sign Now option, internal system users with signing authority are afforded the ability to quickly add their signature to a saved document. Users can also add other desired PDF and MS Word attachments documents (and other file formats) directly from the document toolbox. Contract Insight users have access to their saved signatures and can utilize IntelliSign's diversified pool of placeholder options, which include:
Inserting a saved, typed, or drawn signature.

Inserting a date.

Signing with initials.

Adding additional text to signatures.

Using a previously saved title.
The signer can save and attach signed documents to their corresponding records – promoting a swift, organized signing process in or out of the office.
Easy One-Off Signatures
Cobblestone's IntelliSign enables users to easily email a document for one-off signatures. Contract Insight Users have the option to allow signers to pick their signature location within the document, or users can set a multitude of placeholders to indicate where signatures, initials, and dates are required.
Once a document is sent out for signing, the signer will receive an email that brings them to the Document Collaboration Portal to add their signature. This user-friendly portal supports online contract negotiation between internal and external parties via a secure online portal that tracks changed and accelerates the signature process.
Furthermore, CobbleStone users can add and customize terms and conditions for signing, consequently prompting the signer to acknowledge and accept the terms before signatures are applied.
Once signing is complete, Contract Insight can send email notifications to the appropriate individuals and reattach documents to the appropriate record within the system. The signer will also be able to view and download signed and completed documents from the document collaboration portal. Third-party signing is available remotely or in-office, and Contract Insight's iOS and Android compatible apps expand signing options with IntelliSign.
Rules-Based E-Signature Process
Using CobbleStone's IntelliSign document collaboration module, authorized users can configure e-signature processes based on contract type, amount, department, location, entity, or other variables. System administrators may designate if a contract must go through a formal approval process before signing, allow a document to be signed one-off, or go through a formal signature process. Workflow can facilitate individual participant signing or implement a complex signing process.
Contract Insight administrators can establish signature groups for a particular signature process. Participants in a signature group can include internal users, internal groups, or external vendor/customer contacts.
Additionally, authorized users can set reminders for signers when creating signature groups. They can specify the number of days before the first reminder to sign is sent, as well as the frequency and timing of subsequent alerts.
For example, an organization wants to configure their electronic signature process so that a CEO or a specific group is only assigned if a contract is at or above a certain contract value. With Contract Insight, the organization can set that rule within their system.
Rules can be granular or broad, and an immense number of rules may be set for a particular group or process. Rules can be based on a Contract Insight fields - whether out-of-the-box or user-defined - in various configurations.
As a document goes through the signature process, signature dates are time-stamped for a full audit trail. Once the signing process is complete, the fully signed document will be attached to the record. These rules-based, intelligent processes transpire even more quickly when involved parties are equipped with multi-device, remote access. Thus, Contract Insight users are encouraged to download the free Contract Insight mobile app from the App Store or Google Play.
Transform Document Signing with IntelliSign
Now that you know the myriad of significant benefits IntelliSign can offer, it's time to take control of your organization's signing process with CobbleStone's best-in-class e-signature software.
Watch the video below to learn more about E-Signatures with CobbleStone Software.
Contract Insight, CobbleStone's long-trusted and acclaimed source-to-contract suite, offers a fast and easy way to sign contracts with IntelliSign. Your organization can leverage IntelliSign to keep the signature process moving smoothly with:
field and rules-based clause merging.

comprehensive alerts.

custom report design.

rules-based workflow.

custom dashboards and monitoring.

integrated eSigning solutions.

a secure portal for online document collaboration.

and more!
Schedule a free demo of Contract Insight today!