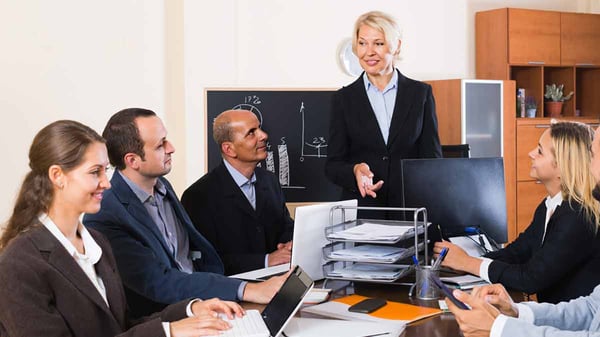 Business continues to accelerate globally. The resulting rapidly shifting regulatory environment generates increased risk along with more opportunities, propelling organizations to rely on contracts more heavily to protect business interests and assets. General Counsel and legal teams have a chance to create a new perception of the legal department that moves away from the appearance of a cost center for the organization to the forefront of organizational strategy by leveraging contracts as a growth driver.
General Counsel has more opportunity than ever to drive value and achieve higher returns by reducing risk, improving efficiency, facilitating collaboration, reducing costs, and increasing revenue with improved contract oversight. Legal documents may include product and material sourcing, distribution agreements, founder/partner agreements, merger and acquisition agreements, and more. The growing challenge is the increasing complexity and volume of contracts combined with an inefficient contract management process. This article identifies General Counsel's toughest contract management challenges and discusses contract management strategies and tools that can position General Counsel and legal departments to contribute measurable value to their organization.
A Contract Management Abstract
Technology has rapidly advanced; however, too many organizations still rely on manual contract management processes and don't know where their contracts, or the obligations within them, are stored. This approach puts the legal department at a disadvantage when enforcing contracts and assessing risk, leaving them unable to meet their organization's evolving expectations for success that are focused on probability, adaptability, compliance, efficiency, and cost-sensitivity. General Counsel's challenges also increase with poor contract management because the C-suite expects General Counsel to assume the role of business leader and partner, while also safeguarding the organization's integrity and reputation.
A manual contract management system built around spreadsheets, shared storage, emails, filing cabinets, disparate legal management systems, or repurposed content management systems that lack data connection, do not provide the tools necessary to improve contract management quickly. This approach increases risk and is the cause of missed opportunity, slow review and approvals, contract process bottlenecks, revenue leakage, and compliance failures. Furthermore, manual contract management systems can't provide General Counsel with the necessary data to answer the C-suite's questions about milestones, market disruption, acquisitions, financing, and security.
An alternative to manual contract management is to implement a leading enterprise contract management system that integrates contract management software with document assembly, vendor management, and electronic signatures.
General Counsel's 7 Toughest Contract Management Challenges
General Counsel's core issue may be manual contract management processes and ineffective or non-existent technology, but the day-to-day symptoms may not be as apparent. Following is a breakdown of the top challenges of legal departments and General Counsel. Examples show how contract management software features can help by revealing the clear correlation of challenge and remedy.
Challenge #1: Compliance
Remedy #1: Dynamic templates and clauses streamline document assembly and ensure the use of approved contract language and clause ownership.
Challenge #2: Meeting key dates and milestones
Remedy #2: Email, task, and calendar alerts ensure review, approvals, signatures, executions, and renewals occur on time, every time.
Challenge #3: Completing tasks, reviews, and approvals
Remedy #3: Intelligent workflows, electronic approvals, and e-signatures support on-time task completion and task escalations, timely reviews and approvals, and streamlined signing anywhere, anytime.
Challenge #4: Document storage, version control, and redlining
Remedy #4: A secure, cloud-based repository with unlimited storage ensures you have access to the most up-to-date version of contracts, documents, and agreements. You'll also have access to version history for faster negotiations and streamlined redlining with an MS Word integration. The repository makes contract language analysis for compliance easy and will allow legal teams to ensure they are viewing every active contract so language and templates can quickly be updated in response to new regulations.
Challenge #5: Risk Assessment
Remedy #5: Contract artificial intelligence with machine learning analyzes contract language when new contracts are added and screens old contracts for sensitive data and red flags. As contract volume, complexity, and risk increases, proactive risk assessments prepare General Counsel for contract performance reviews, renewals, and negotiations.
Challenge #6: Security
Remedy #6: Leading contract management software helps monitor milestones, penalties, discounts, business terms, and more. Consistent monitoring and protection keep contracts GDPR compliant. General Counsel is expected to collaborate with IT to ensure the security of corporate and client data and to have a process in place to address data breaches. Configurable rules-based user permissions ensure only the right people have access to documents within secured contract storage that is accessible across different devices.
Challenge #7: Visibility and reporting
Remedy #7: Contract searching and reporting allows legal teams to find the correct versions of documents and see where they are in the contract process. Intelligent, automated workflows create recurring contract reports and actionable recommendations based on real-time contract data. More contract visibility helps General Counsel quickly analyze data to answer the C-Suite's strategic questions.
Contract Management Adjourned
CobbleStone Software helps General Counsel and legal teams bring more value to their organizations while reducing the costs associated with contract creation, review, and contract lifecycle management.
With enterprise-wide capabilities, a user-friendly platform, fast implementation, and clear ROI within as little as 30 days, our legal contract management solution supports your organization's overall contract administration process, so you can easily meet contract compliance regulations, centralize committal and contract management, and improve team collaboration. To learn how CobbleStone can help your legal department drive value, request a free demo today.