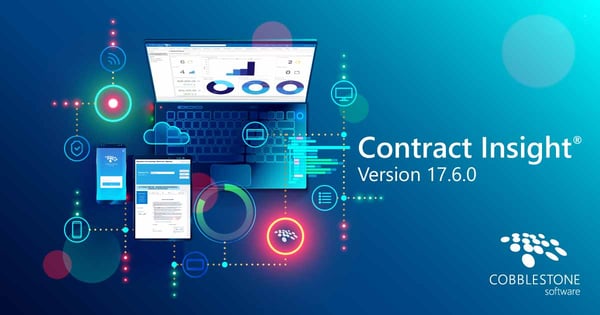 CobbleStone Software's latest release, Contract Insight® Enterprise Version 17.6.0, has arrived with many new features and enhancements to improve your eSourcing and contract management software platform!
Valuable features like intelligent automated document template merging, enhanced drag and drop record creation, CobbleStone's MS Outlook plug-in, Quick Search recommendations, OFAC integration for vendor risk and compliance checks, workflow task improvements, streamlined vendor requests, centralized sub table data entry, IntelliSign℠ electronic signature tool, consolidated bid management, Dutch auction-style eSourcing, and much more can provide your team with the tools needed to meet and even surpass your organization's contract management, sourcing, and procurement goals. Watch the video below for an overview of Contract Insight Enterprise 17.6.0!
You can get started today with leveraging powerful enhancements to our award-winning contract lifecycle management software solution! Here's what you need to know about key features.
Intelligent, Automated Document Template Merging
Configure a workflow-initiated document creation process and supercharge your contract lifecycle!
Contract Insight 17.6.0 features intelligent document template merging. This helpful feature automates your contract writing process for workflow-initiated document creation - eliminating the need for a manual document merging and creation process and significantly streamlining the contract lifecycle!
Based on the key data that is selected to be merged into a template, Contract Insight's Mergeable Content feature provides users with easy to use template placeholders - thereby reducing common errors caused by manually typing or copying/pasting information into a contract.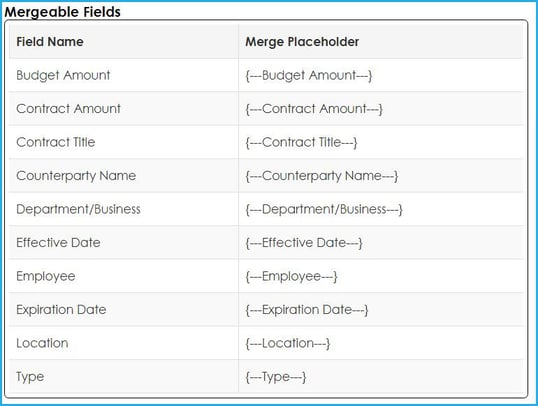 With intelligent automated workflows, your system can generate a document or group of documents using the appropriate template for new contract, request, bid, purchase order, employee, or vendor records.

Take advantage of a contract writing process that allows your organization to intelligently create documents with automated template merging – dramatically cutting cycle times and reducing contract lifecycle bottlenecks.
Quick Search: Intelligent Search Recommendations
In Contract Insight 17.6.0, Quick Search is enabled to provide search recommendations and alternate terms suggestions for commonly misspelled words or phrases – reducing tedious search term re-entry of intended searches.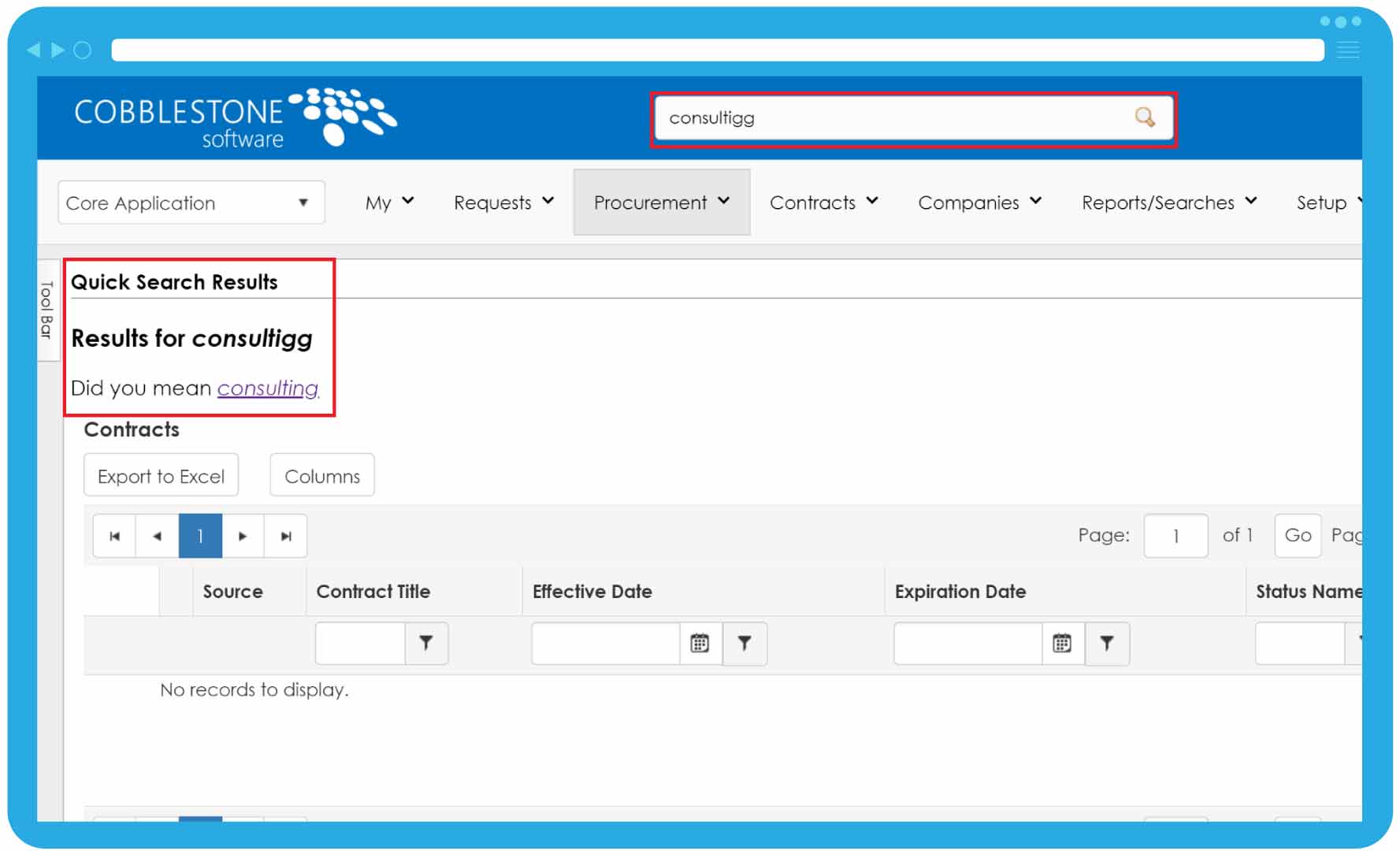 CobbleStone MS Outlook Plug-in
Easily and conveniently leverage the advanced contract management software tools you need - right from your MS Outlook email interface!
Contract Insight 17.6.0 integrates CobbleStone's MS Outlook PC Plug-in for simple, user-friendly contract management directly from your desktop MS Outlook!
CobbleStone users with permission can use this easily navigable and prominent main menu ribbon to upload files from Outlook to Contract Insight and easily add or update contract, request, bid, purchase order, employee, and vendor records. Furthermore, Outlook can be leveraged to extract key data from attachments with VISDOM® AI-powered, intelligent contract creation!
Enjoy smarter, better, and faster contract management from your MS Outlook interface with Contract Insight's MS Outlook Plug-in!
Intelligent OFAC Integration: Vendor Risk Analysis at a Glance
Experience intelligent national sanction compliance checks and risk analysis snapshots at a glance with CobbleStone's OFAC data feed integration!
CobbleStone's OFAC (Office of Foreign Assets Control) data feed integration optional, add-on allows your organization to run checks on vendors against OFAC's Sanctions Lists.
The SDN (Specially Designated Nationals) list includes organizations and individuals that have been flagged under one or more of the US treasury's sanction programs and is critical for vendor/customer management and employee audit compliance.
Contract Insight administrators can run scheduled, comprehensive OFAC checks and integrate them with record details pages for centralized vendor and company risk analysis consumption.
Using CobbleStone's data aggregator service, your Contract Insight software administrators can
configure which available areas within the software they want to be checked.
determine whether to include searches for Also Known As (AKA) entries that check for possible aliases or other names for companies and vendors within the OFAC database.
customize what is considered a match between company/vendor data and OFAC data based upon a set percentage (for example, a similarity percentage of 70% or more is considered a match).
Contract Insight offers an initial and ongoing scheduled check for selected company and employee records so you can remain aware with consistent vendor/customer and employee audits!
Furthermore, a link on a record page can be hovered over to present an eye-catching graph that maps the percentage of data matched between OFAC and Contract Insight. Clicking this link will display a view of matching details.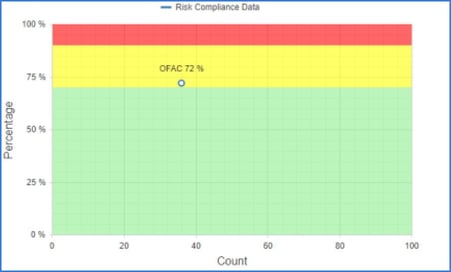 Integrate Contract Insight with OFAC data for improved visibility of vendor, customer, partner, and employee compliance data and risk analysis.
Please note that OFAC integration is an optional licensed add-on module. Please contact your Account Representative today for a demo and pricing.
Workflow Task Management Improvements
Improve contract lifecycle management with an enhanced workflow task management process!
CobbleStone is constantly identifying new ways to equip your organization with enhanced features within your scalable source-to-contract management system. This includes providing options to establish a workflow process that can be more tailored to your organization's needs.
In addition to standard workflow task options for CobbleStone administrators - such as "Approve" or "Reject" - administrators can easily configure additional options that support your organization's unique processes, and those options can be set to either keep a task open or close a task – diversifying workflow task management.
Your Contract Insight administrators have further flexibility for your organization's workflow processes because they can configure different status options for different record types (Contracts, Requests, Vendors, Purchase Order, e-Sourcing and Employees) as well as the appearance of color-coded task options in task alert emails.
Furthermore, a Workflow Task History button provides your organization with improved workflow oversight by displaying the tracked history of a given workflow task.
Attain greater control over workflow task management with CobbleStone's configurable contract lifecycle management platform.
Enhanced Drag & Drop Record Creation
With Contract Insight's drag and drop record queue, your users can initiate and manage documents for record creation on THEIR time - for increased and expanded control over their AI-based process!
With the release of Contract Insight version 17.4.0, users were introduced to VISDOM® AI-powered contract record creation with easy drag and drop record initiation for contract, request, bid, purchase order, employee, and vendor records. With Contract Insight Enterprise 17.6.0 your organization is afforded even more governance over record creation with a user-friendly drag and drop work queue.
The drag and drop work queue allows your system users to drag and drop a file into a work queue and return to pending files to manage them at a later time. As a result, your organization is afforded greater control with simplified and centralized record creation.
Once a file is placed in the work queue, you can access it from the main menu. In the queue, a file can be previewed, used to create a new record, attached to an existing record, or assigned to an employee – all in one convenient location!

Enjoy comprehensive command over intelligent, AI-based record initiation with CobbleStone's contract management software suite.
Simplified Vendor Requests
Experience a more efficient request initiation process on the CobbleStone Vendor Gateway and receive helpful notifications!
Vendors initiating requests on Contract Insight's Vendor Gateway can enjoy a streamlined, efficient system for doing so.
The process of adding a new request record features auto fill of key vendor information fields such as contact names, email addresses, and phone numbers. Additionally, a confirmation message has been added to trigger once a request is submitted so that users know that their request has been entered.
Please note that Vendor Gateway is an optional licensed add-on module. Please contact your Account Representative today for a demo and pricing.
Easier Pricing and Sub Table Data Entry
Enjoy a more centralized and streamlined contract data input process that allows you to add contracts and relevant sub tables in one location!
With enhanced input of contract details in Contract Insight, sub tables like pricing, budget schedule, and milestones can be displayed and managed on the Add page when users are adding new contracts, requests, solicitation records, purchase orders, company records, and employee records. Sub table data can easily be entered right from the record details page!

IntelliSign: Advanced Document Collaboration & E-Signatures
Experience a powerfully efficient signing and approval process in the office or on the go with IntelliSign - CobbleStone Software's robust electronic signature portal!
Introducing IntelliSign! Innovations have been made for an even more configurable, streamlined, and user-friendly document collaboration and electronic signing tool.
With IntelliSign's user-friendly interface, your organization can easily add external signers, employee signers, and company contacts to the signing process faster by selecting them from a list, rather than needing to manually enter their information. This feature can improve the user experience and reduce data entry errors for a more accurate and efficient collaboration and contract approval process. From there, users can leverage pre-defined, saved signatures for quick and easy signing.
For increased security during the signing process, all signer types can be set up to require a secure pin to enter the singing portal.
Signatories leveraging CobbleStone's iOS or Android mobile apps can now enjoy a more responsive and user-friendly mobile IntelliSign experience! The page navigation buttons are displayed prominently at the top and bottom of the screen for streamlined navigation throughout the app's pages.
Get started today with a configurable, streamlined, and user-friendly document collaboration and electronic signing tool in IntelliSign today!
Please note that IntelliSign is an optional licensed add-on module. Please contact your Account Representative today for a demo and pricing.
Consolidated Bid Responses & Evaluation
Enjoy a unified and consolidated survey process for prospective vendors!
CobbleStone's source-to-contract management software can simplify and consolidate the vendor survey process for prospective vendors!
Like our enhanced centralized sub table data entry tools, surveys in Contract Insight have been updated to consolidate many features of the Vendor Gateway into one unified location!
Your organization can enjoy greater control over the survey process with the ability to specify the number of documents required by vendors to upload for review. The number of required submissions for line items and custom data entry sub tables can also be set. In turn, your organization can receive a consistent set of RFP responses more tailored to your preferences.
Additionally, a new and improved review page displays respondents' answers in an organized fashion for easier viewing, management, and evaluation.
Leverage a unified RFP survey process for enhanced bid management with Contract Insight!
Please note that eSourcing is an optional licensed add-on module. Please contact your Account Representative today for a demo and pricing.
Dutch Auction-Style E-Sourcing
Diversify your bid process with CobbleStone's Dutch auction-style option!
CobbleStone now offers Dutch auction-style Procurement functionality!
Whereas a normal vendor bid process involves numerous suppliers competing for the lowest or most qualified price at which an organization must purchase services or goods, CobbleStone's Dutch auction feature allows your organization to sell goods and inventory. Dutch auctions involve a price being set by your organization which gradually decreases over time (based on a configured schedule) until a buyer places a bid.

At that point, the price decrease process stops, your organization evaluates the placed bid, and the bid is either awarded or rejected. Bidding either restarts from the original price or continues from the current price.
Experience diversified bid management options with Dutch auction-style e-Sourcing today!
Please note that eSourcing is an optional licensed add-on module. Please contact your Account Representative today for a demo and pricing.
Explore These Features & Many More!
In addition to the robust and helpful tools mentioned above, Contract Insight version 17.6.0 also offers:
enhanced employee management.
more robust configuration options for ad-hoc report charts.
advanced file search.
additional system executive graphical dashboards.
expanded file categories on the Vendor Gateway.
help text for various Contract Insight tasks.
various system display enhancements.
easier system dashboard assignment.
and more!
Get Started with Contract Insight 17.6.0!
Please contact CobbleStone today for additional details about Contract Insight Enterprise Version 17.6.0 and a free demo.
Contract management, procurement, and sourcing professionals need to be equipped with the tools to prosper. Get started with Contract Insight 17.6.0 to leverage exciting new features that CobbleStone offers for source-to-contract management! Contact your Account Rep today for a free demo and review licensing options.