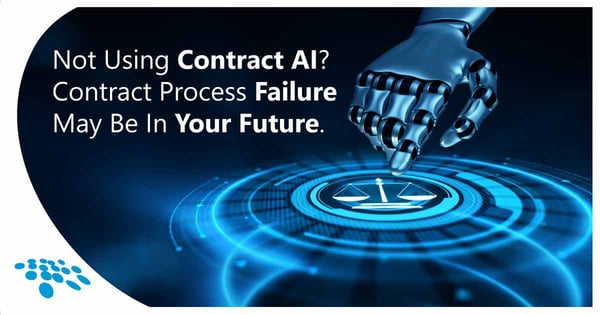 Digital transformation is the future of contract management – whether legal operations professionals like it or not. Organizations not leveraging contract intelligence may very well encounter a bleak contract lifecycle management future.
Obsolete CLM methods can include scattered contracts in shared drives, tediously entered contract data, and a lack of data security. Contract clause mistakes, missed key dates, and storage issues are almost sure to ensue. Contract failure is almost inevitable and, what's worse, there is a nearly total lack of actionable insight.
Thankfully, organizations can avoid contract process failure with contract management software built upon a foundation of artificial intelligence (AI). Here's how.
Contract AI
Contract AI allows organizations to automate contract management and related processes. Companies can use contract AI to automate contract data extraction, risk mitigation, and contract security. Leading contract artificial intelligence supports statistical data analysis, proactive risk recommendations, and machine learning for continuous process improvement.
Preparing for the Future of Contract Intelligence
Let's take a closer look at how your organization can plan for a fruitful CLM future with contract AI.
# 1 - Not JUST Contract Data Extraction
Your organization can stop wasting precious time manually entering contracts and relevant data into your contract management solutions. Leading legal ops AI can allow you to automate the extraction of key data from contract documents, such as:
important dates and deadlines.
locations.
email addresses.
phone numbers.
counterparty names.
monetary information.
Your organization can rely on contract AI that identifies and extracts clauses and text in a more futuristic manner. Natural language processing and intelligent fuzzy logic matching of terms and clauses and structured data can provide extraction and beyond.
Sensitive data can easily be identified by your team and rules can be established around data per your company's needs. Such sensitive data often includes:
personally identifiable information (PII).
employee information.
bank routing numbers.
credit card information.
social security numbers.
You can streamline the introduction of thousands of contract documents with reassurance that data entry errors will be minimal. As such, your contract reviewer and other relevant personnel can focus on more strategic roles, such as contract negotiations collaboration enhancement.
#2 – Transform How Your Team Mitigates Risks
A CLM strategy built upon contract artificial intelligence can bring your organization into the future of how it reduces risk.
When adding a variety of contract types into CLM software, your organization can pinpoint prospective risk. By analyzing legal document text, your contract AI platform can identify positive, negative, and neutral language based on configured rules. This functionality can help your organization realign your strategy and improve visibility.
Let's look at an example. You might configure your CLM system so that, if a contract has a value 20 percent greater than average, an alert can trigger. Furthermore, a workflow process can be updated.
#3 – Powerful Contract Management Recommendations
Contract artificial intelligence can supercharge intelligent workflow automation. Recurring, on-screen CLM recommendations and reports can provide your organization with better contract visibility. You can simplify the meeting of key dates and milestones.
Workflow automation can engage the right people at the right time. Contract process management, contract templates, and more can take your contract process into the future. Collaboration and negotiation processes can be tracked with configured workflows.
Your team can reduce contract approval cycle time by reducing CLM bottlenecks and promoting accountability. Automated data review, risk mitigation reminders, and more can be provided by contract artificial intelligence.
#4 – Improved CLM Accountability With Contract AI
You can hold your team accountable by tracking contracts performing in your system and employee usage of CLM tools.

Your team can analyze theoretical contract performance in the event of certain risk events to be prepared for virtually anything. A risk assessment matrix can plot risk events in a visually engaging manner. What's more you – as a contract administrator – can track how often and how well your employees are using CLM tools. From there, you can enforce more attentive usage of such tools to improve your contract management process.
Your Bright Contract Management Future With Leading Contract AI!
There is one contract artificial intelligence engine that offers all of the tools mentioned above and more. That solution is VISDOM® AI within CobbleStone Contract Insight®.
CobbleStone® is an award-winning CLM provider that has helped thousands of organizations from a variety of industries. The buzz just keeps on buzzing for CobbleStone – as can be seen from these success stories. It's no wonder why Quadrant Knowledge Solutions recently recognized CobbleStone as the CLM Technology Leader in the SPARK Matrix™ Report.
See for yourself how to supercharge your CLM process with AI with machine learning and more. Book a free demo of CobbleStone today!
*Legal Disclaimer: This article is not legal advice. The content of this article is for educational purposes only. The information on this website may not present the most up-to-date legal information. Readers should contact their attorney for legal advice regarding any particular legal matter.