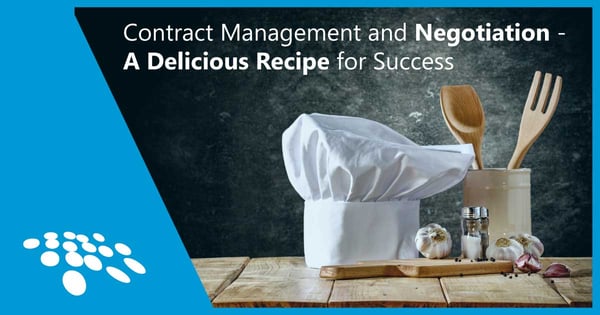 As a contract management professional, you must be able to cook up a deliciously low-friction contract negotiations process. However, without a centralized and organized system for contract negotiations, you can end up burning the meal for all contract lifecycle management stakeholders at the table. But fear not: leading contract management software can be the secret ingredient to a savory, delectable contract negotiations process. Read on to learn how.
Contract Negotiation
Contract negotiation is a crucial step in the contract lifecycle that involves document assembly, contract authoring, and contract collaboration with stakeholders. In the contract negotiation stage, contract parties and stakeholders negotiate the terms and conditions drafted during contract authoring. After back-and-forth contract collaboration and redlining, conditions agreed upon supply insight concerning the expectations of all involved contract parties.
Before you cook up a mouthwatering contract negotiations platter, let's see what tools you have in your contract lifecycle management kitchen.

Negotiation Software Tools
Negotiation software tools are contract management software features that assist you in finalizing the negotiation of a contract. These tools can include:
dynamic contract authoring.
online document editing.
comprehensive document collaboration and version control.
contract content control and clause ownership.
and a centralized contract collaboration portal.
Let's dive into these crucial contract negotiations ingredients further.
Ingredient #1 - A Dash of Dynamic Contract Authoring
Add a dash of dynamic contract authoring to your contract negotiations recipe! Contract management software with dynamic contract authoring can help you author documents using templates to merge contract field data with clauses from your pre-approved language library. Including a clause library among your ingredients can help produce timely, compliant, and accurate documents and contracts for collaboration with internal users, vendors, and external stakeholders. Yum!
You can also pre-approved clause libraries to pepper in document templates such as those used for FAR, DFAR, and GSA contracts – if applicable. You can also take care of CLIN (contract line item number) management and the inclusion of line items within contract templates. Contract documents can also be exported as standard file formats such as MS Word and PDFs to add to your spicy CLM cabinet.
Robust contract management software solutions, such as CobbleStone Contract Insight®, allow you to stir in documents online in-system.
With CobbleStone®, you can:
create new documents straight from a user-friendly CobbleStone record information page.
import new documents straight into a CobbleStone record information page.
seamlessly edit existing documents straight from a CobbleStone record information page with essentially no friction.
You can also add two heaping tablespoons of mission-critical connectors for contract authoring. For example, CobbleStone Software supports connectors for concurrent online document editing within MS Office 365 and Google Workspace. You can leverage these savory connectors to collaborate with internal and external stakeholders concurrently online for a familiar collaboration and word processing experience.
Ingredient #2 - A Cup of Document Collaboration & Version Control
Add a cup of document collaboration and version control to your culinary contract negotiations masterpiece! This ingredient adds big flavor if it stems from a system that offers an MS Word connector for centralized collaboration and version control as well.
Say, for instance, you download a document version of ABC agreement from that agreement's contract field data details page within your contract management system. You then reattach that document with changes you have performed and tracked. In that case, user-friendly contract lifecycle management software can create an audit trail that improves control of the document - complete with version numbers.
Advanced solutions, such as CobbleStone Contract Insight, can offer a user-friendly file utility. Such a helpful tool makes it even easier for you to upload new versions of contract documents onto corresponding contract field data details pages. Instead of wasting contract negotiations meal prep time downloading the most up-to-date file versions from your system, saving them to your desktop, and reuploading them after making essential changes - you can simply upload new versions using the CobbleStone MS Word ribbon. You would be remiss not to add such a tangy tool to your contract negotiations recipe!
Ingredient #3 - A Quart of Content Control & Clause Ownership
Your recipe needs its quota of contract content control and clause ownership to really get that contract negotiations ZEST going!
Luckily, leading contract management software supports content control for when a document is being authored. Your system can be configured so that if anybody changes a section or clause within a contract document, the clause owner can be notified. Clause ownership allows you to assign an owner to a specific contract clause. If that assigned clause is drafted into a contract - and any stakeholder tries to edit that clause - your CLM system can add the owner of that clause or section to the contract approval process and prompt them to approve changes made to that clause. That way, resources are only added into the contract negotiations process in the event that they are needed, according to a rules-based clause ownership procedure. Now you are really cheffin' it up!
Your guests are getting hungry. Bring this all home with one final ingredient!
Ingredient #4 - Finish It off With Centralized Collaboration
It's time for the final contract negotiations recipe ingredient that separates the amateur cooks from the five-star chefs: a generous pinch of centralized contract negotiations collaboration!
This ingredient can bring streamlined external collaboration on negotiations between users, internal non-users, and external non-users. A great option, for example, is CobbleStone Software's document collaboration portal. You can quickly set up a rules-based process for stakeholders involved that need to engage with a contract - such as employee users, employee non-users, and external contract parties and stakeholders.
Such a contract negotiation portal provides a very similar process to that of an internal contract management workflow for your system users. Assigned contract stakeholders can receive a notification to bring them to this negotiation portal. Here, relevant contract documents can be accessed for contract review. This way, both external parties and those within your organization who are non-users can access critical documents relevant to the contract, but they do not have access to core system features that they do not need. The document needed to interact with can be isolated so that these resources can quickly access that document and make necessary changes to approve it directly from the portal.
With an online negotiations portal, contract negotiations between internal and external parties can be cooked up quick!
Congrats! You have brought together scrumptious contract negotiations process ingredients. Now, all you need to do is mix them all together, put it in the oven, and...
Cook up Contract Negotiations Success With CobbleStone Software!
Pat yourself on the bat - you have brought together some of the best ingredients in the world of contract lifecycle management to create a truly delectable contract negotiations recipe. Now it's time to enlist the only solution that lets you mix up all these ingredients and satisfy your famished guests. That contract lifecycle management software solution is CobbleStone Contract Insight.
CobbleStone Contract Insight is an award-winning contract management software solution that leading contract professionals from various industries have trusted for over 20 years and counting to keep manual contract management methods out of their organization. CobbleStone® has all of the features mentioned above and more so that you can tackle contract negotiations and the contract lifecycle with confidence. With so many leading tools for each stage of the contract lifecycle, it's no wonder why Forrester names CobbleStone a Leader in CLM software!
Book your free demo of CobbleStone today to see all the award-winning tools you can use to cook up contract negotiations and more!