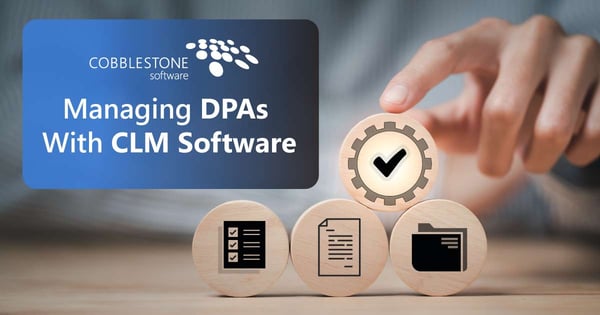 In the baseball game of data protection, mastering the rules and strategies is as critical as practicing the fundamentals at spring training. Enter the world of data processing agreements (DPAs) and the General Data Protection Regulations (GDPR). We will learn about these agreements and regulations, as well as how contract management software helps ensure businesses don't just play but dominate in this crucial stadium.
On Deck: Grasping DPAs and GDPR
Understanding DPAs: When one entity processes personal data on behalf of another, a data processing agreement (DPA) becomes the rulebook. It outlines the nature, subject matter, and duration of the processing.
Warming Up & Swinging the Bat – GDPR: The GDPR is the general data protection regulation that dictates and guides how businesses handle data. With its stringent standards, especially in Article 28, it ensures that businesses process personal data with utmost clarity and care. This European Union regulation applies to any organization worldwide that processes the personal data of any EU citizen, so it is important for virtually all companies.
At the Plate: Navigating Article 28 of the GDPR
The Ultimate Empire of Data Processing: Article 28 of the GDPR dictates how businesses should handle the types of personal data they manage. It's not just a guideline but a mandate - ensuring that any entity that processes personal data does so with the highest standards of information security.
Full Count: Establishing a Timeline: Just as baseball games have nine innings, data processing has its timelines. Article 28 ensures clarity about the scope and duration of the processing, setting clear boundaries on how long personal data can be processed and stored – following by archiving, retention, and destruction/deletion procedures thereafter.
The Star Player: Contract Management Software
A Spring Burst: Streamlining the Process: Leading contract lifecycle management software is the MVP when dealing with DPAs. It streamlines how a business processes personal data – virtually ensuring data security and swift responses to any data-related issues.
Contract artificial intelligence can help CLM system administrators identify data such as names, locations, dates, counterparties, phone numbers, emails, bank routing numbers, and other potentially private details. System admins can decide whether or not such data should be redacted - and select desired data points and define rules for the usage and security of said data points.
Preventing Data Errors: Data breaches are the errors of the data game. With advanced information security measures, contract management software minimizes the risks of breaches, ensuring that businesses can rely on it to keep data safe.
Contract AI provides visibility and oversight regarding data access. System admins can assign access to information to different groups of people (such as employees, departments, jurisdictions, and companies).
Organizations have the option to assign and monitor access based upon security groups, so access does not always need to be granted to an erratic or uncertain group of individual users. Additionally, administrators can assign assign or restrict access down to the metadata level (such as clauses, personal or company information, contract amount, contract types, etc.)
Furthermore, the level of data access can be managed. For example, an organization may assign some users with permission to view and edit contract data while allowing others to simply view it.
Building the Dream Team: Third-Party Integrations
Picking the Right Teammates: If your business relies on third parties to process personal data, it's essential to ensure they're GDPR-compliant. CLM software can help track compliance, so users can make note of entities that have a GDPR data processing agreement in place. You can easily track, search, and report on compliance documentation and other similar data.
Coordinating Plays: The nature and duration of processing, along with the subject matter and duration, need to be in perfect sync between businesses and their third-party partners. Contract management software virtually ensures this synchronization with:
approval workflows for drafting, negotiation, and signature processes.
task and obligation reminders – via email or in-system (including on a calendar).
key date and milestone notifications.


The Game Plan: Data Protection Impact Assessments
Scouting Potential Threats: Just as baseball teams scout their competition, businesses should scout potential data threats. Contract management software can store and standardize data protection impact assessments as mergeable templates - allowing businesses to quickly anticipate, prepare for, and tackle potential data challenges.
Strategizing Data Defense: As was previously touched on DPAs, as facilitated by the CLM software, can enable businesses to map out how each type of personal data is handled. This data protection can be drilled down to the metadata level – which virtually ensures that businesses are proactive rather than reactive, addressing potential data issues before they become significant challenges.
Sealing the Victory: eSignatures and DPAs
Closing the Deal: The final step in any DPA is making it official. Contract management software offers electronic signature and digital signature capabilities, virtually ensuring DPAs are finalized swiftly and securely with:
legally-binding, secure, and user-friendly signing.
certificate-based digital confirmation.
eIDAS support.
full signing process audit trails.
timestamps and encryption.
proof of document integrity.
Ensuring Ongoing Compliance: Even after signing a DPA, it's essential to ensure that the agreement's terms, especially those concerning the nature, subject matter, and duration of the processing, are adhered to. Contract management software helps in monitoring and ensuring this compliance is upheld.
Conclusion: Winning the Data Championship
In the rapidly evolving world of data protection, staying ahead of the curve is paramount. By understanding the intricacies of DPAs, mastering the directives of Article 28 of the GDPR, and leveraging contract management software, businesses are not just ready to play — they're set to win the championship of data protection. Organizations can also clinch the "DPA league" and win the data protection world series with CobbleStone Contract Insight®!
CobbleStone's array of user-friendly features empower organizations to manage contracts efficiently. As a provider, CobbleStone is SOC 1, SOC 2, and Privacy Shield compliant.
Book a free demo of our acclaimed contract management, procurement, and eSourcing platform today!
Legal Disclaimer: This article is not legal advice. The content of this article is for general information and educational purposes only. The information on this website may not present the most up-to-date legal information. Readers should contact their attorneys for legal advice regarding any particular legal matter.