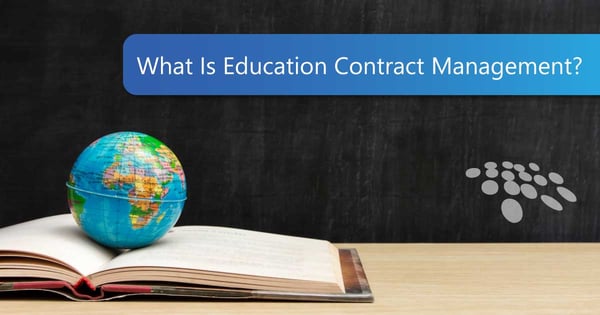 Colleges, universities, and school systems can encounter unique contract management challenges. Educational institutions manage a large volume of contracts, vendor contracts, suppliers, and providers of goods and services. A disorganized, risk-prone, and slow-moving education contract management system can cause:
confusion among departments.
wasted time.
widened gaps between legal, procurement, and contract administrators within academic systems.
In order to avoid these issues, we need to first address the question. What exactly is education contract management - and how can it be improved with contract management software?

What Is Education Contract Management?
According to the U.S. Department of Education, the United States education system consists of approximately 6,900 accredited postsecondary education programs and institutions and about 98,000 elementary and secondary schools. As such, education systems can find themselves spending multiple billions of dollars every year on managing operation costs, many disparate contracts, suppliers, vendors, the procurement of goods and services, legal operations, and much more.
Unfortunately, school systems from kindergarten all the way through higher education and postsecondary education can encounter detrimental pitfalls in the aforementioned pursuits. Contract lifecycle delays, financials mismanagement, vendor mismanagement, supplier mismanagement, procurement mismanagement, and a lack of contracting process automation can lead to overlooked opportunities during contract negotiation, delayed contract approval processes, missed key dates, failure to meet contractual obligations and contract compliance, delayed contract signature execution, and other deleterious circumstances.
Proper education contract management involves:
maintaining visibility of operations across departments.
centralizing the storage of contract documents, contract data, and contract workflow processes across finance, legal, procurement, and other departments.
implementing security measures to maintain regulatory compliance and avoid data breaches (shared folders and network drives won't cut it!).
seamlessly integrating education contract management with vendor management, employee management, procurement management, etc.
proactively tracking contract financials and budgets.
and optimizing and streamlining the full contract lifecycle - including contract renewal opportunities.
The abovementioned responsibilities may seem daunting at first. Luckily, however, there is an easy path to education contract management excellence: leading education contract management software.
What Is Education Contract Management Software?
Robust and user-friendly education contract management software can help academic organizations at ranging levels to unify the many disparate needs of education contract management, such as secure and organized document storage, contract and data security oversight, organization-wide visibility and accountability, widespread process integration, simplified financials tracking and budget oversight, and comprehensive contract lifecycle management (CLM)! Organizations can enjoy CLM software for higher education, elementary school, and everything in between to manage contracts.
Below are just some of the ways CobbleStone Software's award-winning, long-trusted, and user-friendly education contract management software suite - CobbleStone Contract Insight® - can help increase operational efficiency, increase productivity, and centralize processes for reducing risk and more.
#1 - A Secure & Feature-Rich Contract Repository
Centralized contract document and contract data storage in one easily accessible and easily navigable repository simplifies the management of documents and key data across departments. It can assist myriad professionals involved in the contract lifecycle to organize documents of ranging types and data (including PCI, PII, and other sensitive data) and oversee extracted contract document data fields in a secure location with highly configurable rules regarding access and security.
Users get the best of both worlds: easy access for those authorized across departments and tightknit security configuration to restrict access for those who are unauthorized! Contract administrators and other professionals no longer need to worry about critical information getting into the wrong hands as a result of security breaches of data drives and spreadsheets.
Furthermore, straightforward searching and reporting with a robust CLM system makes it easy for users to track statuses, search for existing contract records, access contract documents, access key data fields, collaborate, and so much more!
#2 - Maximized Contract Financials & Budget Oversight
Education contract management professionals managing highly important and high-volume contract financial data can finally enjoy a simplified process with CobbleStone Education Contract Management Software! Comprehensive and easy-to-navigate contract financial transaction details pages allow users to neatly track expenses, refunds, rebates, and other similar data and transactions - all in one location.
Financial summary reports with CobbleStone Contract Insight provide contract details and crucial information at a glance, such as:
the total sum of income transactions.
the total sum of expenses.
the total budget amounts.
the total budget amount remaining.
and the total percentage of your budget amount that has been used (which can include alerts to relevant personnel once a certain budget threshold has been reached).
In addition to reported data about a given contract record, organizations can also run reports for a financial summary on all contracts within a system. These all-encompassing financial summary reports can be configured to run by category – such as by contract type, department, etc. This process can be further enhanced with visually engaging graphical dashboards for enhanced contract analytics - with the potential to display comprehensive data by contract status, contract department, budget, and more within a future-minded, eye-catching interface.
#3 - COMPREHENSIVE Contract Lifecycle Management
As detailed above, school systems far and wide have a lot to keep track of for successful education contract management. Luckily, CobbleStone Software offers oversight of each stage in the life of a contract.
For far-reaching education CLM control, CobbleStone Contract Insight offers:
an

automated contract request

interface.
easy contract authoring that features streamlined merging of contracts with templates and clauses from a pre-approved library.
future-minded

contract negotiation, contract collaboration, review, and contract approval processes.
enhanced contract analytics and contract tracking.
automated key date and milestone alerts and notifications.
comprehensive risk management.
simple process configuration and tracking for specific contract types.
seamlessly integrated RFx management (including RFPs).
searching and reporting - which can include an

ad hoc and custom report designer.
& more.


#4 - Integrated Contract Management, Vendor Management, Procurement, & More!
CobbleStone education contract management software offers a positively comprehensive number of process integrations and add-on modules. At a high level, education contract management professionals can enjoy:
better bid tender and eSourcing processes thanks to the ability to approve and advertise bids, enjoy line-item bids with online comparisons, manage and view vendor bid responses online, simplify online bid rating and scoring, leverage a central vendor collaboration gateway, implement a straightforward vendor award and spend management process, and seamlessly convert solicitations to contracts.
CobbleStone Vendor Management Software - which includes simple online vendor registration, online document exchange and editing, the ability to collaborate and negotiate with vendors via an online vendor collaboration gateway, centralized vendor contracts and vendor agreements, online supplier reporting, bid advertisement, vendor surveys and survey review, and more.
purchase order management tools - including unified tracking of spend, purchase orders, and inventory - along with configurable templates with line-item details, configurable workflows that include purchase approvals, and supplier catalog item management.
and so many other mission-critical process integrations and seamless add-ons.
Master Education Contract Management With CobbleStone Software
Now that you understand what education contract management is - and the solutions at your disposal to tackle it - it's time to get started with the only solution that offers all of the abovementioned robust education contract management software tools: CobbleStone Software.
CobbleStone Contract Insight assists organizations from a variety of CLM software industries - including education - to improve their business processes and foster digital transformation with a leading contract management system. Contract lifecycles can transition from obsolete and inefficient liabilities into dynamic assets that support contract management KPIs. It's no wonder why Quadrant Knowledge Solutions recognizes CobbleStone as a CLM Leader in the Spark MatrixTM Report!
See how you can leverage CobbleStone Education Contract Management Software for education contract management success by booking your free demo.
To stay up to date on best practices, industry news, and CobbleStone Software updates, be sure to subscribe to our blog and YouTube Channel.
This blog was originally published on June 18th, 2021, and was updated on April 11th, 2023.