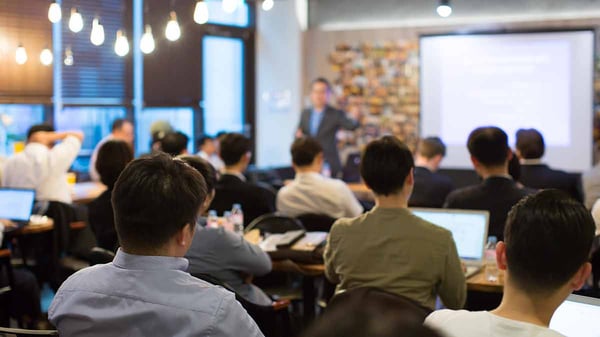 In an interview with CobbleStone Software Account Manager, Michael Donnelly, he describes the reasons why CobbleStone's training events are essential to Contract Insight® users, and what you can expect from attending one. Michael is a Contract Insight expert at CobbleStone who has worked with numerous clients, spanning over twenty industries. He has seen significant amounts of contract management success from those who choose to attend CobbleStone's user conferences and other training events. See what he has to say.
What types of training events does CobbleStone typically host?
CobbleStone offers multiple training events including group training for Contract Insight® users, free contract management seminars for those interested in contract management software, and interactive user conferences. User conferences give Contract Insight users the opportunity to collaborate and discuss their own success stories while learning about new system features. Our training tour, "The Road to Contract Management and Procurement Success," gives them more of an intimate training session, focused on individual use cases with the system and how we can improve processes. For clients open to sharing their experiences with the software, we have forums to discuss ways to achieve even more success with Contract Insight.
Are training events only for beginners?
Training events are designed for all user levels from beginners to experts so they can find new ways to achieve success with Contract Insight. However, beginners benefit greatly from training events because usually the first hour of training sessions is structured with an agenda outlining the basics to ensure attendees are given a proper introduction rather than getting right into details about the system.
At training events we discuss the best ways to approach challenges and achieve a better contract management process using the software. We're there to answer any questions attendees may have and ensure everyone can feel open about asking questions and leave with valuable takeaways.
What types of benefits would a Contract Insight user receive from attending a training event?
Overall, they would become more knowledgeable with the system, but the best benefit is that our training events are a relaxed environment, and we make it comfortable for clients to open up about what they are trying to achieve. Clients are encouraged to bring their laptops so they can work within their own system during sessions. Session topics like Intelligent Workflows and Searching and Reporting allow users to develop a process they can take back to their team after the event and build a better process.
Have you attended any recent training events with CobbleStone? If so, what kind of feedback did you receive from attendees?
Yes, I attended our San Diego training event in March. Attendees felt they were able to dig deep into their system and the processes, workflows, and configurations they have implemented. They described the event as "a huge help" and felt it refreshed their knowledge of the system and introduced them to new system features.
How would you describe CobbleStone's user conferences?
They are a fun, interactive learning experience for both CobbleStone users and the CobbleStone team. They are a good representation of how our clients use the system and, most importantly, it allows them to talk among each other and share success stories that they can take back to their organization and implement for a better process.
Who should attend CobbleStone's next user conference, being held in 2020?
All of our clients should attend our 2020 user conference, including new and experienced clients. New users can benefit from the user conference by learning from clients who have established a process already, and long-term users who are interested in new features of the system will become familiar with how to incorporate them into their current process.
Those interested in a better contract management and procurement process are always encouraged to attend CobbleStone's user conferences to give them a real-world example of CobbleStone's culture and the relationships we have with our clients.
About the Contract Insight Expert
Michael Donnelly has been an Account Manager at CobbleStone Software since 2015 with experience managing client accounts and training team members on the functionality of Contract Insight. Michael works with current clients, as well as prospective clients, handling about 25 unique situations each month. Michael finds Contract Insight Ad-Hoc Reporting Tool to be especially useful to the clients he works with since they provide better visibility and easy access to essential contracts and related information. He enjoys working with clients to help them take full advantage of everything Contract Insight has to offer.
For more information about CobbleStone training events, email us at training@cobblestonesoftware.com.