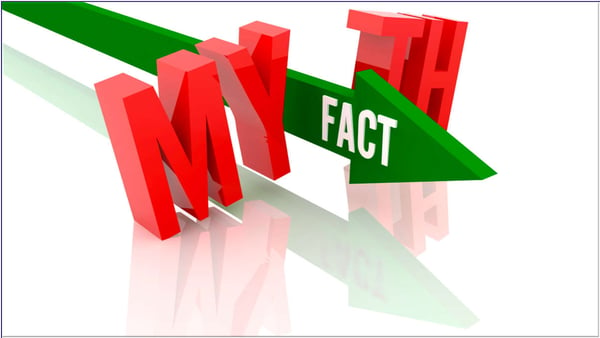 When organizations are considering contract management software for their source-to-contract needs, they often go into the selection process with misguided presumptions. Such "myths" can be misleading and discouraging to potential software users, causing them to relinquish the chance to maximize the value of their contracts.
In this blog, we set the record straight and debunk three prevailing myths about contract management software.
Myth #1 - "My organization has low contract volume and complexity, so contract management software is not worth it."
Though it may seem as though spreadsheets and other manual solutions – such as those involving Microsoft Word, emails, and shared drives - may initially suffice for small organizations, the high price of low-cost contract management is significant.
Spreadsheet-based contract management presents detrimental challenges regarding security, transparency, compliance, productivity, and accountability - and is not adequate in supporting the entire contract lifecycle.
Manual contract management solutions such as those mentioned above provide limited configurability and features, insufficient document storage capacity, limited permissions, and a finite number of users. Such solutions will fail over time because they lack:
contract lifecycle process support.
system scalability and ease-of-use.
consistency and easy adoption.
automation and predictability.
visibility and security.
With the aforementioned shortcomings of manual contract management solutions kept in mind, it is demonstrably advantageous for organizations to invest in contract management software that improves processes, reduces costs, mitigates risks, saves time, and increases ROI.
The positive impact of the investment in high-quality, cutting-edge contract management software will be clear to see. The ROI of such an advanced platform comes from:
simple and secure document drafting and storage.
risk mitigation.
improved communication, collaboration, and negotiation.
automated importation of legacy contracts.
tracking of key dates, milestones, and renewals.
AI-based contract creation, text analysis, and risk mapping tools.
Boost your ROI by streamlining your contract lifecycle tasks, saving time, reducing risk, and maximizing the value of your contracts.
Myth #2 - "My contracts and documents will not be secure, leaving personally identifiable and other sensitive information at risk."
Security is a top priority when it comes to contract management and the storing of documents with sensitive data. Whichever contract management process is chosen, it must protect access, availability of data, and confidentiality. Reputable contract management software provides comprehensive security regarding the access and storage of valuable information. Leading providers also give users a choice between SaaS (cloud) or deployed options.
Cloud-based software can raise red flags regarding security and storage. Still, security is handled with help from contract management software implementation and support teams so that expert assistance is available directly from the vendor. With leading contract management software, organizations can rest assured that their platform supports high-level security and keeps its metrics up-to-date, according to SOC 2 compliance standards.
Myth #3 - "I will have less control over my organization's contracts."
The prospect of automating contract management processes that were previously performed in a hands-on manner can bring about feelings of lost control. However, streamlining your contract lifecycle process with revolutionary tools does not restrict your access to and interaction with contracts. On the contrary, contract management software equips contract managers with more control and governance over their contracts.
Contract Workflows
Software that proffers automated contract workflows reduces instances of contract lifecycle delays as it notifies contract management teams with features such as automated alerts, contract notifications, and task reminders. Intelligent workflow automation allows contract managers to leverage contract process management, user-defined fields, reporting and analytics tools, audit trails, and more. These tools do not sacrifice the control that contract managers have over their contracts, but rather help them gain control over their contract lifecycle with a standardized process.
The entire contract lifecycle can easily be accounted for with contract and document collaboration, expedited negotiation, and easy approvals. Contract management software helps organizations meet key dates and milestones from requests to renewals. Additionally, audit trail history provides organizations with an up-to-date record of contract and document changes. Contract management professionals are more involved with their organization's process with a constant awareness of task responsibility, upcoming important dates, and renewal opportunities.
Contract management software helps organizations see faster contract-to-close rates. Reputable platforms that support end-to-end contract lifecycle management keep the contract management process consistent and unified.
Contract Tracking
Creditable contract management software also supplies organizations with innovative contract tracking features such as a secure contract repository, approved templates and clause libraries for efficient contract drafting, and performance insights – providing an advanced understanding of what they need to succeed.
Key tracking tools for contract management teams include:
version tracking.
tracking of multiple attachment types (including contracts, invoices, purchase orders, and supporting documents).
pre-award and post-award tracking.
audit tracking and logging,
vendor compliance tracking.
Automated contract workflow management and tracking tools promote better contract oversight, control over contract lifecycle tasks, accountability, a standardized process, and improved communication with vendors and stakeholders.
FACT - Contract management software can transform your contract management process.
Now that you know the facts about contract management software, it is time for you to enhance the management of your contracts with a tried and true, trusted source-to-contract platform. CobbleStone's Contract Management Software, Contract Insight®, is acclaimed as a leader in contract management solutions.
The software's wealth of user-friendly tools empowers organizations to handle contracts more efficiently, unite and secure contracts and documents, effectively oversee compliance, keep track of costs, receive alerts, easily sign with E-signatures, and reduce lost productivity and high costs due to out-of-date contract administration.
CobbleStone's contract management software is trusted by thousands of contract, legal, risk, and sales professionals worldwide. Request a free demo of our award-winning contract management, eSourcing, & procurement platform today!