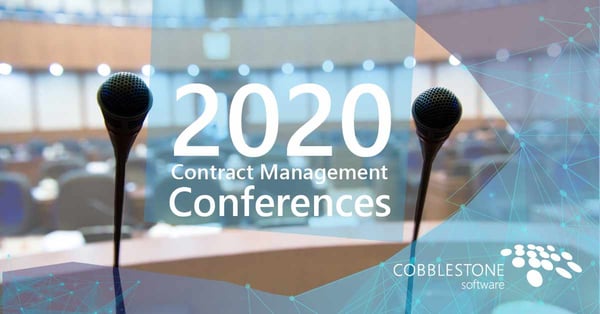 Contract management conferences are a great opportunity for contract administration, legal, procurement, and government professionals to learn best practices and keep current with industry trends, discover new technology, and network. Contract volumes and complexity are increasing rapidly across most industries, so don't miss the opportunity to find new ways to take control of contracts and integrate emerging contract management technology. Here is a list of 2020's top ten contract management conferences.
#1 - Legaltech® New York 2020
New York, NY: February 4-6, 2020
Technology and legal go hand in hand. Don't miss out on the year's largest legal technology event! Whether you're working in legal operations, inside counsel, legal information systems and security, or legal contract administration; you can benefit from learning about innovative products, future technology, and shared experiences from industry experts. Visit CobbleStone Software at booth #501 to learn how Contract Insight can improve legal document management.
Learn more about Legaltech New York.
#2 - ACC Xchange 2020
Chicago, IL: April 19-21, 2020
The Association of Corporate Counsel's (ACC) annual Xchange conference offers interactive education for in-house counsel and legal operations professionals. Attendees will benefit from professional cross-pollination with a fresh take on best practices, leadership and business training, next-generation contracting, speed networking, and more. CobbleStone Software will be exhibiting at ACC Xchange 2020! See how Contract Insight helps in-house legal terms drive value from contracts.
Learn more about ACC Xchange 2020.
#3 - CLOC Vegas Institute 2020
Las Vegas, NV: May 12-14, 2020
The Corporate Legal Operations Consortium's (CLOC) annual Las Vegas event offers innovative in-house legal departments an opportunity to discover new ways to standardize practices, act on intelligence, collaborate, and lead change. Learn from General Counsel, compliance, and technology experts. From legal operations 101 to hands-on workshops, attendees can find better ways to integrate technology and improve legal document management.
Learn more about CLOC Vegas Institute 2020.
#4 - NACo Annual Conference & Exposition
Orlando, FL: July 17-20, 2020
The National Association of Counties (NACo) Annual Conference and Exposition is where county officials from the United States meet for one of the largest meetings of its kind. Thousands of county leaders will attend to see featured keynote speakers, share best practices, and learn from real-life examples to improve process and strategy.
Learn more about NACo Annual Conference & Exposition.
#5 - NCMA – World Congress 2020
Grapevine, TX: July 26-29, 2020
The National Contract Management Association's (NCMA) World Congress 2020 event offers thousands of government and industry contract management, procurement, and acquisition professionals premiere training. From CLP and CPE credit-earning opportunities to sessions on critical issues challenging the industry, attendees can benefit. Learning opportunities include professional development, small group sessions, breakout sessions, keynote speakers, and networking opportunities. CobbleStone Software will exhibit award-winning contract management software at the event.
Learn more about World Congress 2020.
#6- 2020 ICMA Annual Conference
Toronto, ON: September 23-26, 2020
This year, the International City/County Management Association (ICMA) hosts its 106th Annual Conference in Toronto. As the world's largest conference for local government management professionals, attendees will have the opportunity to network with local government decision-makers, share successes and challenges, and discover essential tools and strategies. CobbleStone Software's government contract management software helps track and manage regulatory compliance, FOIA inquiries, requisitions and approvals, vendor management, and more.
Learn more about the 2020 ICMA Annual Conference.
#7 - ACC 2020 Annual Meeting
Philadelphia, PA: October 13-16, 2020
The Association of Corporate Counsel's (ACC) Annual Meeting offers in-house counsel an opportunity to network and advance their careers with sessions on the hottest corporate legal topics, best practices, legal and regulatory standards, continuing education options, keynote speakers, and innovative legal technology. CobbleStone Software will be exhibiting leading contract management software at this highly anticipated event.
Learn more about the ACC 2020 Annual Meeting.
#8 - IACCM Americas Conference 2020
San Diego, CA: October 26-28, 2020
The International Association for Contract and Commercial Management's (IACCM) annual event offers contract and commercial management professionals an excellent opportunity to connect vision, purpose, and relationships for better contract management. Attendees can embrace change and the potential of optimal contract management with increased connectivity, decreased fragmented systems and processes, and the shaping of corporate strategies with multiple stakeholders. Let CobbleStone's leading contract management system be part of your solution in 2020.
Learn more about the IACCM Americas Conference 2020.
#9 - Government Contract Management Symposium 2020
DC Metro Area: 2020 Date TBA
The 2020 Government Contract Management Symposium (GCMS) will be the 39th event hosted by the National Contract Management Association (NCMA). Thousands of government and industry contracts professionals will have the opportunity to learn from leading contract management experts, participate in breakout sessions, gain industry insights, and network. CobbleStone Software will be exhibiting leading government contract management software that is conveniently located on GSA schedule 70.
Learn more about NCMA GCMS 2020.
#10 - CobbleStone Contract Management Conference 2020
Austin, TX: 2020 Date TBA
This year, CobbleStone Software will host the user conference in Austin, Texas. This event is a must-attend for contract administrators, procurement professionals, and Contract Insight users. Subscribe to CobbleStone's blog to get updates on the event and to be notified of when registration opens. In the meantime, learn about the topics for 2020 and read the recap of our successful 2018 event.
Disclaimer: The information presented in this article is for educational purposes only and is subject to change without notice. CobbleStone Software does not endorse these events or guarantee these events will occur or the details of said events, including but not limited to dates, locations, times, agendas, benefits, etc. For updated information and to register, visit the event websites directly.