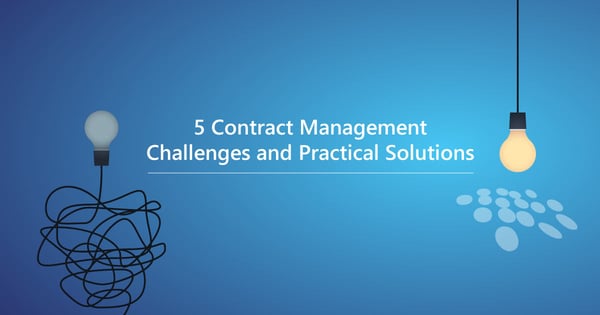 Professionals engaging in the contract management process can find themselves facing a myriad of challenges. Many of these challenges are born from a decentralized strategy and a lack of automated contract lifecycle management tools. Read this blog to discover five common contract management challenges and five leading solutions to those problems.
Challenge #1 - Storing Contracts & Contract Data
Many organizations struggle with contract storage and contract data storage. Problems can arise with outdated contract storage methods. For example, your organization may still rely on contract storage procedures involving filing cabinets for paper documentation, sporadic emails, and cluttered digital storage. These tools alone make it nearly impossible to maintain contract security, version control, key date and milestone governance, and contract archiving and retention rules. As such, your organization may increase risk, lose control over contracts, experience data leakage of PCI (payment card information) and PII (personally identifiable information), and damage contract performance.
The Solution - A Secure Contract Repository
A web-enabled contract repository within leading contract management software is the best solution available for your team to securely store contracts and relevant contract data. It allows your team to organize contracts, centrally oversee permissions, promote document version control, quickly search for stored contracts, keep track of contract statuses, effectively collaborate, and more. Your organization can leverage a secure contract repository to make contracts and data work for your organization - leading to increased productivity, increased control of contracts, heightened revenue and savings, mitigated risk, improved contract performance, and success in meeting and exceeding contract management KPIs.
Contract managers can leverage a secure contract repository to place access restrictions on specific key data for increased oversight and security of PII, PCI, and other relevant sensitive data. For instance, some of your contract management software users may not have any need to interact with contracts other than the ones they've drafted themselves. As such, with user permissions in place, you can prevent security issues and sensitive data.
Challenge #2 - Managing Contract Workflows
Contract workflow oversight requires you and your team to engage with many moving parts. Manual contract workflow processes are outdated. They might require you to oversee each stage of the contract lifecycle with disconnected spreadsheets, manual tracking methods, and decentralized emails to task management resources. Any delay from any of your teammates involved can bring the flow of the contract lifecycle to a halt. Critical key dates can be missed, recourse for resources not completing tasks can go unaccounted for, and contract performance and revenue can severely suffer.
The Solution - Intelligent Contract Workflow Automation
Contract management software that supports intelligent contract workflow automation has been broadly demonstrated to decrease contract lifecycle bottlenecks by engaging the correct resources at the right time with virtually unlimited contract workflow notifications, automated key date alerts, and task reminders. Intelligent workflow automation allows your organization to leverage system and user-defined fields, contract process management, CLM reporting and analytics, full audit trails, and much more.
You can manage contract collaboration, authoring, negotiation, and approvals with workflow configurations to track each and every stage of the contract lifecycle process. Automated alerts and notifications can help your team meet key dates and milestones, up through and including contract renewals. Furthermore, complete audit trail history recorded by intelligent contract software can provide your team with an easily accessible, up-to-date record of changes. Task escalation configuration for when a team resource is not completing their tasks on time promotes accountability and virtually ensures task execution.
Challenge #3 - Contract Drafting & Document Assembly Delays & Mistakes
Your organization's productivity levels and goals can suffer when various disparate resources are tasked with generating, reviewing, and redlining contract documents in a disorganized and inefficient manner. Your team's valuable time can be wasted drafting new documents, periodically downloading templates, locating relevant information for a document, and manually and tediously imputing data into a myriad of fields. What's more, untouched documents become obsolete when new document versions and templates are not made apparent to involved personnel, increasing the risk of detrimental errors. Contract compliance can also become an issue when templates, approved language, and contract clauses are not up-to-date or standardized.
The Solution - Automated Document Assembly Software
You can almost immediately alleviate the issues mentioned above with intelligent CLM software that automates and streamlines the assembly of contracts, agreements, and other mission-critical documents. With leading document assembly software, your team can enforce compliance and decrease data entry errors, contract collaboration bottlenecks, and document storage issues a thing of the past.
You can quickly generate compliant, time-effective, and accurate contracts, documents, and letters that merge your organization's approved data fields and clauses. An intuitive users interface allows you to manage multiple document versions and templates, which can easily be exported into standard and familiar file formats. You can utilize MS Word, MS Outlook, Google Workspace, and MS Office 365 plug-ins as well as CobbleStone's in-system online document editing tools to make contract document editing more time-efficient. You can keep relevant stakeholders up-to-date with version tracking in the document drafting process is to speed processes up and keep everyone on the same page, so to speak.
Challenge #4 - Contract Tracking
If you are leveraging contract tracking processes, they may be acceptable if your organization is managing low numbers of contracts. Still, it is important to note that contract failure rates will exponentially increase when your organization's contract volume increases to hundreds, thousands, or even more.
Insufficient contract tracking methods can hinder your team's ability to reach financial goals, they lack sufficient security, and they can put your organization at deleterious regulatory and operational risk. Disorganized filing systems, disparate emails, and limited spreadsheets are insufficient tools for your organization to reap the most from contracts. Timelines can be changed, audit trails can be disorganized, and rescheduling can become necessary – leading to time wasted, contract lifecycle bottlenecks, and lost revenue.
The Solution - Intelligent Contract Tracking
Leading CLM software can provide your organization with improved contract lifecycle management with advanced contract tracking. You can enjoy enhanced visibility, the aforementioned secure contract repository, approved and tracked templates and clause libraries for expedited contract drafting, user-defined and ad hoc reports, executive graphical dashboards for contract analytics at a glance, performance insights, optimized collaboration, and complete audit trails.
You can see faster contract-to-close rates with improved contract tracking. Proven contract tracking technology, which assists in end-to-end contract lifecycle management, is user-friendly, supporting broad adoption by your users and impacted stakeholders.
Challenges #5 - Contract Signatures
You will likely find that gathering contract signatures manually or in person is hugely challenging - especially when resources with signing authority are not readily available. Contract signing is easily the most critical facet of contract lifecycle management, but manual contract signing processes bog down your organization and stand in the way of a streamlined and centralized experience for internal and external stakeholders.
The costs of paper-based contract signing methods, administrative time wasted, and exorbitant mailing fees can become overwhelming. Ultimately, manual contract signing practices can leave your organization at risk, and the absence of a streamlined contract signing process can compromise organizational reputation. Outdated methods requiring paper, printing, mailing, wet signatures, and constant follow-up can result in contract execution bottlenecks.
The Solution - Electronic Signature Software
You can leverage eSignatures to step into the future of contract management!
An electronic signature is the electronic rendering of a contract signature that enables contract stakeholders to sign a document on the web without needing to present a physical copy of the document. Electronic signatures are an important stage in the contract lifecycle. Signing bottlenecks can result in delays with meeting contract obligations, compliance standards, and contract execution goals. Electronic signature software, however, can cut send-to-sign time by up to twenty percent!
Your team can fully reap the benefits of faster signing with electronic signature software. You can save money on signing expenses, save time with a web-enabled process, provide enhanced security with legally binding and secure contracts, and improve visibility and relationships with accessible signatures in the office or on the go!
Your Contract Management Challenges Solved With CobbleStone®
Now that you know how to solve your contract management challenges with user-friendly contract management software, it is time to introduce you to the best solution for your needs. That solution is CobbleStone Contract Insight®.
CobbleStone Contract Insight is the only solution that offers all of the tools above. You can leverage CobbleStone's award-winning, acclaimed contract management, vendor management, procurement, and sourcing software to address your needs. Given how user-friendly, robust, and seamlessly integrated CobbleStone is, it's no wonder Forrester names CobbleStone a Leader in CLM software!
Tackle your contract management challenges today with a free demo!
To stay up to date on best practices, industry news, and CobbleStone Software updates, be sure to subscribe to our blog and YouTube Channel.