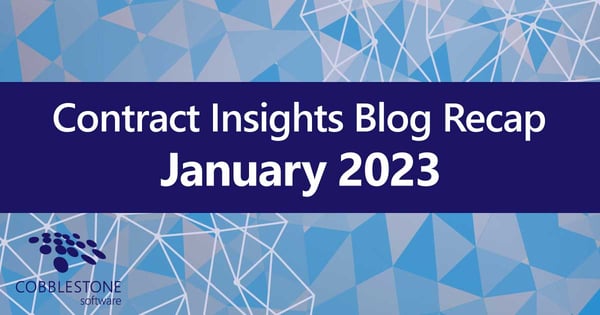 Did you miss any of our blog posts from January? Don't worry; we have outlined each of them for you. Stay up-to-date with industry topics, real-world case studies, and contract management software and procurement best practices in February by reading the latest CobbleStone® content.
Artificial intelligence (AI) is already sharpening professional methods across a variety of industries. However, advancements in AI can be particularly advantageous as they apply to contract management software systems. Contract intelligence engines built upon a foundation of machine learning just need to be fed a nutritious diet of relevant contract data.

You've probably heard the term "NDA" thrown around in the context of contract and business processes. But what is an NDA? When should they be used? How can NDAs be managed? Let's uncover what you need to know about the non-disclosure agreement (NDA).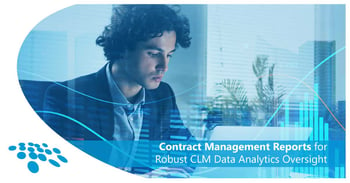 Tracking contract management data with manual and disparate processes throughout the contract lifecycle can prove challenging. You can waste time and energy without readily accessible contract management reports for contract financials, contract terms, workflows, budgets, KPIs, vendors, compliance data, and other essential contract data. Fortunately, leading contract management software can provide you with contract management reports for robust contract performance management oversight.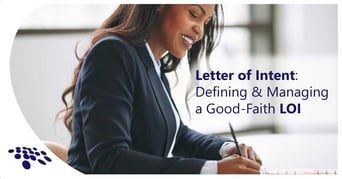 We know. We usually talk about contract management software here on the Contract Insights blog. But what if we rewound for now to a stage that often comes before contracts: letters of intent? What is a letter of intent? Why does it matter? What does it have to do with contracts?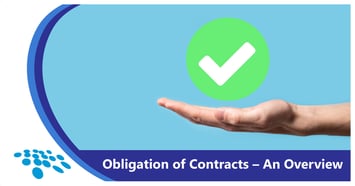 Unfulfilled contract obligations can create a post-award contract management nightmare that can escalate to stressful legal action – such as issuing a cease and desist or suing your counterparty. So, how can you avoid this? By clearly defining the obligation of contracts between you and your counterparty and leveraging contract management software tools to receive timely alerts for each obligation of contracts, you can retain contract obligation accountability instead of meddling with unnecessary disputes.

Contract review is a crucial contract management stage. Unfortunately, far too many organizations overlook this process or leverage out-of-date methods that can increase unnecessary risk. Thankfully, we can establish a contract review processes checklist and manage the life of a contract with leading contract management software. Let's get started.
Unfortunately, we do not live in an ideal world. Sometimes, one party fails to perform. As such, a breach of contract occurs. Crucial business processes are delayed or destroyed. Trust between parties is maimed. With all of these negative effects, a breach of contract should clearly be avoided. Parties should have the right tools to identify contracts' failure to perform and prevent breaches of contract. Thankfully, contract management software can help.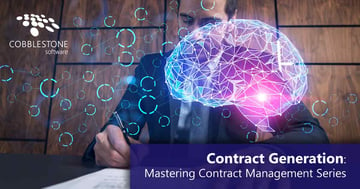 Generation of contracts can be challenging. Manual contract generation can be tedious and error-prone. Moreover, a manual approach to document assembly can put organizations in the precarious position of facing significant process bottlenecks, compliance issues, increased risk, and excessive fines. It's time to take control of contract generation. Learn how to transform your manual contract generation process into a value-centric strategy.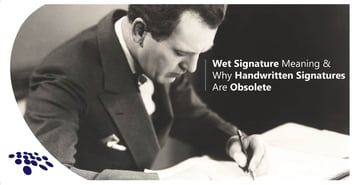 Signed, sealed, delivered...What comes to mind when you imagine a "signature" being performed on a document? Most likely, you picture a wet signature - meaning a handwritten signature. The iconography of the wet signature is pretty ubiquitous, but what does a signature do? What is a wet signature? Why is it so obsolete? What's a better option than a wet signature?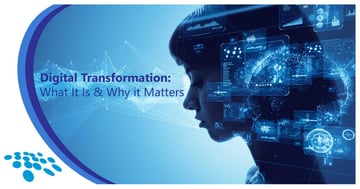 You have likely heard the term "digital transformation" in a professional context. This term has become ever more prevalent since the start of the COVID-19 pandemic. Digital transformation initiatives have been leveraged to transform business processes and business outcomes. But what is digital transformation really – and why does it matter?
Now that you are caught up with our January articles, be sure to keep an eye out for our February content. Never miss a blog post again, and let us notify you when new articles are published by subscribing to our blog! No time to read? Then check out CobbleStone's YouTube channel for exciting video content. Be sure to like and subscribe!
CobbleStone's user-friendly, robust, and scalable solution seamlessly integrates with mission-critical applications, including MS Word and MS Outlook, for unified and seamless contract management.
Discover why thousands of contract management professionals trust CobbleStone Software for their contract management, sourcing, and procurement needs. Book a free demo with a CobbleStone Contract Insight expert to learn more about CobbleStone's acclaimed contract management, eProcurement, and eSourcing software!