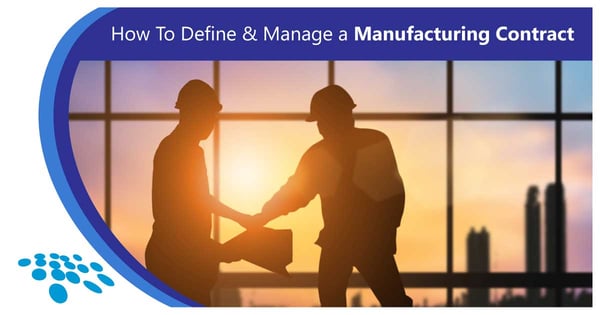 If your organization develops products, your team does not necessarily need to tackle the manufacturing process alone. In fact, most organizations enter into manufacturing contracts. These contracts make it so another company can handle the production process so that you can sell those finished products. A manufacturing contract sets the provisions of this agreement.
But what else is involved in a manufacturing contract? How does one manage a manufacturing contract once parties agree to enter one?
Let's explore how to define and manage a manufacturing contract.
What Is a Manufacturing Contract, and Why Does it Matter?
A manufacturing agreement begins as an oral or written notice between you and a contract manufacturer. As such, you can gain the proper support – in that contracted organizations help manufacture products so you can sell them. Your organization can bring your idea for a product into fruition without investing in:
raw materials.
equipment.
time training internal resources on specialized manufacturing knowledge.
How to Manage Manufacturing Agreements
Create Your Original Product
Before entering into a manufacturing contract, your organization needs to create a product. You can then provide your contract manufacturer with a design or blueprint to leverage (or even improve upon), resulting in high-quality products.
Observe the Elements of a Contract
Just as with any contract, you and your counterparty must observe the six elements of a contract. These elements are broadly applicable to almost every business relationship. They make a contract legally binding so that contract parties are protected in the event of a disagreement or dispute. They power a contract's creation, signing, and execution.
There are six elements of a contract including without limitation:
Offer
Acceptance
Acknowledgement of Obligations & Mutuality
Consideration
Contractual Capacity of Involved Parties
Legality
Enjoy an in-depth guide of the elements of a contract.
Include the Proper Terms & Conditions
No matter if you are signing a contract to work with one production line or multiple manufacturers, you'll want to aim for airtight terms and conditions.
Your manufacturing contract should include:
intellectual property (since the contract manufacturer(s) will be producing your proprietary creation). This aspect also needs to be outlined via a licensing agreement to avoid copyright disputes. An NDA (non-disclosure agreement) will often be put in place to keep elements of your product from reaching consumers too early.
an assessment of manufacturing costs.
clearly-written obligations of both parties.
liabilities.
product quality standards (if a quality control clause is included).
key dates and milestones.
a termination clause that outlines what will happen to IP once obligations of the prior written contract are fulfilled. You can also prepare for breach of contract and assignment for the benefit of creditors in the event of insolvency.
Account for Purchase Orders & Supply Chains
A purchase order is a document that is offered from an organization to its manufacturers. In your case, the purchase order becomes a legally binding document once your manufacturer accepts it to outline:
product types.
product quantities.
prices.
Since there may be a lot of mailing back and forth, leading organizations opt to have a mail return receipt requested unless an electronic purchase order is applied.
There are a lot of moving parts to contract manufacturing. As such, you can specify a supply chain process within a manufacturing contract. That way, you can ensure that the services needed to design and build your products are accounted for in an organized chain of approval.
What Makes Manufacturing Contracts Great
Engaging in business via a manufacturing contract provides a straightforward and centralized way to save money on:
attorney fees.
labor costs.
training for internal resources.
raw materials
overhead.
equipment purchases/renting.
Manufacturing agreements may also save money that would otherwise be wasted on distribution and delivery of goods, services, equipment, etc.
With experts in charge of product production, you can be confident that your organization will go to market with a high-quality product.
Closing
Now that you know how to understand and manage manufacturing contracts, it is time to gather your resources and bring your products into fruition.
It's clear to see that there is a lot to keep track of when engaging with contract manufacturers. Luckily, you can make the most of your contracts, purchase orders, supply chain agreements, and more with CobbleStone Contract Insight®.
CobbleStone Software is a one-stop contract management, vendor management, purchase order management, and procurement software. It can help you streamline the management of manufacturing agreements with tools such as:
an advanced contract repository that can allow you to search within a safehouse of documents for metadata fields, contracts, purchase orders, and more.

an intelligent clause library to quickly merge new documents with standard templates for improved accuracy.

CobbleStone Auto-Redline to automate the inclusion of preferred contract language and clauses.

the ability to integrate contracts and purchase orders – including mission-critical metadata.
Quadrant Knowledge Solutions recognizes CobbleStone as a CLM Leader in the Spark MatrixTM Report - and it's clear to see why!
CobbleStone's long-acclaimed contract and procurement suite has been trusted for over 20 years by contract professionals around the world. CobbleStone's cloud-based CLM software serves as a single source of truth for contracts and more. Get started today by booking your free demo.
Stay up to date on best practices, industry news, and CobbleStone Software updates; subscribe to our blog and YouTube Channel.
Legal Disclaimer: This article is not legal advice. The content of this article is for general information and educational purposes only. The information on this website may not present the most up-to-date legal information. Readers should contact their attorneys for legal advice regarding any particular legal matter.