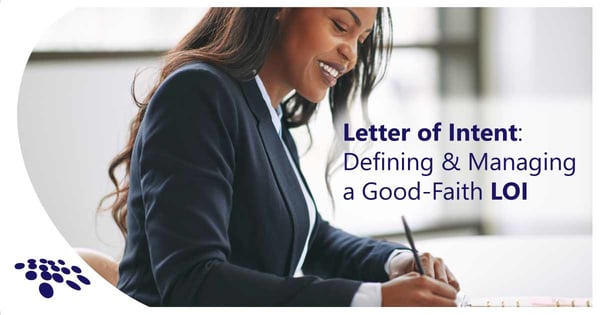 We know. We usually talk about contract management software here on the Contract Insights blog. But what if we rewound for now to a stage that often comes before contracts: letters of intent?
What is a letter of intent? Why does it matter? What does it have to do with contracts?
Read on to find out.
What Is a Letter of Intent?
A letter of intent sees two or more parties express interest in entering into a contract. Also called letters of interest, these letters state the basic terms of a business relationship. It is crucial to note that a letter of intent is not a legally-binding agreement.
Often, a letter of intent is followed by a memorandum of understanding. Here, the fundamental terms hinted at in the letter of intent are outlined.
Why Does a Letter of Intent Matter?
A letter of intent begins the conversations that go on to crystalize a contract's terms. At the very least, parties agree that they are interested in entering into a joint venture.
Writing a letter of intent (LOI) is a document process that involves highlighting the basic terms of a potential business relationship. Before due diligence is taken in hammering down the final details, parties bring to the table general provisions and expectations.
To submit a letter of intent LOI is a document process that is not legally enforceable. An LOI simply helps parties prepare for a prospective contract.
What Are Some Examples of LOI?
There are many use cases for LOI – each with different letter formats.
One common use case of an LOI (which is not business-to-business) applies to job seekers. Where cover letters on resumes tend to be more employee-focused, role letters of intent tend to be role-specific. Employee LOI focus more on the job description – and more directly address the hiring manager.
Perhaps another example could be a corporate real estate agreement. Maybe a company plans on buying property from a property manager via a purchasing agreement with many moving parts. In this case, the buying organization might have a letter of intent for both parties to sign. To sign a letter of intent (LOI) is a document process – in this case – that highlights the general parameters around a prospective significant purchase of property.
LOI Are Not Legally Binding…But…
Letters of intent are not legally enforceable like a contract, but this does not mean they are entirely risk-free.
While an LOI is never wholly legally-binding, certain legal terms within the letter may carry legal legitimacy. These aspects can include:
Copyright: If properties within a letter of intent are acknowledged as proprietary to one party, this cannot be violated.
Privacy: Personal data and privacy are protected.
Confidentiality: Information agreed upon to be kept private in a letter of intent is confidential. Parties are legally bound to keep things confidential even if a deal does not go through.
Non-Solicitation: Parties agree not to solicit each others' employees and contacts.
Exclusivity: Parties cannot go to other prospective parties proposing the same parameters of a potential business relationship.
What Should a Letter of Intent Contain?
The details of a letter of intent will fluctuate depending on the type of business relationship being proposed. However, here are some general tips and specifics.
A professional business letter format should be used. This might include a templated letter for maximum convenience and uniformity.
A letter of intent should be grammatically perfect. This letter is a professional expression of interest in a formal business relationship.
The details of a proposed agreement should be outlined. There should be a rudimentary exploration of the elements of a contract that might ensue.
The goal for when a potential contract is signed should be included.
Obligations for both parties to remain in observance of the prospective contract should be detailed.
There should be some clarity on who will produce a draft of the contract.
Anything parties need to do before a contract is entered (contingencies) should be performed.
How Can Contract Management Software Help With Letters of Intent?
Leading contract lifecycle management software has some key features to help with letters of intent. These features are chiefly designed to help with contracts, so they can easily help with LOI. Some of these features include:
document templates with mergeable fields and clauses to help standardize letters of intent as volume and complexity grow.
a secure repository of letter of intent documents and metadata fields.
proposed key date tracking and alerts.
thorough prospective counterparty data fields and tracking.
All of these features and more for letter of intent management and contract management are available with a contract software solution that can positively transform document generation and management. That solution is CobbleStone Software.
CobbleStone's acclaimed and seamlessly integrated contract management software suite - CobbleStone Contract Insight® - streamlines document assembly and more. As such, organizations create letters and contracts that are accurate and compliant in record time.
CobbleStone Contract Insight is highly configurable for your business rules. It is built to support your team with low friction and robust contract lifecycle management features.
CobbleStone has received acclaim from users and third-party analysts alike. Just recently, CobbleStone was named the CLM Leader in the SPARK Matrix™ 2022 Report.
But don't just take our word for it.
Book a free demo with a CobbleStone expert to see robust contract software in action.
Ready to try CobbleStone for yourself? Enjoy a free trial to get hands-on with CobbleStone contract management.
*Legal Disclaimer: This article is not legal advice. The content of this article is for educational purposes only. The information on this website may not present the most up-to-date legal information. Readers should contact their attorneys for legal advice regarding any particular legal matter.