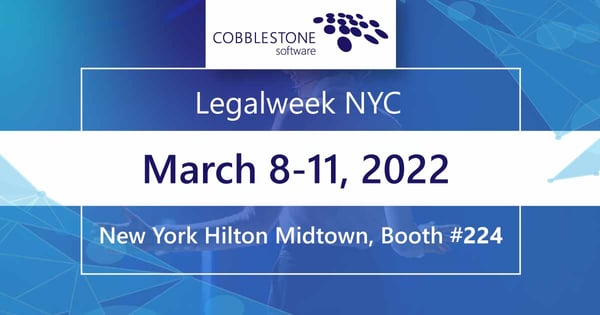 CobbleStone Software will be exhibiting its industry-leading and AI-backed CLM software, CobbleStone Contract Insight®, during the Legalweek conference from March 8th – 11th, 2022, at the New York Hilton Midtown in Manhattan – offering Legalweek attendees the opportunity to see AI-powered legal contract management software in action.
Legalweek NYC hosts thousands of legal professionals to provide a dynamic week-long learning and networking environment to help enhance legal strategy, streamline legal operations, leverage legal technology tools, and more! Seasoned and newer contract management professionals alike can gain tremendous value from this enriching four-day learning experience – packed with keynote speakers, workshops, breakout sessions, exhibitors, and networking mixers.
Legalweek 2022 offers a variety of educational learning opportunities for early, mid, and executive legal contract management professionals. Some exciting Legalweek breakout sessions can explore the following legal contract management topics.
Contract Risk Management
Automated Contract Management
Digital Contracts
Discover how you can leverage artificial intelligence to enhance legal contract management processes by downloading the whitepaper below.
Learn How To Leverage Legal Contract Management Software at Legalweek
CobbleStone's legal contract management software solution supports legal professionals in various industries to streamline contract lifecycle management processes from requests through renewals with unparalleled oversight. CobbleStone Contract Insight offers legal professionals robust CLM features to streamline contract management processes in the following key areas.
Maintaining Contract Compliance & Anticipating Key Dates
Mitigating Risk & Maintaining Optimal Security
Will We See You at Booth #224? See AI-powered CLM Software in Action!
Legalweek attendees can visit CobbleStone Contract Insight® experts at booth #224 in Rhinelander Hall to learn more about CobbleStone's leading, AI-powered legal contract management software. Don't waste any more time confronting legal contract management workflow bottlenecks. See why many legal professionals rely on CobbleStone Contract Insight. Book your free demo with a CobbleStone Contract Insight expert today to see industry-leading CLM software in action.
CobbleStone's trusted, award-winning, highly-integrated contract management software streamlines the contract management process with optimal governance, reduced friction, and high flexibility from contract requests to renewals. CobbleStone has continued to be a leader in CLM software for over twenty years and is trusted by thousands of contract managers. CobbleStone's user-friendly, robust, and scalable solution seamlessly connects with external applications, including MS Word and MS Outlook, and offers VISDOM® AI with machine learning for natural language processing and risk management. Moreover, CobbleStone's IntelliSign® eSignatures can make one-off and bulk electronic signing a breeze. It's no wonder why Forrester names CobbleStone a Leader in CLM software!
To stay up to date on best practices, industry news, and CobbleStone Software updates, be sure to subscribe to our blog and YouTube Channel.
*Disclaimer: Legalweek NYC 2022 details are subject to change. CobbleStone Software does not guarantee conference dates, location, agenda, etc.