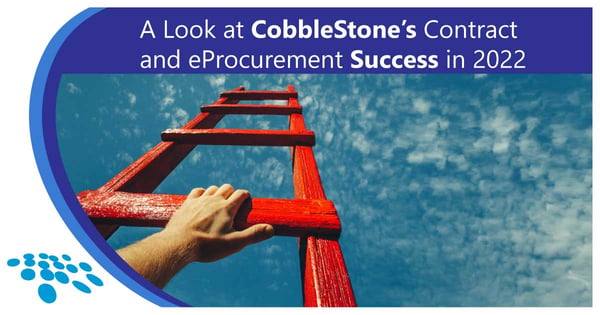 CobbleStone Software is proud to share that we have helped transform contract lifecycle management and procurement in 2022 in various ways. Additionally, we have experienced record-breaking growth this past year. From broadening our client base and partner network to providing leading contract management software innovations and more, here are some noteworthy CobbleStone® successes from 2022.

We Hosted a Virtual Contract Management Masterclass Series
CobbleStone hosted the annual 2022 CobbleStone Contract Management "Roadshow." This free virtual contract management event was offered to CobbleStone Contract Insight® users as a robust contract management software group training webinar and to prospective clients as an educational contract management webinar masterclass. These contract management masterclass sessions were hosted from February 25th, 2022 to December 16th, 2022.
The 2022 CobbleStone "Roadshow" was a great success for CobbleStone users and prospective users alike – offering tremendous value to help strengthen contract management, vendor management, eProcurement, and eSourcing processes. Be on the lookout for information about next year's Roadshow!
We Hosted Our CobbleStone 2022 User Conference in Austin, TX
From October 12th to October 14th, CobbleStone hosted its 2022 in-person user conference! The event offered in-depth contract management software training for CobbleStone users and insightful software demonstrations for prospective CobbleStone users led by CobbleStone Contract Insight experts.
The CobbleStone team offered attendees an engaging experience for contract management, eProcurement, and legal professionals. The event featured breakout sessions, Q&A, keynote speakers, product updates, interactive software demonstrations, system best practices, and much more. The learning event also offered unparalleled insight into CobbleStone Contract Insight functionalities to support seasoned and new users alike.
The conference sessions covered topics ranging from leveraging contract intelligence to understanding the foundations of CobbleStone Contract Insight. Attendees gleaned new insights to apply their findings to optimize contract lifecycle management and to increase their organizations' ROI and overall success.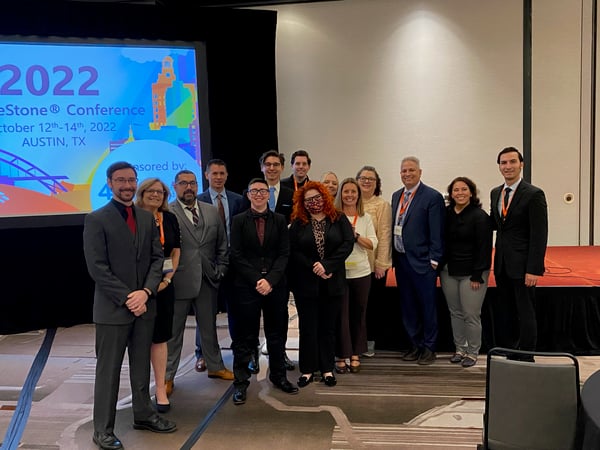 We Commenced a Million-Clause Initiative to Enhance Contract AI
CobbleStone has undergone its momentous million-cause initiative to nurture and enhance its proprietary contract artificial intelligence engine with machine learning - VISDOM® AI.

CobbleStone aims to enter a staggering 1,000,000 clauses into VISDOM AI for an incredibly robust repository of real-life clauses for machine learning. Natural language processes (NLP) and named-entity recognition are the foundations of this momentous and bold initiative for CobbleStone Contract Insight users to enjoy an ever more intelligent contract management process. CobbleStone is already over 700,000 clauses deep!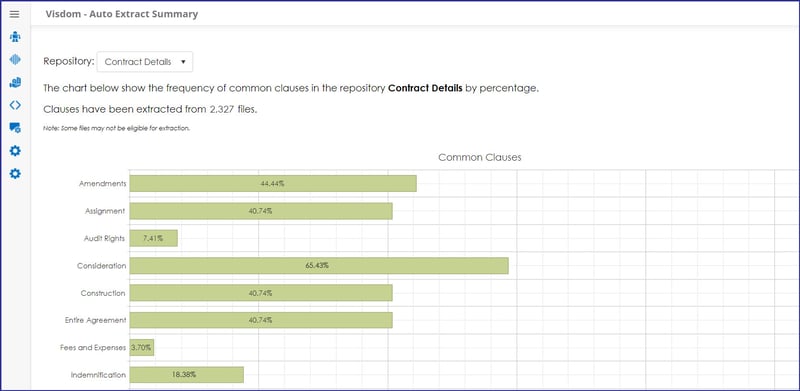 VISDOM's knowledge base will include over 140 standard clauses, as well as many uncommon clause categories tailored to industry-specific contract management software needs. Some common clauses that VISDOM learns from to become even more strong are:
Indemnification Clauses
Assignability Clauses
Notices
Jurisdiction Clauses
Value Clauses
Confidentiality Clauses
Amendments
Waivers
Intellectual Property Clauses
We Released New Versions, Features, & Enhancements
CobbleStone released numerous new versions, features, and enhancements in 2022 to automate and simplify contract management, vendor management, eProcurement, and eSourcing processes in the age of digital transformation.
CobbleStone Contract Insight 17.11.0
The release of CobbleStone Contract Insight Enterprise Version 17.11.0 helped organizations master new tools for CLM, including:
the ability to process multiple documents from a drag-and-drop queue within CobbleStone's VISDOM AI for data extraction, metadata field mapping, and more.




a robust, native online document editing interface with optimized security and centralized collaboration.

a signNow eSign connector for streamlined electronic signature processes.

maximized user permissions and security.

the ability to easily create requests from purchase orders.

optimal vendor oversight with robust surveys and Q&As.
CobbleStone Contract Insight 22.1.0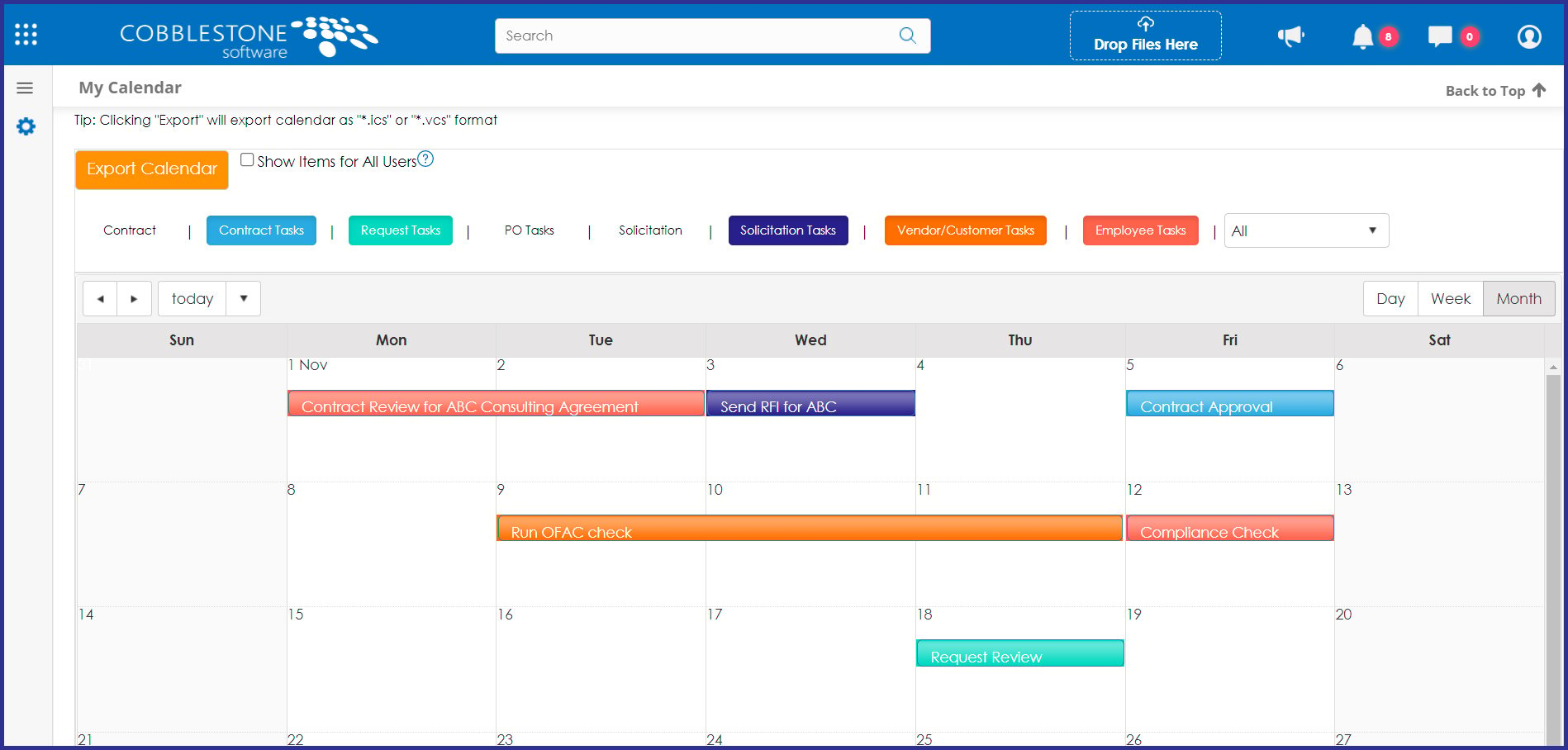 The release of CobbleStone Contract Insight Enterprise Version 22.1.0 brought a refreshing user interface and dynamic tools for a modern CLM experience, such as:
a refreshing core CLM software application experience.
a visually engaging contract record details page experience.
a dynamic progress bar and a back-to-top button.
a robust CLM software user info and account menu.
CobbleStone Auto-Redline for improved drafting and negotiations collaboration.
proactive field recommendations for contract metadata oversight.
insightful contract data extraction summaries with VISDOM AI.
dynamic contract data extraction clause similarity summary with VISDOM AI.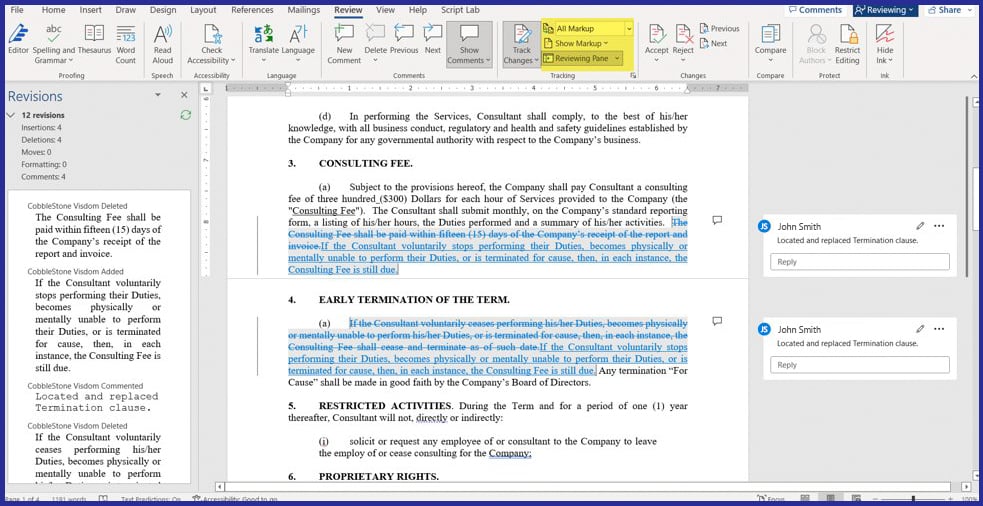 We Introduced New End-User Training Videos for Client Success
In 2022, CobbleStone expanded its offering in the CobbleStone University Video Library – The End-User Training Series. The series is a course of videos detailing basic system usage and functionality for CobbleStone users.

The End-User Training Series is segmented into six feature-based videos listed below:

Login & Basic Navigation
Counterparty Management
Request Records
Contract Records
Ad-Hoc Reports
Dashboards


We Introduced the CobbleStone University Certification Program (CUCP)
CobbleStone introduced the CobbleStone University Certification Program (CUCP) for CobbleStone clients and partners to expand their knowledge of CobbleStone Contract Insight.

This certification program is a combination of live training sessions and videos with accompanying documentation. These sessions and videos ultimately culminate in assessments to earn the certification.

CUCP partnered with BadgeCert, Inc. to offer secure and verifiable digital badges to recipients. This creates the opportunity for recipients to share their achievements through social networks, resumes, email signatures, websites, and marketing campaigns.

To learn about partner CUCP certification, click here.
To learn about client CUCP certification, click here.
We Introduced User-Friendly App Integrations & Connectors
CobbleStone Software introduced and enhanced numerous seamless, user-friendly, and mission-critical application integrations and connectors.
CobbleStone & SAP® Store
CobbleStone Software is available in the SAP Store, the online marketplace for SAP and partner offerings. CobbleStone Contract Insight integrates with SAP S/4HANA® and equips customers with enhanced contract lifecycle management, contract intake, legal review, and more on an AI-powered CLM platform.
CobbleStone Contract Insight's availability on SAP Store not only offers healthcare, government, legal, and other leading professionals with a better solution set – it also enables clients to access a deep network of SAP partners and system integration resources worldwide.
CobbleStone Software is a partner in the SAP PartnerEdge® program. The SAP PartnerEdge program provides the enablement tools, benefits, and support to facilitate building high-quality, disruptive applications focused on specific business needs – quickly and cost-effectively.
CobbleStone signNow eSign Connector for Streamlined Electronic Signatures
CobbleStone's introduced its signNow eSign Connector for streamlined electronic signature processes.
signNow by airSlate is a secure and compliant electronic signature solution that empowers individuals and businesses to send, approve, and eSign documents and forms and easily integrate eSignature into apps and systems, including CobbleStone Contract Insight.
CobbleStone Contract Insight users leverage the signNow connector for electronic signature processing directly from their CobbleStone CLM system. With signNow, contract lifecycle management and electronic signature are now centralized. The CobbleStone and eSign connector can be easily configured. CobbleStone Contract Insight users can send documents due for signing to signNow using the user-friendly CobbleStone Document Toolbox within record pages for contracts, requests, purchase orders, eSourcing, vendors, and employees.
We Received Numerous Awards & Recognitions
CobbleStone has always worked tirelessly to improve organizations' contract management, vendor management, eProcurement, and eSourcing process – and this was continuously recognized in 2022 with numerous awards and recognitions!
CobbleStone® Named Leader in 2022 SPARK Matrix™ for CLM
CobbleStone was named the Leader in the 2022 SPARK Matrix for Contract Lifecycle Management (CLM) by Quadrant Knowledge Solutions. The designation of Leader is the highest honor within Quadrant Knowledge Solutions' competitive analysis and ranking.

The SPARK Matrix assessed 16 cloud contract lifecycle management software providers against 6 key capabilities. The 6 key capabilities include:
Contract Creation and Authoring
Contract Negotiation
Centralized Contract Storage
Analytics & Optimization
Audit & Compliance Management
Contract-Related Reminders & Notifications
CobbleStone Recognized by G2 for CLM & Vendor Management Software
CobbleStone was recognized by G2 in their 2022 reports for the strength of both their contract lifecycle management platform and their vendor management software platform. G2 is the world's most trusted and largest software marketplace, helping 60 million users every year make more informed software decisions based on authentic business peer reviews. Thousands of organizations partner with G2 to build their reputation, manage their software spending, and grow their business.
Some aspects of CobbleStone recognized in G2 reports are:
its easy setup.
its easy administration.
its easy contract creation.
its integrated contract management and vendor management functionality.
and more!
CobbleStone Named Among Best Contract Management Software Companies
CobbleStone was named among the 12 best contract management software providers of 2022 by Recruiters Lineup.
Recruiters Lineup is a leading recruitment search platform. Their list of the 12 best contract management software providers of 2022 is intended to assist business professionals in streamlining legal operations such as contract data extraction, contract repository management, contract risk management, and much more.
The report notes that CobbleStone Contract Insight is "backed by artificial intelligence" and machine learning and can "automate and streamline" the contract lifecycle with "user-friendly features and administration." CobbleStone Contract Insight can centrally streamline contract data extraction, contract data field mapping, intelligent clause management, risk mitigation, and so more.
The listing also notes that organizations can "take the stress out of contracts with easier searching, reporting, workflow, approvals, contract authoring, compliance, and much more." CobbleStone Contract Insight can help organizations oversee the stages of the contract lifecycle with an expedited process, shorter contract lifecycle times, increased revenue, decreased risk, and robust contract analytics capabilities.
CobbleStone Named a Legal Technology Trailblazer
CobbleStone was named a Legal Technology Trailblazer by the National Law Journal – published by ALM. Such a prestigious recognition by The National Law Journal attests to CobbleStone's proven mission-critical support of legal counsel's contract lifecycle management processes in a variety of industries – including healthcare, government, education, finance, pharmaceuticals, life sciences, and manufacturing.
"We are proud to spotlight a powerful handful of companies and products that are truly agents of change…Our goal was to capture a collection of companies that are using innovation to help ease the daily tasks taken on by law firms and legal departments," says Keith Edwards, Vice President, Legal Market Leader of ALM.
CobbleStone was also recognized as a Top 3 CLM Provider in the 2022 Daily Business Review (DBR) Best of Survey.

CobbleStone was picked out as a leader based on over 70 categories containing several hundred total eligible service providers. It is clear that CobbleStone is a leader in the CLM market.
CobbleStone Recognized in Directory of Leading Legal Tech Solutions
CobbleStone was recognized in Corporate Counsel Business Journal's (CCBJ) 2022 Directory of Leading Legal Technology and Project Management Solutions for its acclaimed legal contract lifecycle management software platform.
CCBJ offers the world's leading corporate law departments insights on risk management, innovation, and leadership. Such a substantial recognition by the CCBJ community serves as yet another testament to CobbleStone's leading-edge legal contract lifecycle management tools for general counsel, corporate attorneys, in-house and outside counsel, paralegals, and other leading legal professionals in a myriad of different industries.
CobbleStone Among Top 10 Pharma Tech Vendors to Watch Out for in 2022
CobbleStone was recognized in The Top 10 Pharma & Life Sciences Tech Vendors to Watch Out for in 2022 report by MYTECHMAG for its leading-edge contract lifecycle management software platform.
MYTECHMAG is a prolific digital outlet that offers some of the most comprehensive coverage of technology developments across the globe, which can help tech professionals make informed decisions regarding making the best use of data, technological advancements, and marketing strategies. Such a significant recognition by the MYTECHMAG community serves as a testament to CobbleStone's acclaimed development of advanced contract lifecycle management tools for pharma and life sciences organizations – as well as a myriad of other industries.
CobbleStone Recognized for Leading Education Contract Software
CobbleStone was recognized by CIOReview among the 20 Most Promising Education Technology Solutions Providers of 2022.
CIOReview is a well-established publication that offers a bridge between enterprise IT vendors and buyers, including chief information officers and chief technology officers.
CobbleStone is recognized by CIOReview as "a visionary leader in enterprise contract lifecycle management, eProcurement, vendor management, and eSourcing software solutions that has been trusted by users around the globe for over twenty years."
CobbleStone Recognized Among Top 20 LegalTech Solutions of 2022
CobbleStone was named among the Top 20 LegalTech Solution Providers of 2022 by Enterprise Viewpoint. Enterprise Viewpoint is a leading platform for business owners, entrepreneurs, and organizations to connect with each other and their audience.
Enterprise Viewpoint recognizes CobbleStone as "an innovative solution that reduces contract management costs and lost productivity attributed to inefficient contract administration processes. The company's most advanced, cost-effective, and user-friendly contract and procurement management software applications are one of its kind."
CobbleStone Wins 10 Best Legal Tech Solutions to Watch in 2022
CobbleStone was recognized among CIOCoverage's 10 Best Legal Tech Solution Providers to Watch in 2022.

CobbleStone Software believes that its recognition among the 10 Best Legal Tech Solution Providers to Watch in 2022 by CIOCoverage is because of its ability to support the automation and centralization of legal contracts, agreements, committals, and legal billing processes.

CIOCoverage says of CobbleStone:

"With the help of CobbleStone's solutions and services, organizations can quickly get started with a feature-rich, centralized system for automating contract lifecycle management operations. CobbleStone allows organizations to simply and seamlessly adapt their strategies to meet industry and company-specific demands."

CIOCoverage also notes CobbleStone's million-clause initiative to improve the intelligent clause recognition of CobbleStone's proprietary VISDOM AI. This momentous initiative sees CobbleStone experts introducing 1,000,000 clauses from over 300 standard and industry-specific contract clauses to VISDOM.
CobbleStone Wins Multiple CLM Software Awards from SaaSworthy
CobbleStone was awarded Top 3 Most Worthy Software, Top 10 Highly Rated Software, Top 10 Fastest Growing Software, and Top 10 Most Popular Software by SaaSworthy for the third quarter of 2022.

SaaSworthy helps potential SaaS (software as a service) users in their search for a contract management system with reviews, product details, and their own scoring system.

Some of the CobbleStone Software features that stood out to SaaSworthy were:
Contract Lifecycle Management
Milestone Tracking
Contract Templates
Full-Text Search
Version Control
Contract Drafting
Auto Extraction
Completion Tracking
Approval Workflows
Digital Signatures


We Fostered & Expanded Partnerships & Business Relationships
CobbleStone fostered partnerships, memberships, and business relationships in 2022 to capitalize on its strength as a provider and enhance the user experiences of its loyal customer base.
CobbleStone Has Partnered With Unanet for Streamlined Contract Management
CobbleStone announced its partnership with Unanet so that organizations can centralize their contract lifecycle management and ERP processes. This partnership helps users enjoy more streamlined processes, decreased risk, less wasted time, increased ROI, and greater opportunity realization - while amalgamating mission-critical processes. To see CobbleStone's partner profile, click here.
CobbleStone & Wilson Technology, Inc. For Public Sector & Healthcare
CobbleStone announced its reseller and service partnership with Wilson Technology, Inc.– a disadvantaged business enterprise (DBE) that works with public-sector and healthcare organizations to digitally transform organizational processes, including contract lifecycle management.
The partnership with Wilson Technology, Inc. further expands CobbleStone's partner network by offering Wilson Technology, Inc. clients a highly configurable, flexible, and highly-scalable source-to-contract lifecycle management software to automate CLM processes within varietal industries – such as government agencies, including public education institutions, and healthcare organizations. Considering CobbleStone Contract Insight can be offered as a cloud-based or deployed solution that can scale with organizations' needs, Wilson Technology, Inc. can offer clients robust source-to-contract lifecycle management tools configured to unique organization needs with help from CobbleStone.
CobbleStone Partnered With Koho Software, Inc. To Expand CLM Offering
CobbleStone announced its services partnership with Koho Software, Inc. to expand the offering of its enterprise contract, vendor management, eProcurement, and eSourcing software platform.

Koho focuses on providing software and consulting services for organizations seeking digital transformation, growth strategies, and process improvement through contract lifecycle management software solutions.

CobbleStone and Koho have partnered to bring CobbleStone Contract Insight's leading contract management software tools to organizations in a variety of industries, including:
Biopharmaceuticals.
Biotechnology.
Education.
Energy.
Government.
Healthcare.
CobbleStone Partnered With Obliged Technologies Automation Ltd.
CobbleStone announced its partnership with Obliged Technologies Automation Ltd. – a leading technology services provider. This partnership provides CobbleStone users and prospective users in Africa with contract management software that increases efficiency and solves organizations' most pressing CLM challenges.
CobbleStone Expands Choice Partners Cooperative Contract
Choice Partners is a national purchasing cooperative with legal, competitively bid contracts. Leveraging these contracts through membership streamlines purchasing – saving time, money, and resources for governmental entities and nonprofits. Schools, colleges, universities, counties, municipalities, and nonprofits are eligible for membership. Higher education organizations and private schools that operate as nonprofit organizations may also become Choice Partners members.

Members may purchase CobbleStone Software through Choice Partners contract number 21/062KN-01. CobbleStone's user-friendly and AI-based contract management platform can streamline relevant processes for members with automated and industry-leading tools for:
the entire bid process
purchasing and purchase order management
contract administration
contract lifecycle management
open records access
supplier management
risk management
To learn more about CobbleStone's Choice Partners cooperative contract, click here.
CobbleStone Awarded Renewal for Texas DIR Contract
CobbleStone was awarded a major contract renewal from the Texas Department of Information Resources.

The Texas DIR cooperative contract DIR-CPO-5081 will expand on the offering of CobbleStone's leading-edge contract management and procurement software platform.

With their VISDOM AI integrated system, CobbleStone is already trusted by thousands of Texas-based state and government users.
Learn more about the cooperative contract (DIR-CPO-5081).
CobbleStone Partnered With Foundation for Policy and Governance
CobbleStone announced its partnership with the Foundation for Policy and Governance – a leading management systems consulting service provider focused on process management and improvement, ISO certifications, workflow implementation, optimization and automation, and more. This partnership provides CobbleStone contract management software to customers looking to improve contract lifecycle management, contract workflows, and more with an ISO-compliant platform.

CobbleStone Has Partnered With Cacti Legal To Extend Legal Services
CobbleStone has partnered with Cacti Legal - a Cacti Global organization. This partnership expands CobbleStone's offering of legal services via CobbleStone Contract Insight.

Cacti Legal is a leading alternative legal services firm that offers extended services for:
Legal Research
Contract Drafting
Contract Review
CLM Software Implementation
& More!
CobbleStone's partnership with Cacti Legal extends the offering of CobbleStone's leading-edge CLM software to organizations around the globe - including India (Cacti's headquarters) - to equip organizations with robust legal ops governance.

We Have Fostered Our Corporate Social Responsibility Initiatives
CobbleStone has continuously embraced corporate social responsibility (CSR) initiatives in accordance with a mission that transcends the broader contract management software community in an attempt to make the world a better place.
Some CobbleStone CSR initiatives include:
Thank You for Helping Us Finish 2022 Strong!
We are honored and humbled by the opportunity to have served many leading organizations from such a vast variety of industries this past year and in many years prior. We look forward to more success, expansion, and growth in 2023 and beyond!
Book a free demo today to learn more about CobbleStone Contract Insight!
Stay up to date on best practices, industry news, and CobbleStone Software updates; subscribe to our blog and YouTube Channel.
*Legal Disclaimer: This article is not legal advice. The content of this article is for educational purposes only. The information on this website may not present the most up-to-date legal information. Readers should contact their attorneys for legal advice regarding any particular legal matter.