In last week's blog, "Contract Lifecycle Management Part 1: Mastering Contract Management Blog Series," the common tasks and contract management processes that challenge organizations and how these challenges align with and negatively impact contract lifecycles was discussed. In this final blog post in the "Mastering Contract Management Blog Series," the reasons organizations should implement contract lifecycle management and the core functionality that should be considered in contract management software is revealed.
Why Should Organizations Implement Contract Lifecycle Management?
Studies have shown that contract management expenses are reduced up to 50% when organizations manage the entire contract lifecycle from request to renewals. The benefits of contract lifecycle management include a streamlined contract management process that can measure contract management performance metrics and KPIs.
Organizations as a whole will realize the positive impact because contract lifecycle management tools provide immediate ROI by making the job of contract managers easier. This way they can focus on contract administration best practices, adding more value with their roles. Executives will have the visibility they need to forecast how contracts influence business objectives, revenue, and productivity. Sales managers will have insights into contract process timelines, pipelines, and the most successful deals. Legal will spend less time reviewing documents and more time focusing on risk mitigation and organizational interest alignment. IT leaders will connect departments with integrated technology that protects sensitive information while making employees more efficient in their work.
The high-level benefits from a CLM solution will help automate contract management while you securely store contracts and related documents, track changes and status, manage permissions, provide transparency, and integrate contract management artificial intelligence for contract performance improvement with faster authoring, contract analytics, and contract optimization.
Choosing Contract Lifecycle Management Software
Advanced CLM software helps organizations manage complex or high volumes of contracts with enterprise contract lifecycle management. The best contract management software will immediately provide the features your organization requires while offering a user-friendly platform that is flexible and configurable to meet your organization's evolving needs. Contracts aren't static, so your contract management software must be able to evolve with you.
CobbleStone's contract management software SaaS supports the eight stages of the contract lifecycle with tools that can be used across the entire organization and multiple departments. Contract Insight® online contract management software is the ultimate solution that can easily and quickly be configured to capture, analyze, manage, and monitor any contract, agreement, committal, or obligation. Our powerful modeling technology allows organizations to capture each contract type's unique structure, data requirements, and workflow processes while optimizing your contract management lifecycle workflow.
Contract Insight Enterprise is intelligent contract software that provides robust capabilities and functionality to help you with every stage of your contract process:
Stage 1: Request Contracts: Configure permissions or a rules-based process allow requests from vendors, suppliers, customers, employees, and more. Contract Insight's powerful contract modeling technology will enable organizations to capture the unique structure, data requirements, and workflow processes for each type of contract while centralizing and streamlining your contract lifecycle workflow.
Stage 2: Contract Authoring & Document Assembly: Utilize Contract Insight to create, author, and draft contracts in Microsoft Word or online document authoring tools and store a full library of document templates. Contract Insight Enterprise can leverage existing MS Word document templates for use with contract authoring. CobbleStone's MS Word integration allows legal teams to continue to use MS Word to draft and edit contracts after creation. An unlimited library of rules-based templates with fully mergeable fields ensures the correct template is being chosen and access to other templates is locked down.
Stage 3: Contract Negotiations: Create drafts and versions of contracts for review by employees, vendors, customers, clients, and more in Contract Insight. Export all versions and drafts to PDF or MS Word. Contract viewing is easy with real-time access to critical contract data by employees, users, and optionally, vendors, customers, and clients. On-demand version comparisons of different drafts or versions provide a quick and easy way to review changes and determine what the next steps are.
Stage 4: Contract Approvals: Leverage your organization's existing contract management workflows with fully configurable approval workflow processes that can be initiated from any stage in the contract lifecycle. Establish workflow process rules to ensure timely reviews, task completion, notifications, and contract approvals. Contract Insight's automated calendar and email alerts help organizations stay on top of contract assignments, information, requirements, and key dates.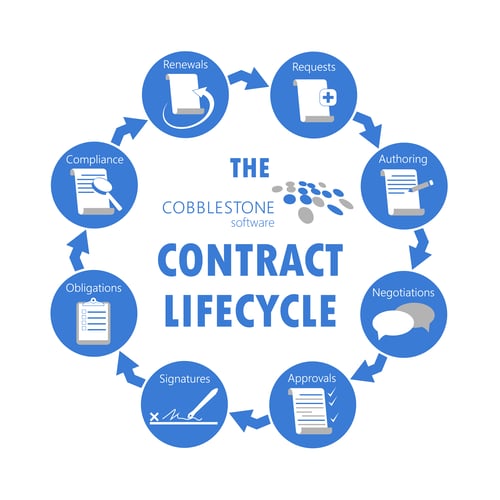 Stage 5: Contract Execution: Control, optimize, and shorten the processing time needed for the drafting, review, approval, and execution of a contract. CobbleStone's e-signature software makes it easy to send and sign contracts in record time. Online e-signatures and bulk e-signatures provide convenience, time-savings, and security. Once documents are executed, Contract Insight's secure and centralized repository makes it easy to navigate and find the location for all final and signed files.
Stage 6: Obligations & Task Management: After a contract is executed, its life and relationships will continue with automated alerts, intelligent workflow processes, risk assessments, advanced reporting, spend management, and compliance monitoring. Spend management is simplified with Contract Insight. Streamline contract pricing and budget tracking, track and monitor vendor-related costs, and receive advanced budget alerts using vendor/client management. Manage obligations, deadlines, and task events with flexible workflow configurations with automated notifications and alerts for key business users and stakeholders.
Stage 7: Compliance Auditing & Reporting: Gain visibility into all your contracts with Contract Insight's advanced reporting. Maintain regulatory, legal, and compliance standards with complete audit trails, advanced contract metrics, and automated key date and renewal notifications.
Stage 8: Contract Renewals & Amendments: Contract Insight's automated alerts help organizations proactively identify renewal requirements, so business users and stakeholders have adequate time to review contracts and make informed business decisions. Quickly draft new contracts based on existing contracts, so no opportunity is missed.
Contract Management Mastery
Master contract lifecycle management with automated contract creation, real-time visibility, a complete audit trail, seamless collaboration, a secure and accessible repository, and transparency and insights from contract metrics. Your commitment to improving how you manage contracts supported by fully integrated contract lifecycle management will not only make contract management easier, it will help your organization get the most out of your contracts and use them as the core driver of success that they can be.
To see CobbleStone Software in action, request a free demo.
Are you ready to master contract management? If yes, be sure to read all of the articles in the "Mastering Contract Management Blog Series."