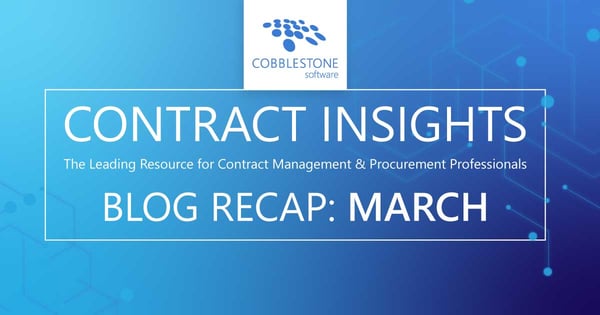 Did you miss any of our blog posts from March? Don't worry; we have outlined each of them for you. Stay up-to-date with industry topics, real-world case studies, and contract management best practices by reading CobbleStone's latest content.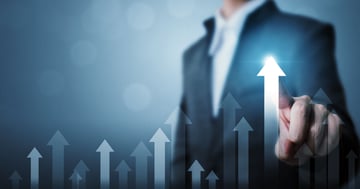 When purchasing and implementing a new product or service, you want to rest assured that you've chosen an option that will maximize the benefits for your organization. In the case of contract management software, the decision to make a change often stems from inefficiencies with an organization's contract process. Thus, the pressure is on to make sure that your organization is attaining the highest possible ROI from a newly deployed source-to-contract software.

The ever-present challenge that your organization's General Counsel and paralegals encounter is the growing volume and complexity of contracts. A subpar legal contract management process makes obstacles for your legal department tough to overcome. Your team must establish a legal workflow that streamlines the contract lifecycle, reduces risk, and cuts delays and bottlenecks. CobbleStone's Contract Insight® can help.


Trusted purchase order management software can reduce administrative costs, promote accountability, improve communication and asset oversight, and help your organization to scale efficiently and effectually. CobbleStone Software's Contract Insight can help you to make better purchasing decisions with comprehensive asset lifecycle management.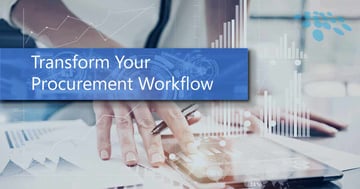 Manually managing purchase orders, bids, vendors, and contracts can be difficult. Processes that involve paying per solicitation can become extremely costly. Limited visibility leaves your organization with an imperfect pool of vendors. An effectual source-to-contract process is the solution to the abovementioned issues. Contract Insight can provide that solution.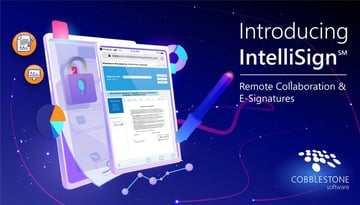 Working remotely is becoming progressively more commonplace. As such, it is important that organizations are supported with sufficient tools to keep contract management, procurement, and sourcing operations running smoothly. IntelliSign electronic signatures with CobbleStone's Contract Insight® equip organizations with a configurable, streamlined, and user-friendly document collaboration and signing process both in-office and on the go. This article will explain how.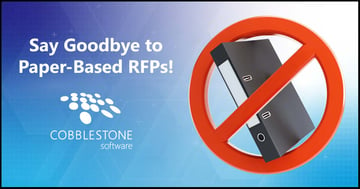 With recent developments of the COVID-19 pandemic, cities, counties, and agencies that previously relied on paper RFx submissions from vendors need a way to accept bids electronically. In this challenging situation, CobbleStone's electronic sourcing software, which equips organizations with remote bid and RFx management, is the solution.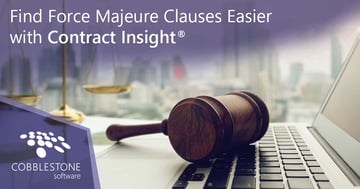 With recent world developments of the COVID-19 outbreak, it is not difficult to see why many organizations may have trouble fulfilling their contractual obligations. CobbleStone Software's Contract Insight can help your organization to find vital, pertinent force majeure clauses in your documents during this trying time, thanks to robust searching capabilities. This article will teach you how.
Now that you are caught up with our blog, be sure to keep an eye out for our April content. Never miss a blog post again, and let us notify you when new content posts, by subscribing to our blog!