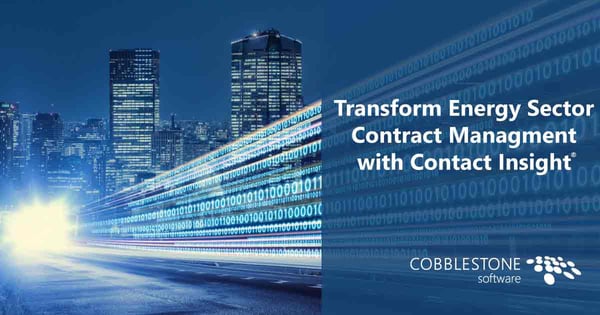 Organizations in the energy industry must manage high numbers of high-value vendor and supplier contracts while remaining compliant and avoiding contract lifecycle bottlenecks. With increasingly stringent regulatory compliance standards and other regulations put in place by EHS and the EPA, the energy sector encounters a myriad of challenges while trying to ensure full contract compliance while navigating the contract lifecycle quickly and effectively.

Energy Industry Contract Management Challenges
Without a scalable contract management solution, energy sector organizations put themselves at risk for a litany of issues, including:
missed key dates.
lost pre and post-award opportunities.
disorganized document management.
workflow task delays.
insufficient certification tracking.
overlooked clauses.
elevated risk of data breaches.
slip-ups around compliance and regulations that can lead to penalties and hefty fines.
Organizations within the energy industry interested in avoiding the problems listed above should leverage a source-to-contract suite that can help them to maintain compliance, cut contract lifecycle bottlenecks, decrease risk, and increase revenue. That solution is CobbleStone Software's Contract Insight.
Centralized Vendor Portal
Contract Insight provides users with a branded portal. Vendors may use this collaboration tool to upload and store a virtually unlimited number of documents and information, such as:
compliance requirements for EHS, EPA, and other regulations and standards.
certificates of compliance with those regulations and standards.
COIs (certificates of insurance).
business certifications.
and much more!
Once a file is uploaded, organizations managing their vendors can create automated workflow alerts for them - based on the key dates for the aforementioned, important documents - so stakeholders can stay up to date regarding when certifications and other forms need to be updated.
Unified Clause Library
CobbleStone offers a consolidated clause library that can help organizations to produce compliant, accurate, and timely contracts and documents. Energy sector contract management teams can manage multiple document templates and versions thanks to pre-approved clauses and data fields. Clause libraries can be used for industry-specific templates such as those for regulatory citations and notes with an energy company's associated agencies. Conveniently, documents can easily be exported into standard file formats such as MS Word documents and PDFs.
Energy industry organizations should take advantage of advanced contract authoring with clause swapping through an approved clause playbook and expedite the creation of contracts.
Intelligent Contract Workflow
Contract Insight proffers intelligent contract workflow that helps energy sector organizations avoid contract lifecycle bottlenecks by keeping the right people notified and alerted at the right time thanks to automated alerts, notifications, and task reminders. Organizations can utilize contract process management, dynamic and user-defined fields, full audit trails, reporting tools, and much more.
Organizations can easily keep track of the whole contract lifecycle with negotiations, collaboration, and reporting tools. Notifications and alerts help energy companies to meet key dates and milestones pertaining to regulatory compliance, pre and post-award phases, and more. Additionally, audit trail history provides organizations with an up-to-date record of changes to a contract.
Energy organizations should apply automated workflows for increased accountability, shorter contract-to-close rates, and assurance that compliances and key dates have been met.
Data Protection with VISDOM AI
In the energy industry, organizations need to preserve and protect their data as well as the data of associated vendors, industries, and sub-contractors. It is imperative that organizations are able to identify sensitive data such as payment card information (PCI) and personally identifiable information (PII), so that compromised security and compliance issues are avoided.
Luckily, VISDOM AI, CobbleStone's propriety artificial intelligence tool, can help Contract Insight administrators to identify and secure contract data types such as names, email addresses, phone numbers, dates, locations, counterparties, and other key information. This functionality helps organizations to decide which sensitive data should be redacted from a contract.
With VISDOM, Contract Insight administrators can select data types and delineate rules for security of and access to those data points based on contract types. When these rules are put in place, they can be automated with the help of VISDOM, promoting security, reducing financial losses, improving an organization's reputation, and eliminating wasted time performing monotonous data import analysis.
Flip the Switch to CobbleStone
If an energy sector organization is ready to take charge of compliance management, stay on top of key dates and opportunities, optimize workflow, properly manage vendor certifications and forms, protect data, draft contracts and documents faster, and experience real-time contract visibility, then it's time to leverage CobbleStone Software's Contract Insight.
Book a free demo today to see how CobbleStone's integrated contract management, online bidding and sourcing, and vendor management suite can help.