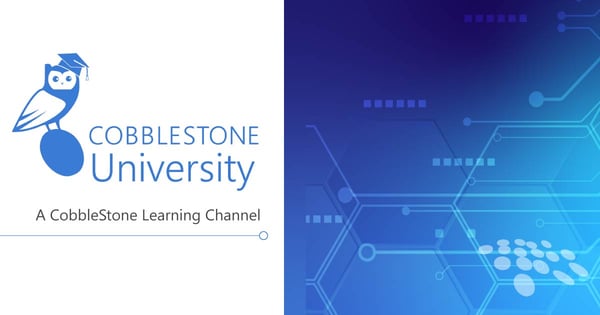 CobbleStone Software is proud to introduce the new CobbleStone University YouTube channel for CobbleStone Contract Insight® users! The CobbleStone University channel is the new dedicated home for CobbleStone's instructor-led training videos, new feature training videos, and contract management software system integration videos.
Instructor-Led CobbleStone® Client Training Videos
The highlight of the new CobbleStone University channel is the enhanced instructor-led training videos, which cover all major features of CobbleStone Contract Insight.
The new library of training videos is a fresh and modern approach to CobbleStone's eLearning. It offers an excellent on-demand learning resource for CobbleStone System Administrators and End Users alike. All instructor-led training videos are recorded in a live CobbleStone Contract Insight system by a CobbleStone training expert.
The videos reflect the user interface introduced in CobbleStone Contract Insight Enterprise Version 22.1.0 (but are still largely relevant for organizations using previously-introduced system versions). Additionally, the channel is consistently evolving - readily reflecting any updates or changes to the system!
The Contract Management Software Curriculum
The comprehensive core CobbleStone training curriculum has been added to CobbleStone University and will soon expand to deeper End User Training, Module Training, and more. Each subject is organized by Unit and categorized into playlists for easy navigation. Most videos are bite-sized, so viewers can find exactly what they need. The primary curriculum is as follows:
Unit 1 Training: Navigation, MRD, Contracts, & Fields
Unit 2 Training: Requests, Reports & Dashboards
Unit 3 Training: Document Templates & Workflow
Unit 4 Training: Permissions, Data Import, App Config & Helper Applications
Unit 5 Training: VISDOM® AI, Surveys/Risk Matrices, Risk Management
Other playlists include CobbleStone Contract Insight Integrations & Support and the System Update Training Videos.
Clients: Get Started With This Resource & Many Others!
Overall, the CobbleStone University YouTube channel is one of many on-demand resources to continue your CobbleStone Contract Insight education.
Other CobbleStone learning resources can be found below:
Clients can contact Training@cobblestonesoftware.com to inquire about the CobbleStone University channel, 1-on-1 training, and other training opportunities.
Not a CobbleStone client, but want to learn more? Book a free demo of CobbleStone Contract Insight today!
*Legal Disclaimer: This article is not legal advice. The content of this article is for general informational and educational purposes only. The information on this website may not present the most up-to-date legal information. Readers should contact their attorney for legal advice regarding any particular legal matter.