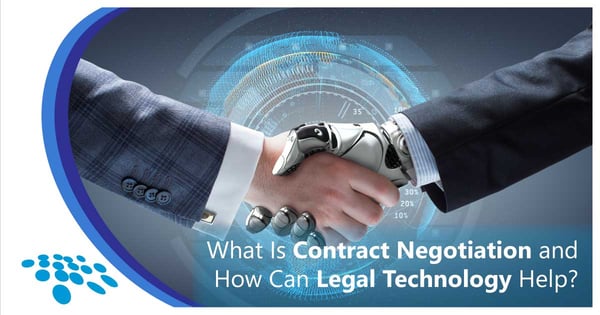 Contract negotiation can create the difference between a strong or weak contract, which can directly impact the bottom line of an organization. As contract negotiation processes evolve at the speed of technological innovations, discover how leading-edge legal technology can empower your negotiation processes - including the use of robust version control, document collaboration, rules-based clause ownership, redlining software, and more. While contract negotiations can take their necessary time, automating contract negotiation steps where possible allows you to focus more on contract negotiation strategy.

What is Contract Negotiation?
Contract negotiation concerns the process of arriving at a legally binding agreement between two or more organizations, or entities, in arriving at ideally an integrative (win win) agreement that maximizes value and minimizes risk – including operational, financial, and legal parameters.
A real world contract negotiation example, for instance, could be advocating for payment timeframes from your counterparty that better align with your in-house accounts receivable timelines, so you more cost-effectively operate your business.
Contract Negotiation Challenges
Contract negotiations - involving various contract forms, such as employment contracts and vendor agreements - are vital to determining the post-award value of contracts, including the difference between value-driven or cost-increasing legal obligations.
In regular negotiations – such as Software as a Service (SaaS) licensing subscriptions – you can negotiate over client data protection standards, data security standards, contract renewal intervals, and pricing structures. Business negotiations can take on various forms – including lengthy email correspondence, phone calls, and in-person meetings - until final approvals and signatures can be collected from stakeholders.
Logistical challenges inevitably arise when working with various counterparties with disparate channels of communication as language in the contract is redacted, added, and updated.
Requesting contract reviews during negotiations with internal departments – such as Finance and Procurement – via email and shared drives while juggling communications with external counterparties can create a web of communication bottlenecks and hazy oversight.
Implementing this process of managing multiple file versions within multiple contract negotiations concurrently can quickly turn into an unsustainable logistical challenge – especially when working with complex contracts and not having many contract management resources to support you in the process. Manually tracking version control and cross-referencing pre-approved clauses can further increase negotiation time and cramp the momentum of the deal at hand.
How Legal Technology Can Help Contract Negotiation
So, how do you efficiently manage all of these concurrent negotiation processes effectively and efficiently?
The key to negotiation success is leveraging contract negotiation tracking tools that record the touchpoints and contract modifications within a centralized system that connects internal and external stakeholders.
A leading contract negotiation tracking tool can empower you to track contract negotiation statuses related to assigned contract negotiation tasks. With virtually real-time visibility you can evaluate the contract negotiation status, including clear oversight to evaluate if delays stem from your organization or counterparty.
A user-friendly interface with an enjoyable user experience can also help reduce stress in operational processes so that you can focus more of your energy on the content of the contract negotiation at hand. Rather than navigate your shared drives, emails, and other siloed platforms that can yield process bottlenecks, a unified system that connects files and communications with robust audit trails can help you manage the negotiation process with ease - especially when trying to manage the approval processes within an in-house legal team.
Centralizing contract negotiation processes with legal technology can save you precious time, reduce risk, and increase contract tracking oversight. Legal technology paired with contract negotiation skills - such as leveraging your BATNA (best alternative to the negotiation) and maximizing your bargaining zone within reservation points (benchmarks) - can create a recipe for contract negotiation success.
4 Tips for Successful Contract Negotiation
Here are four tips for successful contract negotiation with the help of legal technology.
Leverage a centralized template library with clause merging.
Implement document version tracking with rules-based workflows.
Track changes clearly with contract redlining software.
Manage contract risk with AI & machine learning.
#1 - Leverage a Centralized Template Library With Clause Merging
Preparing for contract negotiations with manual document generation can increase errors - considering how static documents become obsolete and contract authors remain unaware of the most up-to-date templates and versions. Clauses, contract language, and templates that are not current or standardized increase the risk of contract managers inadvertently creating non-compliant contracts.
Fortunately, an automated document assembly system can set your contract negotiation up for success. Intelligent contract management software that centralizes and automates the creation of agreements, contracts, and documents. You can leverage compliant contracts from a centralized contract repository and seamlessly merge them with your organization's approved data fields and clauses. Leading contract lifecycle management software (CLM) allows for merging various document versions and templates from an organization's pre-approved clause library, which can be exported to multiple file formats.
A highly secure automated legal document assembly tool – hosted by a leading CLM software provider that is SOC 1, SOC 2, and HITRUST compliant – can store FAR, GSA, DFAR, and various other contract templates. Moreover, with the help of CLIN (contract line item number) and flow-down subcontract document management, you can track contract document numbers and ancillary flow-down sub-contracts.
#2 - Implement Document Version Tracking With Rules-Based Workflows
Disparate document versions and communications can create a web of confusion during contract negotiations, especially when collaborating with multiple internal and external stakeholders. Fortunately, those involved in the contract negotiation process can remain abreast of its evolution with version tracking tools. Leading contract negotiation software tools can help you better control document versions by configuring user permissions, approval routing workflows, and audit trails.
Rather than waste time manually gathering approvals of contract changes and worrying about stakeholders modifying language outside of their permissions, you can configure a centralized system with user permissions and contract workflows to streamline contract negotiation and collaboration processes.
For instance - by assigning clause ownership to one lawyer, they can receive email alerts of its modifications without distracting other lawyers from document drafting tasks. Additionally, with the help of web-enabled connectors - such as MS Office 365 and Google Workspace - you can work flexibly between your centralized contract negotiation system and external editing platforms.
#3 - Clearly Track Changes With Contract Redlining Software
Contract redlining can prove to be a tedious process during negotiations. Coordinating with stakeholders during the contract redlining process using siloed processes such as MS Word documents with tracked changes, email communications, and shared drives can further delay contract negotiations.
Contract redlining is the process of editing contracts between counterparties during the contract negotiation process before approvals and signatures. Contract redlining requires counterparties on all sides of the negotiation to add and review modifications, including redactions and additions, to the contract language in order to reach a suitable consensus – which requires strong communication and a transparent process.
Fortunately, contract redlining software - featuring auto-redlining functionality - centralizes the contract negotiation process of edits and communications in a secure, web-enabled location. Robust contract redlining software within a leading CLM software suite offers advanced artificial intelligence with machine learning to support contract language updates – particularly clauses, natural language processing, concurrent editing, commenting tools, rules-based editing permissions, alerts, email notifications, configurable workflows, and more.
Future-minded contract redlining software allows for workflow configurations – including clause ownership assignments, task escalations, and approval routing. To ensure the right stakeholders remain abreast of language changes for review, they can receive notifications of language modifications of contract areas for which they are responsible. Such redlined changes can trigger notifications to clause owners for review.
Rather than work with disparate contract versions, stakeholders can work concurrently within a centralized, web-enabled location. Counterparties can receive configured email notifications of comments and applied changes to review within the centralized contract redlining location. A highly secure contract redlining tool offered by a CLM software provider excludes external or extraneous counterparties from other areas of your contract software, virtually ensuring data protection.
#4 - Manage Contract Risk With AI & Machine Learning
Remaining current with the latest contract language, especially as laws and regulations change, can prove challenging. You can encounter setbacks when negotiating a contract by manually sourcing the latest contract language - particularly in clauses.
Fortunately, robust artificial intelligence can empower your contract negotiation processes. Integrated artificial intelligence with machine learning can be configured to recognize particular language - including clauses and phrases - and offer insightful language recommendations. Such recommendations arise from a configured language library.
Leading contract artificial intelligence can draw upon a knowledgebase of hundreds of thousands of clauses and offer coss-referenced insights to help you make informed contract language decisions that help reduce risk. Such contract intelligence fosters informed decision-making and supports automated contract revisions.
Moreover, contract AI can help extract metadata that can be leveraged to support legal routing, contract abstraction, auto-amendment recommendations, approvals, and more.
Machine learning can feed CLM software the necessary data to algorithmically evolve with changing variables. While artificial intelligence does not replace the counsel of a licensed legal resource, AI can reduce some of the tedium and offer intelligent possibilities to choose from.
Rather than waste time unnecessarily, contract AI with machine learning can help streamline your contract negotiation process with robust insight and unparalleled confidence.
Life After Contract Negotiation
Yes, contract negotiation contains multiple moving parts and the right technology can help centralize this specific part of pre-award contract management.
But, what happens after?
Here is where contract lifecycle management software can help you gather final approvals and eSignatures to steward your contract within the post-award contract lifecycle with detailed oversight, until it's ready for renewal or termination.
Contract lifecycle management software, also known as CLM, digitally unifies contract lifecycle management processes from contract requests through renewals in a centralized, web-enabled system hosted on a CLM software provider's server that can also include eSourcing and eProcurement tools for source-to-contract management success. Leading contract lifecycle management software unifies people, processes, and technology to streamline the contract lifecycle stages.
You can leverage contract lifecycle management software for advanced reporting and analytics tools, contract process management, user-defined fields, audit trails, and more. Contract lifecycle automation tools can track key stages of the contract management process - including post-award contract obligations and compliance management.
Leading CLM software can allow you to anticipate milestones and key dates, including contract renewals, with helpful automated alerts. Automated CLM process flow can help you focus on contract performance management by freeing up more time for contract benchmarking analysis.
Detailed post-award contract management performance data can enrich your negotiations once more when deliberately deciding if and strategically planning how to renew.
Streamline Contract Negotiations With CobbleStone Contract Insight®
Don't waste any more time with inefficient contract negotiation processes. Achieve contract negotiation success with the help of CobbleStone Contract Insight CLM software. To learn more about CobbleStone's unparalleled contract negotiation tools, book your free demo with a CobbleStone Contract Insight expert today!
Discover why thousands of contract managers trust CobbleStone to achieve their contract management goals. Considering CobbleStone Contract Insight's highly configurable software platform, it's no wonder why Quadrant Knowledge Solutions recognizes CobbleStone as the CLM Technology Leader in the Spark MatrixTM Report. CobbleStone's trusted, award-winning, fully integrated CLM software streamlines the contract lifecycle management process with optimal governance, reduced friction, and high flexibility from contract requests to renewals. CobbleStone Software has been a visionary leader in CLM software for over twenty years. CobbleStone's user-friendly, robust, and scalable solution seamlessly integrates with mission-critical applications for unified and seamless contract management. CobbleStone Software, as a software provider, also remains SOC 1 and SOC 2 compliant to encourage paramount security.
To stay up to date on best practices, industry news, and CobbleStone Software updates, be sure to subscribe to our blog and YouTube Channel.
*Legal Disclaimer: This article is not legal advice. The content of this article is for general informational and educational purposes only. The information on this website may not present the most up-to-date legal information. Readers should contact their attorney for legal advice regarding any particular legal matter.