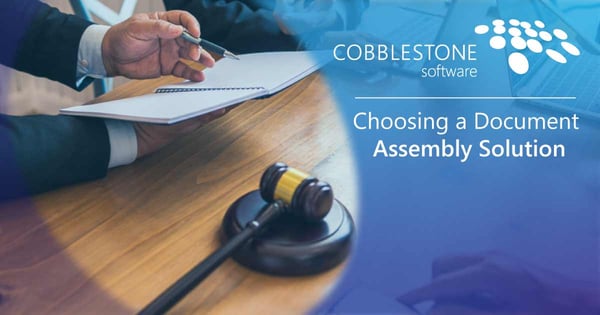 The omnipresent challenge that General Counsel and paralegals face is the growing complexity and volume of contracts. An unsatisfactory legal contract management process makes the most difficult contract management obstacles for legal departments nearly impossible to overcome.
Legal teams face ever-increasing volumes of legal work, and struggle to realize their goals without sufficient in-house resources to meet the evolving demands of their role:
improving productivity and legal services quality.
driving efficiency through automation.
leveraging technology to attain new insights.
increasing security.
mitigating risk.
It might seem that there isn't enough time in the day for your legal team to reach your organization's goals. Such a predicament calls for better document management with the help of a sufficient legal filing system.
The Hardships of Legal Contract Management
Manual document assembly can be a painstaking and costly endeavor for legal teams. Productivity deteriorates when several people are in charge of manually creating, revising, and reviewing the same contracts. Time is wasted drafting new documents, continuously downloading new templates, finding relevant information, and inputting data into a mass of different fields. Additionally, stagnant, untouched documents become archaic when contemporary document templates and versions are not visible to all involved parties, increasing the risk of error. Compliance becomes an issue when approved language, templates, and clauses are not up-to-date and standardized.
Such a decentralized document management system with limited security, limited storage, and a lack of key date awareness increases the risk of:
misplaced documents and versions.
a dearth of storage space.
workflow task delays.
approval and signature bottlenecks.
compliance and security problems.
missed key dates & renewals.
reduced contract value.
Efficiency & Productivity with Document Assembly Software
Legal teams can centralize and organize their contract management process with leading legal contract management software. Document assembly software automates the drafting and assemblage of contracts, agreements, risk documents, and more. With an automated document assembly system, legal teams can enforce compliance and reduce issues regarding collaboration, distribution, data entry, and storage.
A legal document assembly solution helps organizations produce compliant, accurate, and timely contracts, documents, and letters that merge their pre-approved clauses and data fields. It allows for the management of multiple document templates and versions so that users can quickly generate documents and easily export them into standard file formats
MS Word plug-ins make document drafting and review more sensible and efficient. Tools for version tracking keep the process of document drafting organized and consistent. E-signatures make signing easy, fast, and accessible in or out of the office.
In the interest of reducing compliance bottlenecks, compliance monitoring allows for the configuration of user permissions and rules pertaining to document management and version access with audit trails and approval routing capabilities. Thus, the right people are working on the right tasks, and contracts meet regulations.
Back-and-forth negotiation and post-approval tasks are made exceptionally well-organized with document assembly functionality. The entire legal contract lifecycle is optimized with tools such as:
searching and reporting.
online negotiation portals.
automated email and calendar alerts concerning key dates and renewals.
a secure contract repository that empowers legal professionals to store, search, and track contracts.
clause ownership that keeps document templates secured and reduces the loss of legal properties.
Stop wasting money and time with disorderly legal document management methods. Amalgamate documents, expedite approvals and compliance, and increase your ROI with trusted legal contract management software.
CobbleStone's Contract Management Software, Contract Insight®, is relied upon by thousands of contract, legal, risk, and sales professionals worldwide. Request a demo of our award-winning contract management, eSourcing, & procurement platform today!