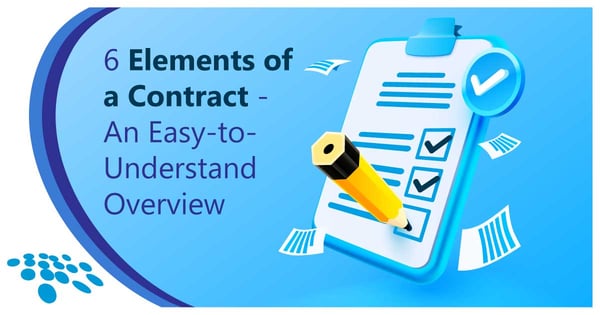 Business relationships power various industries within the public and private sectors. At the crux of virtually every business relationship is a contract. Contracts serve to cement the obligations, duties, and expectations of two or more engaged business parties.
But what are contracts really? How do they work on a fundamental level?
Let's explore six key elements of a contract that are widely applicable to almost every business relationship – and why they matter for effective contract management.
Elements of a Contract
A few key elements of a contract are understood to power its creation, signing, and execution. These elements of a contract include:
Contract Offer
Contract Acceptance
Acknowledgment of Obligations and Mutuality
Contractual Consideration
Legal Capacity of Contract Parties Involved
Legality of a Contract
#1 – Contract Offer
The contract offer element of a contract dictates that information regarding what is being exchanged between contract counterparties is clearly understood. A contracting party makes an offer, and another party can accept the offer. A counter offer can be made first but – if not – the contract shall be accepted by the receiving party.
#2 – Contract Acceptance
During contract acceptance, there is an acknowledgment of the terms and conditions of a contract. This understanding is demonstrated with contract signatures; parties often sign documents online to embrace legal ops digital transformation. Acceptance of the terms of the contract is required for entering into a contract.
Conditional acceptance can also be put forth in the interest of further modifying a contract to the benefit of the parties involved. Conditional acceptance displays interest in contract execution – but only in the event that certain additional terms and conditions be put forth and agreed upon.
#3 – Acknowledgement of Obligations & Mutuality
The acknowledgment of obligations and mutuality of a contract entails that both parties intend to be legally bound by a contract or agreement. Contract parties acknowledge that they are entering into a legally binding agreement – which is legally enforceable under due law. Contracting parties are responsible for managing the contract lifecycle and adhering to the responsibilities laid out after collaborative contract generation and contract review.
#4 – Contractual Consideration
Contractual consideration is an element of a contract that dictates the following: in the engagement of a contract, something of value is to be exchanged for something of value. An agreement to perform an action with no explicable return is not enforceable by law. This concept can be understood with the familiar Latin phrase "quid pro quo" (something in return). Whether the return is cash, action, or inaction in the past, present, or future – consideration should be comprehensible and lawful.
#5 – Legal Capacity of Contract Parties Involved
In order for two parties to enter into a contract, each party must be legally able to enter into a valid contract. In other words, contract parties must be legally competent.
Contract parties must meet the following capacity criteria:
Parties are of sound mind.
Parties are not disqualified from entering a contract by any law.
Parties have reached the legal age of maturity.
#6 – Legality of a Contract
Regarding legality, the subject matter and purpose of a contract shall be entirely within the confines of the law. A contract is also subject to the laws of the jurisdiction in which the contract has been executed, if applicable. Contract law requires that a contract must be for a legal purpose between contract parties. A contract cannot be intended to facilitate an illegal enterprise – in which case it is evident to be null and void.
Brave the Elements of a Contract With Contract Management Software
Now that you know these axiomatic elements of a contract, it's time to put them into action. Without these contract elements – coupled with careful contract lifecycle management – there is nothing to make a contract exist; your organization relies on contracts to foster business relationships.
To help ensure that your organization brings these elements into your written contracts successfully, there is one solution. That solution is CobbleStone® contract management software.
CobbleStone Contract Insight® is an award-winning contract lifecycle management software solution that has received near-universal acclaim from third-party analysts and CobbleStone users alike.
In keeping with the observance of the self-evident elements of a contract detailed above, CobbleStone users can ensure that they can offer, accept, finalize, execute and renew contracts with due consideration, acknowledgment of obligations, and observance of capacity and legality – on one centralized system!
CobbleStone can equip your legal operations team with full-bodied contract lifecycle management software from requests to signing a contract to renewal and more! Your team can maximize a secure, easily searchable, and automated contract database while employing user-friendly yet robust contract analytics tools to help meet contract management KPIs.
CobbleStone Software – as a provider – boasts a litany of success stories from organizations around the globe, of ranging industries in both the private and public sectors. It's no wonder why CobbleStone is named the CLM leader in the SPARK Matrix™ Report of 2022.
Book a free demo with a CobbleStone expert to see the elements of a contract come together like a symphony for your organization's various types of contracts. Ready to try out CobbleStone for yourself? Enjoy a free trial of CobbleStone Software today!*
*Legal Disclaimer: This article is not legal advice. The content of this article is for educational purposes only. The information on this website may not present the most up-to-date legal information. Readers should contact their attorney for legal advice regarding any particular legal matter.