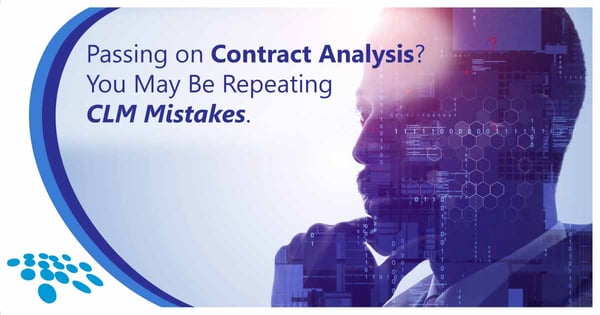 The age of digital transformation has forged a path of opportunity for analyzing vital information to improve business processes. This phenomenon strongly applies to contract data as well. Unfortunately, many businesses managing contracts fail to maximize contract data points to learn from mistakes and improve contract processes. As such, they fail to reduce risk, optimize contract terms and language, proactively recognize growth opportunities, strengthen the contract review process, and more.
Thankfully, you can avoid falling victim to contract lifecycle process failure and stagnation with contract management software.
Contract Analysis
Contract analysis allows your organization to gain actionable insights from existing contracts and data to improve contract lifecycle management (CLM). Contract analysis can help foster an ever-evolving game plan for:
CLM decision-making.
risk management.
contract review.
contract financials.
and more.
No Contract Analysis – A Bleak Contract World
If you are not taking contract analysis seriously – the future is bleak for your contract management process.
Contracts are a jackpot of crucial business information, containing:
business timelines.
clauses and legal languages.
transactions.
financials.
deliverables.
policies.
incentives.
liabilities.
and more.
Unfortunately – after contract signing and execution – many organizations store contracts away…out of view…forgotten in some lonely place.
Contracts – filled with potential insights and data for use in recognizing trends, opportunities, and inconsistencies – are often stashed away in the vaults of some rarely-accessed, manual contract database to collect cobwebs.
Trying to analyze where, in the contract lifecycle, bottlenecks are occurring? Too bad. Looking for a more efficient way to measure contract management KPIs? Good luck. Want to see why risky contract language is being brought into the contract review process? What a pity. Want to visualize payment and negotiation timelines? What a shame!
You get the picture.
But how do we wade ourselves out of this sea of under-utilized contracts and onto a sturdy ship toward the maximization of important information pertaining to contracts?
Contract Analysis Software – A Legal Ops Utopia
In order to avoid the FOMO (fear of missing out) mentioned above and – instead – maximize powerful contract analytics, consider contract management software for powerful contract analysis.
Contract Artificial Intelligence (AI)
AI-based contract management can significantly strengthen your contract analysis process.
Statistical data analysis can help your contract managers determine positive, negative, and neutral facts about each contract in your contract software system to help improve strategy and increase contract visibility. For example, if a contract has incurred a value that is X percent greater than the average contract value in your CLM system, an automated alert can be triggered – as can an update to your workflow process.
Contract intelligence with machine learning can also identify and extract text and clauses using natural language processing (NLP) with fuzzy logic matching of legal terms and phrases. This feature can help legal teams, corporate counsel, and law firms alike optimize contract language for future contracts.
Contract Reporting Analysis
Advanced contract management software can help your team take a proactive approach to reporting. This reporting goes beyond the standard, out-of-the-box reports of some inferior contract software providers.
Advanced contract reports can give you comprehensive visibility into contractual relationships across business entities and units. You can maximize robust audit trails for contracts for maximized oversight. Unexpected costs and breaches of contract can be avoided – as can compliance issues. Payment and negotiation timelines can be met while your team mitigates risk.
Contract Compliance Oversight
Advanced contract reports – along with automated alerts of key dates and milestones – can help your team ensure that regulatory, legal, and other compliances are observed throughout the contract lifecycle.
Additionally, you can quickly report and audit comprehensive financial data while observing the Sarbanes Oxley Act (SOX). Reports can be run that analyze contract financials against broader budget requirements.
Contract Workflow Optimization
For contract workflow analysis, your organization can easily analyze where, within the life of a contract, agreements are getting stalled. This analysis is thanks to visually engaging reports and dashboard contract management. Workflow task escalation can virtually ensure tasks will be complete – even if one of your contract managers is not completing a task on time.
Get Started With Contract Analysis Mastery!
Now you can define contract analysis, recognize the danger of a business world without contract analysis, and identify the tools you need for the job. There is one solution that can provide the tools mentioned above and many more for supercharged contract analysis. That solution is CobbleStone Contract Insight®.
CobbleStone® is a critically-acclaimed, award-winning contract lifecycle software that has received near-universal praise from customers, third-party analysts, and numerous others.
CobbleStone users across industries have maximized leading contract analysis tools to not only manage contracts – but gain actionable insights for almost exponential process improvement.
CobbleStone Software – as a contract software provider – boasts a host of success stories worldwide. It's no wonder why CobbleStone is named the CLM leader in the SPARK Matrix™ Report of 2022.
Book a free demo with a CobbleStone expert to see these contract clause features and other features that can help your organization manage the contract lifecycle stages. Ready to try CobbleStone out for yourself? Enjoy a free trial of CobbleStone Software today.
*Legal Disclaimer: This article is not legal advice. The content of this article is for educational purposes only. The information on this website may not present the most up-to-date legal information. Readers should contact their attorneys for legal advice regarding any particular legal matter.