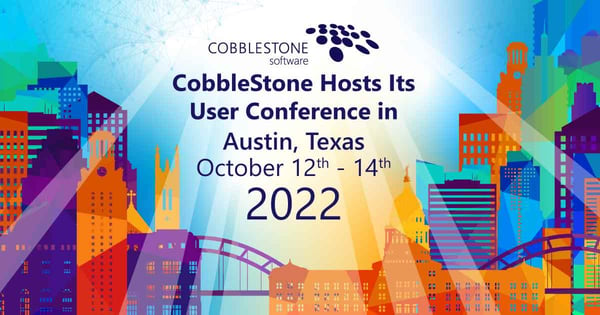 We are pleased to announce that CobbleStone Software's in-person user conference will be hosted in Austin, Texas, from Wednesday, October 12th, through Friday, October 14th, 2022. The 2022 CobbleStone User Conference will include engaging breakout sessions and dynamic speakers to enhance your contract management software experience. Considering that the 2021 CobbleStone Virtual User Conference received tremendous positive feedback, we eagerly anticipate continuing our successful user conference track-record by engaging with CobbleStone Contract Insight users and prospective users in person this fall! Read on to see a preview of the value you can expect to gain from the 2022 CobbleStone User Conference, so you can save the dates and start talking to attendance decision-makers!
The 2022 CobbleStone Software User Conference gathers contract management, legal, and procurement professionals from various industries for an engaging three-day learning experience with robust networking opportunities. This year's user conference will include breakout sessions, keynote speakers, CobbleStone Contract Insight® exclusive product updates, and more. This year's user conference can provide an invaluable opportunity to educate and inspire current CobbleStone Contract Insight users and those interested in learning more about our software.
What To Expect at the 2022 CobbleStone User Conference
The 2022 CobbleStone Software User Conference aims to offer value to our clients and prospective CobbleStone Contract Insight users by sharing contract management best practices within an engaging learning environment that fosters robust networking opportunities. Our user conference attendees' needs and desires are at the forefront of our plans as we eagerly anticipate our biggest event of the year. Below is a general outline of the anticipated events and topics at this year's user conference.
User Conference Sessions
Breakout Sessions
You can attend breakout sessions catered to your experience level of contract management software. These breakout sessions can allow you to collaborate with CobbleStone's Contract Insight experts to deepen your knowledge of CobbleStone Contract Insight's user-friendly features to maximize contract lifecycle management processes.
Keynote Speaker
The 2022 CobbleStone User Conference keynote will feature a select relevant, engaging, and industry-savvy speaker who can inspire and encourage attendees in contract management, legal, and procurement processes.
User Conference Topics
Smarter Contract Authoring
Legal teams, contract administrators, and sourcing professionals can leverage pre-approved and up-to-date clauses and templates rather than manually writing new contract clauses and templates. You can discover how to leverage this time-saving process with leading contract management software for streamlined contract drafting.
Artificial Intelligence With
Machine Learning
You can learn how AI with machine learning can automate contract management processes to streamline workflows. CobbleStone Software experts look forward to sharing how contract intelligence can increase accountability and mitigate risk. You can discover how to leverage these industry-leading tools in CobbleStone Contract Insight to increase ROI.
Searching &
Reporting
Searching and reporting can help you find information quickly. You can discover how to leverage CobbleStone Contract Insight's Quick Search feature - backed with AI-enabled search recommendations - to seamlessly search for specific contracts, contract records, requests, and related documents by searching for phrases or keywords. You can learn how to leverage configured and ad-hoc reports to streamline your contract lifecycle management processes.
Intelligent Workflows & Approvals
Intelligent workflows and approvals keep the contract management process running smoothly with timely alerts and notifications that remind you to approve, modify, and review contracts and other documents within CobbleStone Contract Insight. You can learn how to properly configure these functionalities to avoid missed steps and process bottlenecks.
Stay in the Know to Save Your Seat
We are eager to present open registration for the 2022 CobbleStone User Conference. More details will be coming soon! To stay up to date on this year's highly anticipated virtual user conference, subscribe to the Contract Insights blog and follow us on social media. We are excited to share more virtual event details with you soon!
In the interim, see industry-leading contract lifecycle management software in action by booking your free demo with a CobbleStone Contract Insight expert.
CobbleStone's trusted, award-winning, leading contract management software streamlines the contract management process with optimal governance, reduced friction, and high flexibility from contract requests to renewals. CobbleStone has been a leader in CLM software for over twenty years and is trusted by thousands of contract managers. CobbleStone's user-friendly, robust, and scalable solution seamlessly connects with external applications, including MS Word and MS Outlook, and offers VISDOM® AI with machine learning for natural language processing and risk management. Moreover. CobbleStone's IntelliSign® eSignatures can make one-off and bulk electronic signing a breeze. It's no wonder why Forrester names CobbleStone a Leader in CLM software!
CobbleStone Software's virtual user conference event sessions, topics, speakers, and dates are subject to change.