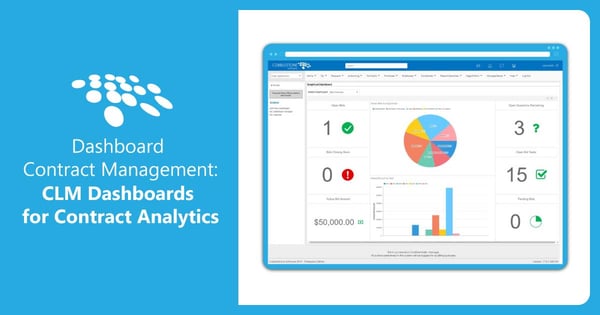 Contract management software can help organizations increase revenue, decrease bottlenecks, and enhance efficiency. However, many contract management software platforms lack a means of viewing key data at a glance. Read on to discover the benefits of dashboard contract management and how leading contract lifecycle management software that offers various dashboard options can drastically improve contract analytics.
Dashboard Contract Management
Contract management dashboards hold multiple use cases depending on an organization's needs. Dashboards can be configured to feature button tiles, summary tiles, CLM ad-hoc reports, and many other pieces of key data for CLM software users' home screens. In addition, CLM system admins may assign multiple dashboards to their users. Leading contract software offers highly configurable dashboards.
Various User-Friendly Dashboard Options
For demonstrational purposes, let's take a look at the robust contract management dashboards available on CobbleStone Contract Insight®.
Executive Graphical Dashboards
CobbleStone Software affords users the ability to leverage and configure visually engaging executive graphical dashboards.
When configuring a new dashboard, CobbleStone Contract Insight system administrators can choose to use executive graphical dashboards. The Executive Dashboard option features visually engaging graphics and charts for CobbleStone Contract Insight users to see critical information at a glance! Executive dashboards can be configured according to organizations' needs, but out-of-the-box dashboards include:
Contract KPIs
Contracts Overview
Contracts by Department
Legal
Vendor Management
Year Analysis
Bids Overview
As an example, let's look at the Contract KPIs executive graphical dashboard.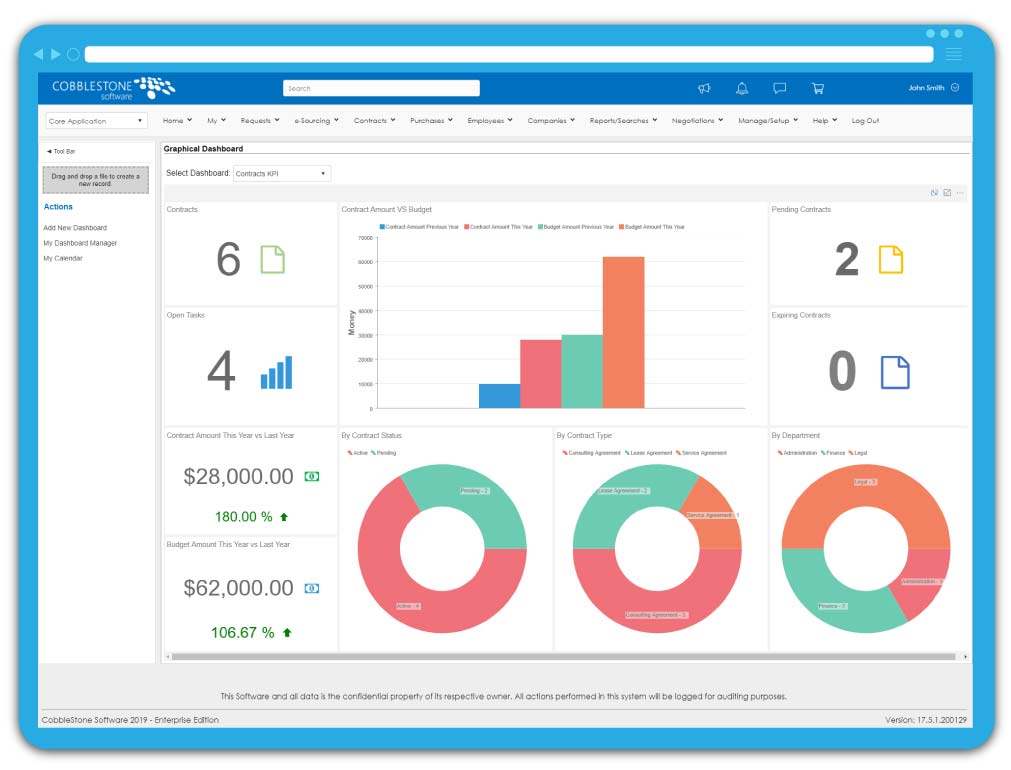 The Contract KPIs (or contract key performance indicators) executive graphical dashboard compares critical contract performance data to the prior year. For instance, users can observe the contract and budget amounts of the current year against those of last year as a contract amount, a percentage amount, and a graphical display. The total number of contracts within the system, the total number of open contract tasks, the number of pending contracts, and the number of contracts expiring within the next 30 days can be prominently displayed. Additionally, users can readily discover how diverse an organization's contract portfolio is with functionality that displays contracts by department, contract type, and contract status.
Organizations looking for a visually captivating way to consume mission-critical contract key data and analytics are encouraged to select a leading contract management software platform that offers executive graphical dashboards, such as CobbleStone Software!
Contract Management Dashboard Launch Pads
CobbleStone Contract Insight also features contract management dashboard launch pads and button tiles for straightforward and organized dashboard contract management.

The top row of buttons pictured above can be understood as "button tiles." Button tiles, if needed, can house internal or external links. Instead of using dropdowns and navigation menus to get from point A to point B, users are free to use button tiles to quickly take them to mission-critical pages, such as those to view and search contracts, add new users, create new contracts, and many others. These button tiles may be helpful to many users – especially those with many responsibilities managing a high volume of highly complex contracts and contract management workflows – who could use a more simplified approach to CLM system navigation.
The bottom row of buttons pictured above can be understood as "summary tiles." Summary tiles are used to summarize key integer fields at a glance. These tiles work in unison with button tiles and ad hoc reports. For example, in the included screenshot, we see reports such as Average Contract Amount, Contracts Signed This Month, and Contracts Up For Renewal. Summary tiles are beneficial to users looking to easily view mission-critical amounts within their CLM systems.
In addition to tiles, the ad hoc reports themselves may also be housed on a home screen - making searching for important information more straightforward than ever. Users can easily navigate through ad hoc reports configured with robust yet simple searching options. So, instead of navigating to a contract management report and manually running it to see the results, it can be placed right on a dashboard to maximize convenience.
Prevent Valuable Contract Key Data From Slipping Through the Cracks
With leading contract management software that enhances dashboard contract management, organizations can keep track of critical data at a glance – on their terms. Organizations must select the only contract lifecycle management software solution that offers the dashboard contract management functionality highlighted above. That solution is CobbleStone Software.
CobbleStone's long-trusted, award-winning, seamlessly integrated contract management software platform streamlines and enhances contract analytics for marked improvements in contract lifecycle management. Your organization can confidently navigate a low-friction and highly scalable contract analytics and contract management experience with the foremost user-friendly CLM tools. CobbleStone Contract Insight has been a visionary leader in CLM software for over twenty years and is trusted by thousands of contract managers. CobbleStone's user-friendly, robust, and scalable solution seamlessly integrates with mission-critical applications, including MS Word and MS Outlook, for unified and seamless contract management. It's no wonder why Forrester names CobbleStone a Leader in CLM software!
If you are looking to positively transform contract management, book your free demo to see CobbleStone Contract Insight in action!
To stay up to date on contract management best practices, industry news, and CobbleStone Software updates, be sure to subscribe to our blog and YouTube Channel.