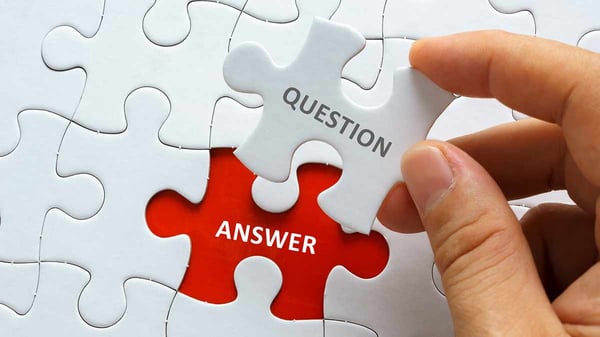 Contract management software equips organizations with useful tools for maximizing the value of their contracts and streamlining their contract management practices from requests to renewals. In this blog, frequently asked questions regarding the features, benefits, value, importance, and selection of contract management software are answered.
#1 What is Contract Management Software?
Contract management software helps organizations of all sizes to create, store, track, and manage contracts throughout the entirety of the contract lifecycle. With leading contract management software, users can draft contracts and documents, define terms and conditions, assign tasks and permissions, and track crucial milestones.
A user-friendly and well-organized contract management platform helps organizations to optimize their contract lifecycle process, allowing them to strengthen and improve their relationships with vendors, customers, and suppliers as their contract volume and complexity increases. Key contract management software features include:
contract and document drafting tools for the general establishment of the terms and conditions involved with a contract.
document management tools for the storage of contracts and relevant documents in an organized manner.
workflow management so that organizations can assign, perform, and oversee contract lifecycle activities in an orderly fashion.
contract lifecycle management features for the oversight of all workflows pertaining to a contract, from requests to contract drafting to negotiations and signatures, and through to contract renewals.
completion tracking so that organizations can track contract milestones and verify whether obligations have been met.
searching tools for the location of contracts and related documents as well as contract content.
implementation options that give organizations a choice between cloud-hosted and deployed in-house software implementation.
Contract management software can support organizations in all their source-to-contract needs, allowing for improved efficiency and productivity, organized and secure storage, mitigated risk, and increased revenue.
#2 Do I Need Contract Management Software?
A variety of roles can enrich their organization's particular source-to-contract needs with user-friendly and dynamic contract management software.
Contract managers can navigate the ever-shifting landscape of contract management best practices with a solution that offers:
unlimited and secure file storage.
contract lifecycle automation.
intelligent workflow.
enhanced search and tracking tools.
user-friendly eSignatures.
Legal professionals can overcome their most significant challenges because:
task assignment tools ensure that the right people are working on the right tasks.
online negotiation portals, searching and reporting tools, automatic email and calendar alerts for key dates and renewals, and contract version history make back-and-forth negotiation and post-approval tasks unprecedentedly efficient.
compliance monitoring assists in the meeting of contract and agreement regulations.
a secure contract repository helps legal teams to search, track, and store multiple contracts easily.
clause ownership secures templates and reduces instances of legal property loss.
e-signatures and electronic approvals shorten contract-to-close rates.
Procurement professionals can cut risk, standardize and organize their organization's purchasing process, and maximize the value of their purchasing opportunities with eProcurement features including:
end-to-end procurement management.
spending, purchasing, vendor diversity, and insurance tracking.
online bidding.
spend and cost comparisons
supplier ratings, scorecards, and more.
Sales professionals can take control of their sales practices, cut contract cycles, increase compliance, mitigate risk, and find more opportunities for the contracts they manage with tools such as:
transparent contract performance reports.
version control and audit trail features.
email and task alerts.
document template and clause libraries.
Compliance professionals can fulfill the terms of a contract, meet obligations in a timely manner, evade bottlenecks, reduce risk, increase revenue, and maintain a trustworthy reputation with:
a centralized and secure repository system.
quick search tools.
task management tools.
compliance reports and more.
#3 What is Contract Lifecycle Management?
The contract lifecycle is the process through which a contract undergoes requests, authoring, negotiations, approvals, signatures, execution, and close-out or renewal. The full lifecycle process can be seen in the graphic below.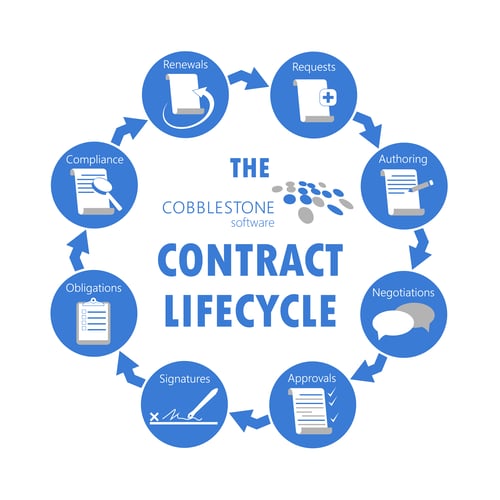 Organizations are tasked with juggling many contract records, and each contract is likely at a different phase of the lifecycle. Thus, contract lifecycle management is crucial in reducing risk, improving productivity, and maximizing a contract's value. Here is how contract lifecycle management software can help:
Consolidate Authored Documents: Standardized version tracking can preserve the uniformity of a single contract - no matter how often it is disseminated throughout an organization.
Optimize Negotiations: Streamline contract tracking, reviewing, and revision during negotiations. Easy-to-understand changes allow all parties to edit contracts easily and consume contract content without bewilderment.
Expedite Approval: Workflow automation makes contract management more efficient with automatic alerts and approval routing. It also reduces contract approval time by helping all parties involved in the approval process perform the right steps on time.
Manage Obligations & Compliance: Compliance tracking tools assist organizations in both meeting compliance and obligations and in focusing attention on more strategic facets of contract management such as opportunity realization and data analysis. Furthermore, if a counterparty has an obligation or compliance that they must soon meet, contract lifecycle management software can alert involved parties regarding key dates, tasks, and milestones, which expedites the completion of necessary tasks.
Dated contract lifecycle management solutions leave the potential for detrimental bottlenecks, missed tasks, and legal consequences. Such is the value of sufficient contract lifecycle management software. A configurable and easy-to-grasp contract lifecycle management interface gives all parties access to advantageous features in or out of the office so that they can breeze through the contract process without issue.
#4 How are Documents Stored?
Without contract management software, documents are stored in filing cabinets for paper documentation, disorganized digital storage locations, and emails. Organizations may miss out on version control tools, key date and milestone alerts, searching and reporting functionality, and overall contract performance improvement.
Such methods limit document access, leave documents and their supporting files disconnected, lack transparency and visibility, and lack support for the proactive management and tracking of contract status, approvals, renewal dates, automated renewal clauses, and milestones.
On the flip side, a secure contract and document repository system proffered by contract management software optimizes and secures the protection, organization, location, and sharing of contracts. Data protection features make it so that PII is not at risk. A secure repository system centralizes document version control, improves organizational accountability, and increases productivity.
Proper contract storage provides an opportunity for organizations to make contracts work for them, which leads to simpler contract management, increased revenue and savings, reduced risk, and success in meeting contract management KPIs.
#5 How Can I Efficiently Manage Workflow?
Organizations can use workflows to track every stage of the contract lifecycle with collaboration, negotiation, and approval tools. Automatic alerts help with meeting key dates and milestones, including contract renewals. Moreover, audit trail history tracked by intelligent contract management software provides an easily-accessible, current record of contract changes. Organizations can streamline contract approval cycles by avoiding bottlenecks and promoting accountability with automated workflow.
Software that offers contract workflow automation can reduce delays in the contract lifecycle by informing the correct people at the right time with unlimited notifications, task reminders, and automated alerts. With intelligent workflow, organizations can leverage:
user-defined fields.
reporting and analytics.
audit trails.
contract process management.
and more!
#6 How Can Contract Management Software Help with Document Assembly?
With an automated document assembly feature included with contract management software, organizations can enforce compliance and eradicate issues regarding collaboration, distribution, storage, and data entry.
Legal document assembly software helps organizations to produce accurate, compliant, and timely letters, documents, and contracts that merge their pre-approved data fields and clauses. This feature allows for the management of document versions and templates that can be exported easily into standard file formats. MS Word plug-ins make drafting and review more time-efficient. Tools for version tracking keep the document drafting process consistent. E-signatures make signing fast, easy, and accessible in or out of the office.
Regarding the reduction of compliance bottlenecks, legal document automation features allow configuration of user permissions and rules regarding version access and document management with approval routing capabilities and audit trails.
#7 How Can I Keep Track of Tasks, Documents, and Compliance?
Cutting-edge contract management software is instrumental in the tracking of documents, tasks, and compliance because it provides features such as:
the secure system repository mentioned above.
document and contract version tracking tools.
tracking for unlimited record attachment types, including contracts, requests, purchase orders, invoices, supporting documents, etc.
pre and post-award tracking.
vendor/customer compliance tracking.
record audit trails, tracking, and logging.
Additionally, intelligent workflow makes task tracking simpler and more organized. User-defined fields make for a consistent and navigable contract creation and searching experience. Software that provides enhanced contract tracking tools is crucial in evolving your organization's standards and processes for success.
#8 Does Contract Management Software Help with Searching and Reporting?
Advanced contract management software catalogs all text-based files that are input into the system, making them searchable. Additionally, enhanced features such as in-line OCR tools can convert scanned PDF files into text-based files for user-friendly indexing and searching.
Quick search tools offer a simple way for users to find pertinent contract record information quickly. Searching for a keyword shows the user all results in the system containing that word. Users can further narrow results to meet their needs. For example, I could type in the keyword "software" to hone in on contracts containing that keyword, and further filter my results to only display expired contracts.
Simple search tools aid in specificity when a user is engaging in a one-off search. Rather than searching through all of their fields and files within the software, users can select a specific field to search in. For example, if a user is looking for a contract associated with a counterparty (we will call it XYZ Supplier), they would select the counterparty, and the results would only show contracts assigned to XYZ Supplier.
Ad-hoc query tools and custom report builders allow organizations to save reports and assign users to view them, export and save reports to a variety of data formats, and standardize their reporting system.
These searching and reporting features organize and standardize the search process and save organizations time.
#9 Is There Training and Online Support Available for Contract Management Software?
Creditable contract management software vendors offer a variety of options to assist users in their needs and offer best practices, including:
in-system user manuals.
online learning videos and tutorials.
helpful phone and email support.
remote training sessions.
onsite training sessions.
group training events.
This abundance of tools is instrumental in helping organizations to maximize their investment, improve their efficiency and productivity, and fully leverage their contract lifecycle management platform.
#10 Is There a Free Contract Management Software Demo?
Yes! Trusted contract management software solutions offer comprehensive and targeted demos and trials with software experts to help you choose the right software for your organization's contract management needs.
Now that you have the answers to the most common questions regarding contract management software, you know the value of navigating the contract lifecycle with the support of a tried-and-true source-to-contract suite.
CobbleStone's Contract Management Software, Contract Insight®, is relied upon by thousands of contract, legal, risk, and sales professionals worldwide. Request a demo of our award-winning contract management, eSourcing, & procurement platform today!