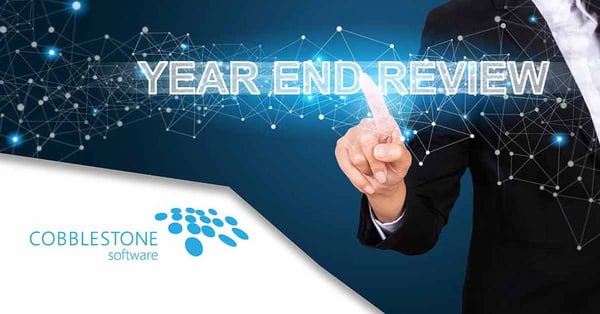 CobbleStone's 2019 has encompassed new product advancements, awards, streamlined purchasing and implementation options, training opportunities, global expansion, and credible thought leadership. Take a moment to celebrate where we've been and to look forward to 2020 and beyond with your trusted leader in contract management software.
This year has been monumental for CobbleStone. We've fully settled into our new east coast location. We can graciously say we're proud to have surpassed our implementation, retention, and client acquisition goals with a staff of contract management experts that is 60% larger than it was just the beginning of this year.
Contract Insight® Enterprise Advances
Organizations increasingly command contract management tools that support collaboration, speed, and flexibility to align with strategies and to meet goals. In 2019, CobbleStone stepped up to meet this demand with the following new features within Contract Insight version 17.3.1 and version 17.4.0:
Enhanced user interfaces and dashboards for better workload management
Increased security and advanced contract artificial intelligence
Streamlined purchasing and vendor intelligence with Dun & Bradstreet integration
New productivity integrations with iCal, Google Drive, OneDrive 365, and Google Maps
And so much more!
In 2019, CobbleStone Software offered users better governance over their contract lifecycle management suite. Learn more by watching the video below.
An Efficient Contract Software Purchase Process
CobbleStone Software continued our partnership with the U.S. General Services Administration (GSA). GSA makes it easy for government agencies to use a schedule to purchase contract management software without the need for negotiations or contracts, increasing value.
Many agencies and government organizations can improve pre-award to post-award contract management with our comprehensive contract lifecycle management platform that includes key date notifications and budget alerts, compliance monitoring, DBE tracking, Dun & Bradstreet integration, FOIA inquiries, intelligent workflows, contracting transparency, and more.

If you would like to learn more about purchasing CobbleStone through GSA, call 866-330-0056 or contact sales@cobblestonesoftware.com.
CobbleStone Awarded Again
In 2018, Capterra recognized CobbleStone as one of the top twenty most popular contract management software providers. In 2019, CobbleStone was recognized again, being ranked by Capterra as a top 5 contract management software - with Contract Insight awarded an overall perfect rating due to our easy-to-use system and superior customer service.
Since 1995, thousands of legal, contract, procurement, risk, and compliance leaders have entrusted CobbleStone with their contract, vendor, sourcing, and procurement management needs.
CobbleStone Software Expands Footprint
We began 2019 in a brand-new east coast office that continues to attract loyal employees with contract management expertise and a never-ending commitment to client service excellence. Later this year, we augmented our footprint and opened a new international office in Melbourne, Australia, to meet global demand for Contract Insight.
We look forward to serving our clients down under and for new opportunities in 2020 to serve our international user base in leading markets.
Contract Management Conferences & Training
Group Training & Free Educational Seminar
In 2019, CobbleStone hit the road with the Contract Insight Group Training Tour visiting cities across the US including:
San Diego
Houston
Boston
Philadelphia
New York City Metro
Orlando
Chicago
Attendees included CobbleStone users and contract management and procurement professionals interested in learning more about contract management software and best practices. We plan to bring this exciting contract management training opportunity on the road again in 2020; subscribe to our blog to get updates on upcoming events and to find out when we will be in a city near you.
CobbleStone User Conference
In 2018 we hosted our user conference in Philadelphia with great success. We took some time in 2019 to survey our users to identify the most crucial contract management topics that we should cover in 2020. The consensus was intelligent workflows and approvals, searching and reporting, artificial intelligence and machine learning, and contract authoring with templates and clauses. Stay tuned for details on CobbleStone's 2020 user conference coming to Austin, Texas!
CobbleStone at ACC's Annual Meeting
In late October, we exhibited and presented in Phoenix at ACC's Annual Meeting - "the world's largest gathering of in-house counsel." CobbleStone session attendees learned how to connect legal processes with technology that automates data review and mitigation, streamlines legal document assembly with templates and clauses, centralizes contract storage, tracking, reporting, and more!
Invest in Human Resources for Contract Management ROI
Contract management conferences and training events present an excellent opportunity for beginners to benefit from learning and networking with advanced contract management and procurement professionals. Seasoned contract administrators benefit from learning about new contract management software features and get tips on how to incorporate them into their current contract process.
CobbleStone offers remote and on-site training opportunities. While training isn't necessary to use Contract Insight, our experts can help organizations follow contract management best practices, increase efficiency, reduce time spent on contract administration and technical questions, and more!
To learn more about CobbleStone Software's events and training, call 866-330-0056 or contact training@cobblestonesoftware.com.
Celebrating Contract Insight User Success
2019 was a year that gave us the honor to continue to serve leading organizations with trusted contract management and procurement solutions. Highlights included a County Auditor's Office and a Health and Human Services Agency using Contract Insight to overcome government-regulated process challenges with contract management software; and a renowned hospitality organization streamlining their vendor and contract management processes.
Read more about Contract Insight user success stories with CobbleStone Software case studies.
Building Trust with Thought Leadership
CobbleStone continued to partner with industry-leading organizations, including IACCM, NCMA, ACC, Lexology, NIGP, ICMA, AHRMM, NaCO, CUES, and more to provide an increased presence at conferences and events, as well as thought leadership content and expertise.
This year, we committed to publishing even more original content that offers valuable information to contract management and procurement professionals, including best practices, industry news, and technological advancements.
From blogs to tutorials to videos to whitepapers – CobbleStone will help you on your path to better contract management.
Leading the Way into 2020
CobbleStone looks forward to all that 2020 and beyond has to offer. Our mission is to provide the most advanced, cost-effective, and user-friendly contract management and procurement software.
Start 2020 right by improving how you manage contracts. Request a free demo of Contract Insight.