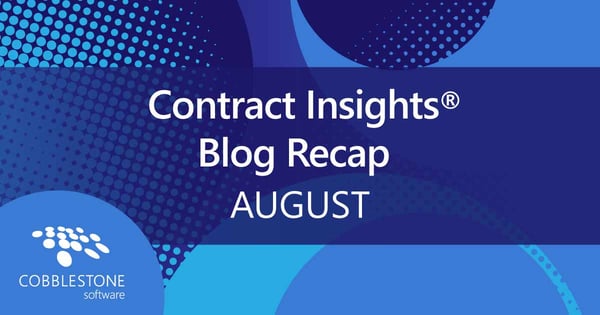 Did you miss any of our blog posts from August? Don't worry; we have outlined each of them for you. Stay up-to-date with industry topics, real-world case studies, and contract management software and procurement best practices in September by reading the latest CobbleStone® content.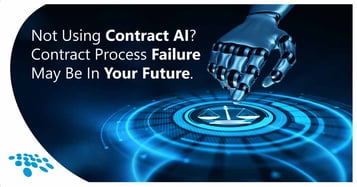 Digital transformation is the future of contract management – whether legal operations professionals like it or not. Organizations not leveraging contract intelligence may very well encounter a bleak contract lifecycle management future.

Contract compliance is crucial for the success of a contract – and sets the stage for contract renewals. Unfortunately, many organizations are exposing themselves to financial risk, breaches of contracts, and legal penalties. Contract managers need to know their mistakes in order to correct course. As such, here are six contract compliance mistakes you might not know you're making.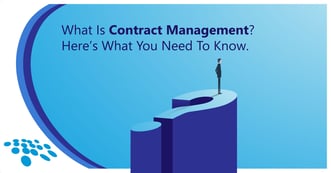 Contracts are legally binding agreements that define and govern the exchange of goods or services. A contract's journey – from creation to fulfillment and completion – is complex and leaves room for errors and oversights. As such, a process has been generally agreed upon for the handling of contracts. This process is referred to as contract management. But what is contract management, and how can it be approached? Here's what you need to know.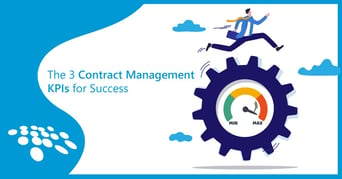 Contract managers are under increased pressure to deliver value with reduced contract risks, decreased contract costs, and improved contract performance. When you regularly measure the success of contracts against contract management KPIs, you can proactively readjust your contract strategy to ensure goal alignment drives critical and positive organizational impact. Read on to learn how contract management software can help maximize three important contract management KPIs for success.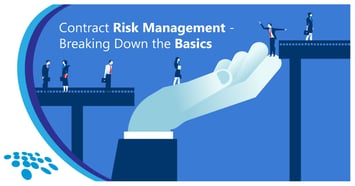 Proper contractual risk management is critical for the preservation of a healthy contracting process. Failure to adequately manage risk can be disastrous. Harmful risk oversights not only affect legal teams – but organizations as a whole. Your organization should work to avoid a breach of compliance, violation of contract terms, lost revenue, wasted time, lawsuits, and a damaged company reputation. As such, let's break down contract risk management and how it can be maximized with contract management software.

CobbleStone is proud to introduce the CobbleStone University Certification Program (CUCP)! The program will strengthen and verify our Partner Network's expertise in CobbleStone Contract Insight® Enterprise. The program is comprised of a series of live training sessions and videos with accompanying documentation and culminates in assessments to earn your certification. Read on to learn more!
Contract drafting is essential in helping capture the purpose of a contract in written form. Haphazard drafting of a contract can result in pushing outdated contract versions to collaboration and negotiation. Here are five practical contract drafting tips for more effective contract management.

Business relationships power various industries within the public and private sectors. At the crux of virtually every business relationship is a contract. But what are contracts really? How do they work on a fundamental level? Let's explore six key elements of a contract.
A contract amendment is a modification of the terms and conditions of a contract or subcontract. It is worth noting that changing the structure, duties, obligations, or rights of a contract requires increased oversight. To that end, let's explore contract amendments and how disparate, important, and sensitive information can be managed, and contract amendments can be executed smoothly for effective contract management.
Now that you are caught up with our August articles, be sure to keep an eye out for our September content. Never miss a blog post again, and let us notify you when new articles are published by subscribing to our blog! No time to read? Then check out CobbleStone's YouTube channel for exciting video content. Be sure to like and subscribe!
CobbleStone's user-friendly, robust, and scalable solution seamlessly integrates with mission-critical applications, including MS Word and MS Outlook, for unified and seamless contract management.
Discover why thousands of contract management professionals trust CobbleStone Software for their contract management, sourcing, and procurement needs. Book a free demo with a CobbleStone Contract Insight expert to learn more about CobbleStone's acclaimed contract management, eProcurement, and eSourcing software!