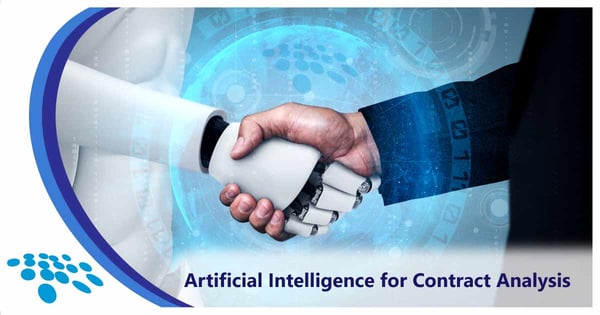 The contract analysis process is a many-feathered bird. Between tracking and gaining insights from clauses, tracking contract status, and managing risk variables - there is ample room for mistakes and bottlenecks. Luckily, organizations can manage contract analysis better with contract artificial intelligence within contract management software.
Contract Artificial Intelligence
Cast aside post-apocalyptic visions of artificial intelligence - especially as it applies to contracts. You do not need to worry about malevolent androids replacing your organization's employees in a dystopian contract management coup d'état.
Businesses across industries and sectors have eagerly embraced artificial intelligence - including those managing contracts. According to an MIT Sloan Management Review study, around 80 percent of enterprises view artificial intelligence as a strategic opportunity, and approximately 85 percent of companies see AI as a competitive advantage for process automation (Ransbotham et al., 2017).
This interest is sure to increase as natural language processing and machine learning develop in the age of digital transformation.
Contract artificial intelligence has been revolutionizing contract analysis in various ways to streamline legal operations, increase revenue, and decrease risk.
Artificial Intelligence Contract Analysis
Contract artificial intelligence can help with contract analysis thanks to robust tools for:
extracting and gaining actionable insights from contract clauses and sections.
tracking contract statuses and tasks with contract workflow alerts and updates.
and proactively managing risk variables.
Let's take a look at how you can master artificial intelligence contract analysis tools to transform your contract lifecycle management process.
#1 - Better Contract Clause Management
Your team can leverage intelligent clause extraction within AI-based contract management software to quickly extract clauses and other legal text from documents. AI-based contract lifecycle management software supports natural language processing. Your team can use fuzzy language matching within NLP for clauses, legal phrases, and terms, and identify positive, negative, or neutral contract language based on personally configured rules. You can merge clause language with contract templates within your organization's pre-approved clause library.
Furthermore, the more contract documents are introduced to artificial intelligence for contract analysis, the more contract AI can recognize different contract clauses – presenting a confidence percentage in recognition each time a clause is introduced during data extraction - increasing confidence in a system that exponentially learns!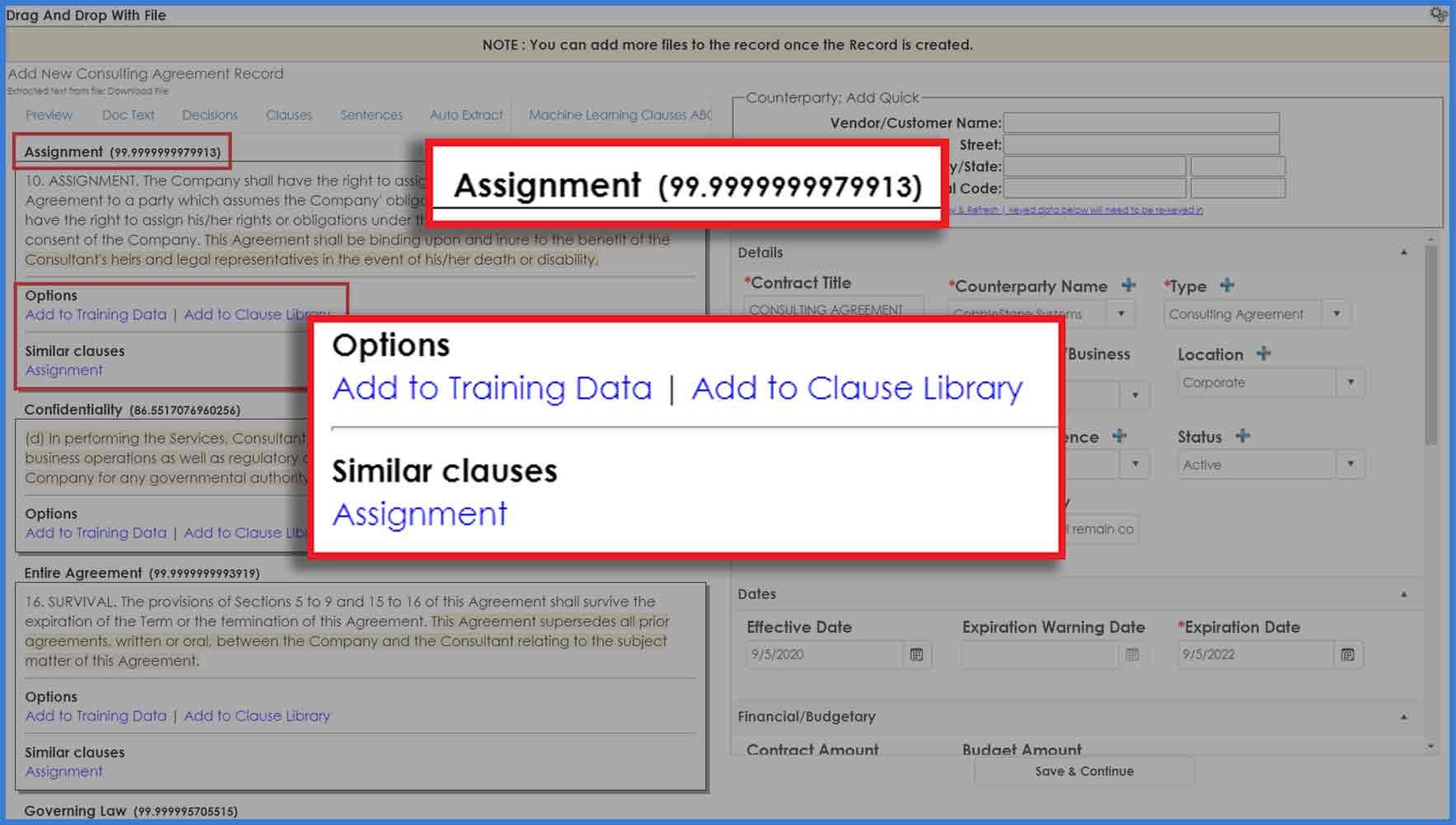 CobbleStone Software is currently undergoing a momentous million-clause initiative to nurture and enhance its contract AI engine machine learning - VISDOM® AI.
CobbleStone® aims to enter 1,000,000 clauses into VISDOM for a vigorous repository of real-life clauses for machine learning. NLP and named-entity recognition are the foundations of this initiative for CobbleStone Contract Insight® users to enjoy an exponentially intelligent contract process.
The clause and language knowledge base will include over 140 standard clauses – in addition to uncommon clause categories tailored to industry-specific contract management software needs.
#2 - Contract Workflow Automation & Analysis
Another crucial CLM tool for artificial intelligence contract analysis is contract workflow automation for task status oversight and more.
Intelligent contract workflow automation can engage the right people at the right time with virtually unlimited notifications and automated task alerts that can seamlessly sync with your team's email inboxes, MS Outlook or Gmail calendars, and AI-based contract management software calendars.
These workflows can easily be configured for virtually any area of AI-based contract management software, including workflows based on contract request types, contract data fields, rules, and more. AI-based contract software administrators can accept and reject actions, escalate tasks for improved accountability, and gain visibility with workflow visualization tools that display contract approval expectations.
#3 - Contract Risk Management With AI
There are abundant contract risk management tools to leverage within contract software for better contract analysis.
Contract Risk Management Accountability
Your contract administrators can analyze your team's usage of leading CLM tools. A risk score can be given to your users based on their usage of the available CLM tools. This feature can be used by your contract administrators to hold employees accountable for how attentively they're using the risk tools at their disposal.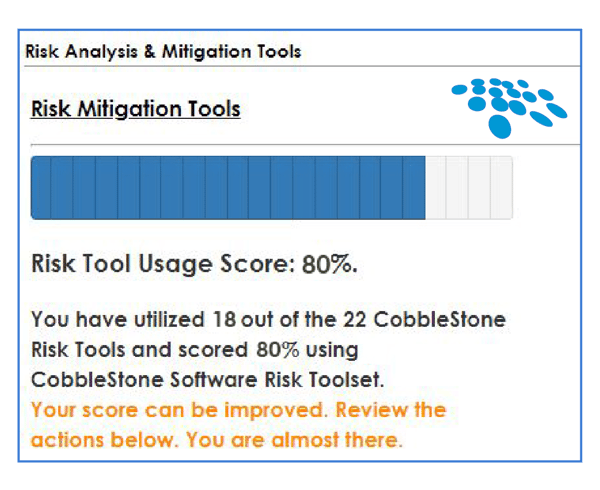 Advanced Contract Risk Assessment
Instead of manually digging through records for risk variables, your team can leverage a visualized graph system to plot data based on an identified risk score. As such, your team can prioritize contract risk factors for better decision-making. Your organization can quickly analyze how a contract will perform with hypothetical risk variables and risk exposure within a risk assessment matrix.


Your organization can maximize a risk assessment matrix and statistical data analysis to pinpoint negative, neutral, or positive aspects of contracts within their contract lifecycle software system to help improve contract strategy.
Get Started With Better Artificial Intelligence Contract Analysis
Now that you know the value of contract artificial intelligence for contract analysis and more, discover how you can implement a winning contract AI strategy with CobbleStone Contract Insight® CLM software. Book your free demo with a CobbleStone Contract Insight expert to discover leading AI-based CLM features today!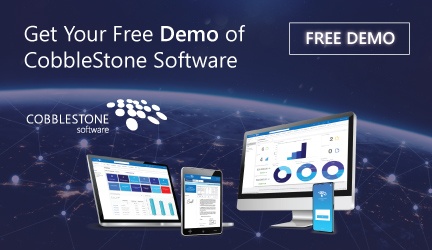 To stay up to date on best practices, industry news, and CobbleStone Software updates, be sure to subscribe to our blog and YouTube Channel.
*Legal Disclaimer: This article is not legal advice. The content of this article is for general informational and educational purposes only. The information on this website may not present the most up-to-date legal information. Readers should contact their attorney for legal advice regarding any particular legal matter.
Works Cited
Enholm, I. M., Papagiannidis, E., Mikalef, P., & Krogstie, J. (2021). Artificial intelligence and business value: A literature review. Information Systems Frontiers, 1-26.