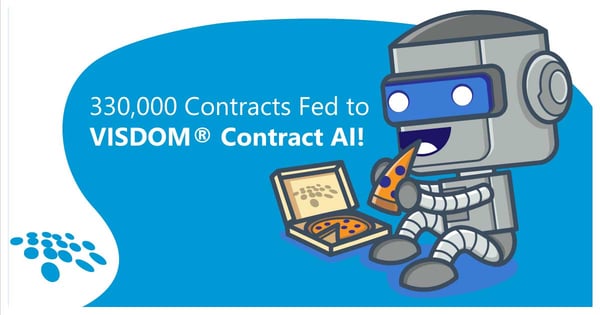 In April, we announced CobbleStone Software's momentous million-clause initiative to enhance and nourish VISDOM® AI - CobbleStone's proprietary contract artificial intelligence engine with machine learning. Now, we are excited to share that - in just two months - over 330,000 clauses have been "fed" to VISDOM contract intelligence thus far! This momentous 1,000,000 contract clause initiative is just one of many reasons that CobbleStone® has been celebrated as the leader in contract management software.
"Feeding" Contract Artificial Intelligence
To grow more intelligent for enhanced contract lifecycle management processes, AI-powered contract lifecycle management software needs to be "fed" various contract clauses, phrases, and sections found within different types of contracts from a variety of industries. With a nutritious diet of common and uncommon clauses, VISDOM AI within CobbleStone Contract Insight® can grow more robust and innovative with repeated exposure to contract data and clauses.
CobbleStone is currently 330,000+ clauses deep within the process of entering an astonishing one million clauses into VISDOM contract artificial intelligence. This momentous project is meant to provide a powerful repository of actual contract clauses and sections for continued machine learning in contract AI. Named-entity recognition and natural language processing are the foundations of this bold project. The goal is that contract management software users can experience an ever more intelligent contract lifecycle management process as their needs and business use cases evolve.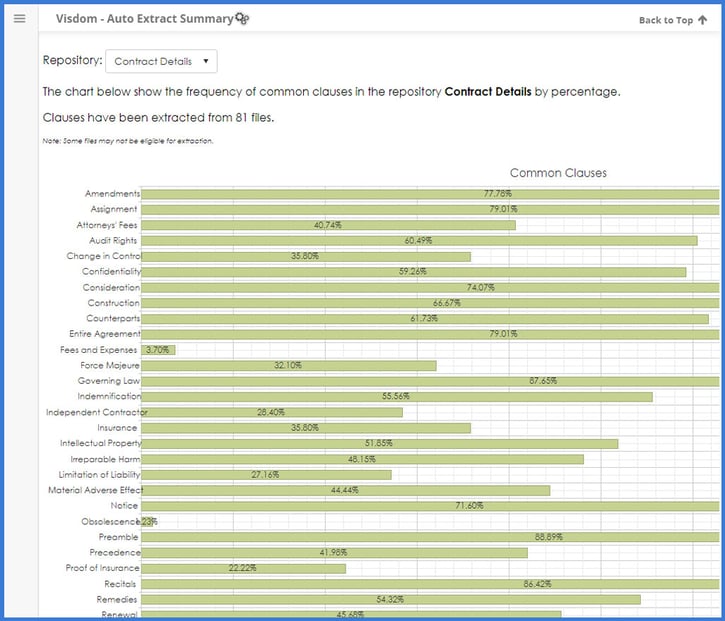 VISDOM AI's contract clause knowledge base can include over 140 standard contract clauses. Furthermore, it can consist of many uncommon clause categories for industry-specific contract management needs. Some of the standard contract clauses that VISDOM contract intelligence is currently learning from to grow into an even more elite contract artificial intelligence engine with machine learning include:
Intellectual Property Clauses (IP Clauses)
Waivers
Confidentiality Clauses
Amendments
Indemnification Clauses
Notices
Assignability Clauses
Contract Artificial Intelligence Users
CobbleStone Contract Insight users of VISDOM AI are going to be able to enjoy a contract management software solution that has learned from up to 1,000,000 contract clauses out of the box! As mentioned above, this knowledge base will be from common contract clause types and industry-specific and situational contract clause types. CobbleStone Software's team of contract clause classifiers has already introduced over three hundred different contract clause types as of writing!
Mark Nastasi - President & Founder of CobbleStone Software - states,
"CobbleStone users are getting closer and closer to even more consistent clause recognition from a base of training data for accurate extraction and classification."
CobbleStone Software users can also seamlessly introduce their own clauses to VISDOM contract intelligence for continuous machine learning in addition to those in this initiative.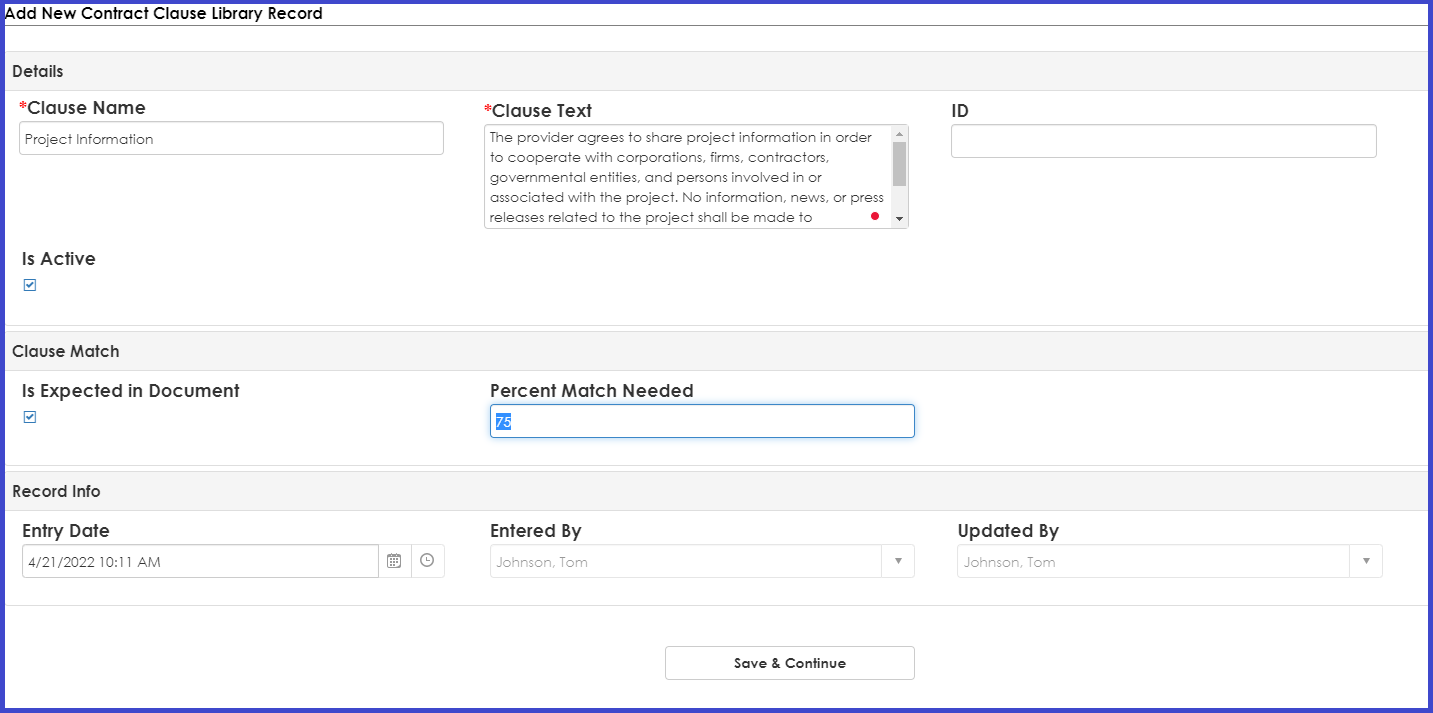 Get Started With Contract AI That Has Learned from 330K+ Clauses!
As contract complexity and volume grow, your organization must be supported with a contract artificial intelligence engine within CLM software that has learned from hundreds of thousands (and even up to 1 million) contract clauses. The only contract software solution that offers the features mentioned above and many more is CobbleStone Contract Insight.
CobbleStone's leading CLM software system has received widespread critical acclaim from users and third-party analysts alike. CobbleStone Software's seamlessly integrated and user-friendly contract management suite is built on contract artificial intelligence with machine learning so users can enjoy a platform that grows with continued exposure to contracts and contract data. CobbleStone Software's highly flexible, easily scalable, and low-friction platform has been lauded for its ease of use and has been trusted by organizations in various industries.
Learn why thousands of contract management teams worldwide trust CobbleStone Software's AI-powered contract management software. Book your free demo today!
To stay up to date on best practices, industry news, and CobbleStone Software updates, be sure to subscribe to our blog and YouTube Channel.