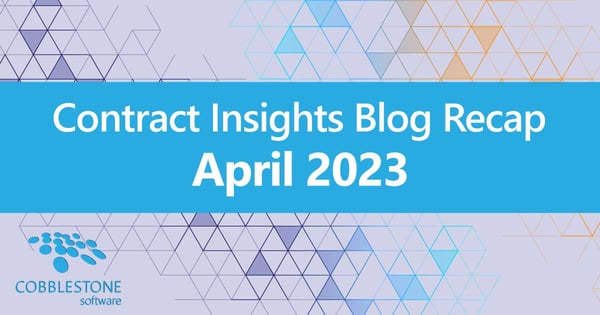 Did you miss any of our blog posts from April? Don't worry; we have outlined each of them for you. Stay up-to-date with industry topics, real-world case studies, and source-to-contract management best practices in May by reading the latest CobbleStone® content.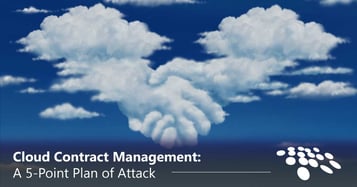 Cloud-based contract management is revolutionizing the way legal teams and other contract professionals handle their agreements. Cloud-based CLM supports streamlined processes, increased visibility, enhanced security, and reduced costs. As the demand for efficient, accessible, and cost-effective contracting processes grows, cloud-based approaches are emerging as the top choice for the job. Let's explore cloud contract management via a simple, five-point plan to save time and money on legal operations.

As ESG (environmental, social, and governance) variables continue to play an integral role within organizations, ESG clauses in contracts are increasingly at the forefront of contract negotiations and compliance. Without the right contract management tools, ESG contract clause language can elongate negotiations and cause post-award compliance tracking difficulties. Fortunately, AI-backed contract management software can help.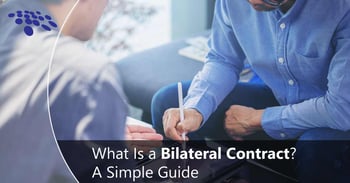 From simple deals between friends to complex business arrangements, contracts play a crucial part in defining the terms and conditions of an agreement. One common type of contract is a bilateral contract. A bilateral contract entails parties exchanging promises and being obligated to perform certain actions or provide something of value to one another. Parties are bound to fulfill their promises, and the contract is formed as soon as both parties have made those promises - establishing mutual obligations.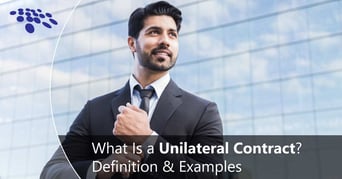 Contracts are an essential aspect of everyday business operations (and even everyday life in general). They govern myriad transactions and agreements – serving as the cornerstones of personal and business relationships. There are many different ways to categorize and compartmentalize contracts by type – including as unilateral and bilateral contracts. One of the most common types of contracts that appear in business settings is a unilateral contract. What is this type of contract – and why does it matter?
Healthcare contract management relying on manual processes can reduce efficiency for healthcare contract stakeholders, decrease revenue, and increase liability. Contract lifecycle management bottlenecks can decrease the efficiency of resources, compromise contract security, and disorganize crucial data. Read on to learn how to leverage six healthcare contract management software tools for stronger contracts.

Colleges, universities, and school systems can encounter unique contract management challenges. Educational institutions manage a large volume of contracts, vendor contracts, suppliers, and providers of goods and services. A disorganized, risk-prone, and slow-moving education contract management system can cause confusion and waste time. In order to avoid these issues, we need to first address the question. What exactly is education contract management, and how can contract management software help?
There are many contract management solutions on the market. As such – searching for the best contract management software with which to manage contracts can be daunting. But it doesn't have to be; you just need to know what to look for. As such, let's discuss ten contract management system requirements to look for when deciding on a contract lifecycle management (CLM) software solution that saves time and money for your organization.
Now that you are caught up with our April articles, be sure to keep an eye out for our May content. Never miss a blog post again, and let us notify you when new articles are published by subscribing to our blog! No time to read? Then check out CobbleStone's YouTube channel for exciting video content. Be sure to like and subscribe!
Discover why thousands of contract management professionals trust CobbleStone Software for their contract management, sourcing, and procurement needs. Book a free demo with a CobbleStone Contract Insight expert to learn more about CobbleStone's acclaimed contract management, eProcurement, and eSourcing software!