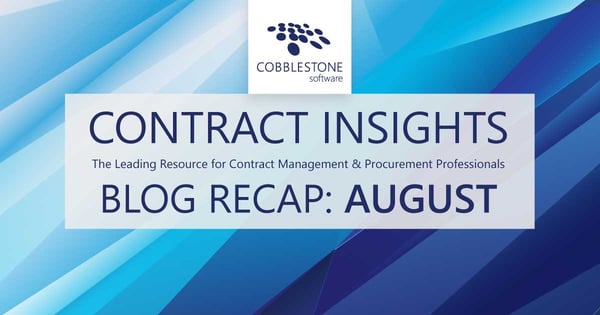 Did you miss any of our blog posts from August? Don't worry; we have outlined each of them for you. Stay up-to-date with industry topics, real-world case studies, and contract management and procurement best practices by reading the latest CobbleStone® content.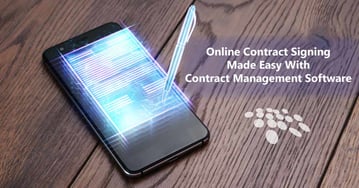 Considering that signatures finalize contracts and propel their execution, this highly anticipated step can be delayed with manual wet signatures that can waste time and paper-based resources - including postage and office supplies. Moreover, specific signatures can require notarization, which can further delay the signing process. Read on to learn how contract management software can make online contract signing quick and easy.

Not every CobbleStone Software user is a master of contract management right away - and that's OK! With the CobbleStone Contract Insight® Documentation Wiki, we try to capture every part of each process, allowing users to follow along for a seamless learning experience. Read on to learn how to navigate the CobbleStone Contract Insight Documentation Wiki with ease!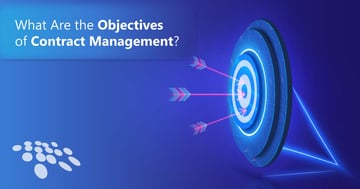 Each stage in the life of a contract becomes ever more critical as organizations embrace digital transformation to more effectively manage legal operations. Before they can even begin to improve contract lifecycle management, organizations need to have a clear understanding of contract management objectives. In this article, we provide a straightforward examination of the objectives of contract management - as well as how organizations can meet these objectives with user-friendly contract management software.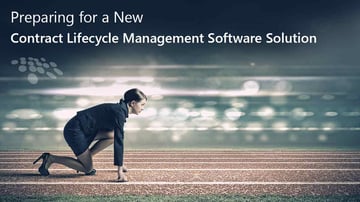 Introducing a new contract management software solution can be a painless process or a long and difficult one. Taking steps to prepare for the CLM implementation helps ensure the process is efficient rather than arduous and helps guarantee success. Read on to discover how to leverage key steps in successfully implementing your contract lifecycle management software.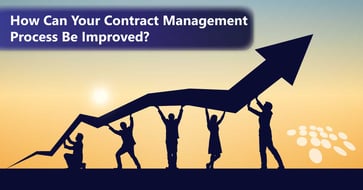 A healthy contract management process should constantly be adapting to technological advancements. As contract volume and contract complexity begin to grow, organizations must embrace digital transformation to be furnished with the right tools to streamline the contract management process. Such innovative CLM tools can be found within a trusted contract management software system. Read on to learn more.

Inadequate contract risk prevention measures can cost your organization money and time and result in costly and damaging instances of contract mismanagement. To avoid these deleterious situations and more, your organization must forge and implement an ironclad risk response plan and stick to it. You can get started with your powerful risk response plan with the aid of trusted contract management software.
Procurement departments can encounter procurement workflow inefficiencies without the proper procure-to-pay tools – especially when implementing inefficient and disjointed contract management processes. You can avoid risk, unreasonable vendor pricing, and vendor non-compliance by leveraging contract management processes in procurement that centralize processes, technology, and people. Read on to discover how you can implement effective contract management software in procurement.
Manual contract management methods make it nearly impossible for your organization to maintain version control, keep contracts and data secure, stay on top of key dates and milestones, and enforce contract archiving and retention rules. Your organization can scrap these outdated methods in favor of something better. As such, here are the benefits of a secure contract repository within leading contract management software.
Now that you are caught up with our August articles, be sure to keep an eye out for our September content. Never miss a blog post again, and let us notify you when new articles are published, by subscribing to our blog! No time to read? Then check out CobbleStone's YouTube channel for exciting video content. Be sure to like and subscribe!
Are you looking to evaluate leading contract management software solutions for the future of contract management? Read our blog – 6 Critical Contract Management Tools for 2021 – to discover the best contemporary tools for future-minded, automated, low-friction, and user-friendly contract management.
Discover why thousands of contract management professionals trust CobbleStone Software with their contract management, sourcing, and procurement needs. Book a free demo with a CobbleStone Contract Insight expert to learn more about CobbleStone's acclaimed contract management, eProcurement, and eSourcing software!