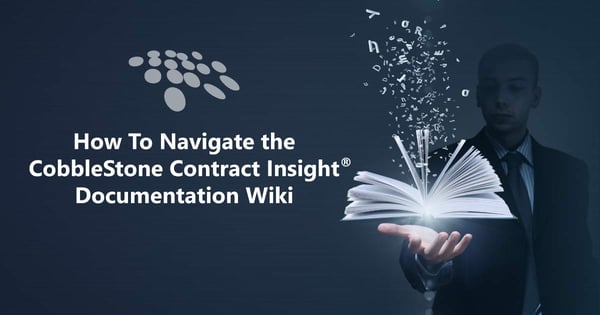 Not every CobbleStone Software user is a master of contract management right away - and that's OK! Whether you have been using CobbleStone® as your go-to contract management software solution for days, months, or even years, there's a good chance that you don't know every last detail the system has to offer. In a contract lifecycle management system that offers so many robust and user-friendly CLM tools, trying to learn new processes from scratch can become overwhelming. With the CobbleStone Contract Insight® Documentation Wiki, we try to capture every part of each process, allowing users to follow along for a seamless learning experience. Read on to learn how to navigate the CobbleStone Contract Insight Documentation Wiki with ease!
Why Is the Wiki Useful?
Some people may be reluctant to reach out to others for help. As such, they will exhaust every possible avenue before reaching out for support. This is where the CobbleStone Contract Insight Documentation Wiki comes into play. Users can easily navigate helpful, thorough, and straightforward contract management software documentation resources according to their needs.
Entering the Cobblestone Contract Insight Documentation Wiki
Before discussing the myriad of perks the CobbleStone Contract insight Documentation Wiki has to offer, it is of the utmost importance to understand how to navigate to your desired section.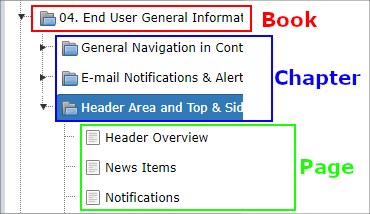 Upon entering the Wiki, the options to the left (under the Navigation side menu) can be navigated like a library (as shown above). Initially visible to you are the books themselves. Clicking an option is like opening a chapter of a book. Narrowing down the options even further, clicking on the chapters can display specific pages therein, giving users specific and detailed information on CobbleStone Software features and functionality, how to easily configure them, and what to expect along the way.
For increased control and expediency, you can also easily search for a word or phrase using the search bar. This will display relevant results - also providing you the opportunity to narrow down or expand your results. As such, you can get to the page or section you need fast.
Table of Contents & Video Tutorials
In addition to being able to easily perform searches within the Wiki, you can also utilize the convenient Wiki Table of Contents.
The Wiki Table of Contents helps break pages down by section, while also providing transparency as to when the information was last updated.
Many sections within the Wiki also include video tutorials. In such sections, you are free to watch a CobbleStone Software expert demonstrate how to leverage the low-friction and user-friendly features and functionality of a particular area within the contract lifecycle management software system. As such, the Wiki is a multi-layered area designed to fit your learning and troubleshooting needs.
Note: For active CobbleStone users, CobbleStone University is a fantastic resource. A CobbleStone trainer goes through many different areas of the system and explains them in detail. To access CobbleStone University, click Help in the top navigation menu of your CobbleStone system, then click Learning Videos.
The Cobblestone Wiki: Help at Your Fingertips
Overall, the CobbleStone Contract Insight Documentation Wiki does a fantastic job at capturing different pieces of information and relaying it to users in a way that is both detailed and easily comprehensible. The Wiki is designed to guide users through essentially every core process in the system. System admins and end users alike can reap the benefits of the easily navigable Wiki. Truly, the best part about CobbleStone's Wiki page isn't just the information you see on the screen, but rather the intent behind the content: to guide our users from point A to point B effectively and efficiently so that they waste no time in navigating to the information they need when they need it.
Are You a CobbleStone Software User?
If you are already a CobbleStone Contract Insight user:
1. Consider registering for CobbleStone Contract Insight group training at the virtual 2021 CobbleStone "Roadshow" to continue your contract management software education - no matter if you are a new or experienced CobbleStone user. You would be remiss to overlook this valuable learning opportunity so get details here!
2. Review current CobbleStone Contract Insight add-on modules to see if your organization can seamlessly integrate important, state-of-the-art source-to-contract management features.
NOT

a CobbleStone Software User?

1. Consider registering for a free contract management software seminar at the virtual 2021 CobbleStone "Roadshow." Contract, legal, and procurement professionals are invited to learn more about CobbleStone's Contract Management, eProcurement, and Vendor Management Software. Enrollment is free! Get details here!

2. Learn why thousands of contract managers across the globe trust CobbleStone with their contract management needs, as well as why Forrester names CobbleStone a Leader in CLM software! To learn more about CobbleStone's unparalleled contract software, book a free demo with a Contract Insight expert today!

To stay up to date on best practices, industry news, and CobbleStone Software updates, be sure to subscribe to our blog and YouTube Channel.