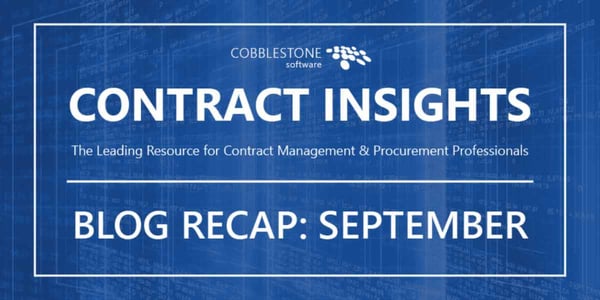 Did you miss any of our blog posts from September? Don't worry, we have outlined each of them for you. Stay up-to-date with industry topics, real-world case studies, and contract management best practices by reading CobbleStone's latest content.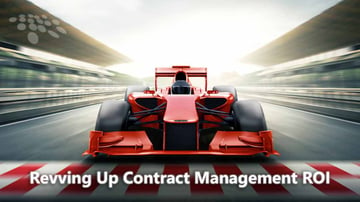 For organizations managing hundreds or thousands of contracts each year, the bottom line can be hit from multiple angles from increased costs to decreased revenue to lost time to missed opportunities to increased risk. This article analyzes the root causes of missed ROI and presents a strategy to get the most value out of contracts.

NIGP: The Institute for Public Procurement hosted its annual NIGP Forum on August 25th – 28th, 2019 in Austin, TX. The NIGP Forum is considered the largest educational conference exclusively for public procurement in North America and is a great place for procurement professionals to connect and collaborate on overcoming common procurement challenges.


Contract management software has many features and benefits to help contract and legal professionals track and manage the full contract lifecycle. Discover the top ten contract management software features that will help you gain control of your contracts and develop a better process.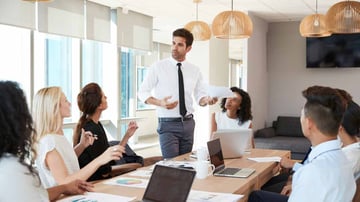 CobbleStone's 2020 user conference will be here before we know it, so we've conducted research on what topics conference attendees would like to see. We have outlined a few of the popular topics you should expect to be presented at the event. Learn about CobbleStone's 2020 user conference sessions.
A world-class, entertainment and hospitality company, managing many resorts and entertainment venues, uses CobbleStone's Contract Insight® Enterprise Software to simplify and streamline their contract management and vendor management processes.
Now that you are caught up with our blog, be sure to keep an eye out for our October content. Never miss a blog post again, and let us notify you when new content posts, by subscribing to our blog!