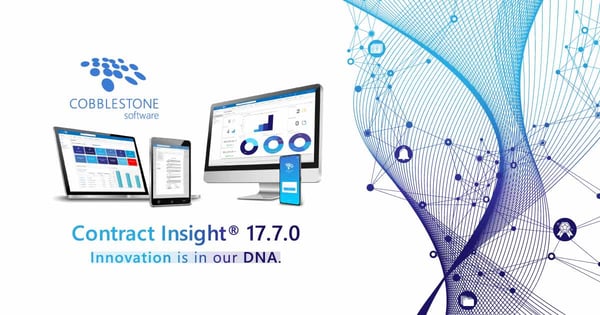 CobbleStone Software's latest release – Contract Insight® Enterprise Version 17.7.0 – is here, bringing with it many new features and enhancements to enrich your contract management software platform!
Watch the Contract Insight Enterprise 17.7.0 Updates & Enhancements overview video below.
Advantageous features such as AI and machine learning innovations, expedited request approval, streamlined record creation, eSourcing bid tabulation reports, easier contract type administration, enhanced spend analytics, user-friendly date validation, increased visibility for planned bids, better signing and document collaboration, and the CobbleStone PC Helper application can equip your organization with the tools to meet and exceed contract management, procurement, and vendor management goals.
You can get started today with utilizing powerful improvements to our acclaimed contract lifecycle management software suite! Here's what you should know about must-see features.
AI & Machine Learning Innovations
Leverage advanced clause identification and extraction, and supplement machine learning like never before!
Contract Insight 17.7.0 features clause identification and extraction for an expansive machine learning process. Built-in contract management AI supports machine learning that locates common clauses within a document when said document is added into the system.
In addition to being able to extract clause text to a field on the contract's record or to their clause library, organizations can also add text from contract clauses to training data for machine learning – specifically, the improvement of future clause recognition!
This functionality is advantageous because it can assist in enhancing data entry speed and accuracy; It can be used for reporting or workflow purposes as well. For clauses recognized by the system during the adding of a contract, the system can intelligently categorize the clause into an organization's established clause types. It also presents the percentage of confidence in that categorization.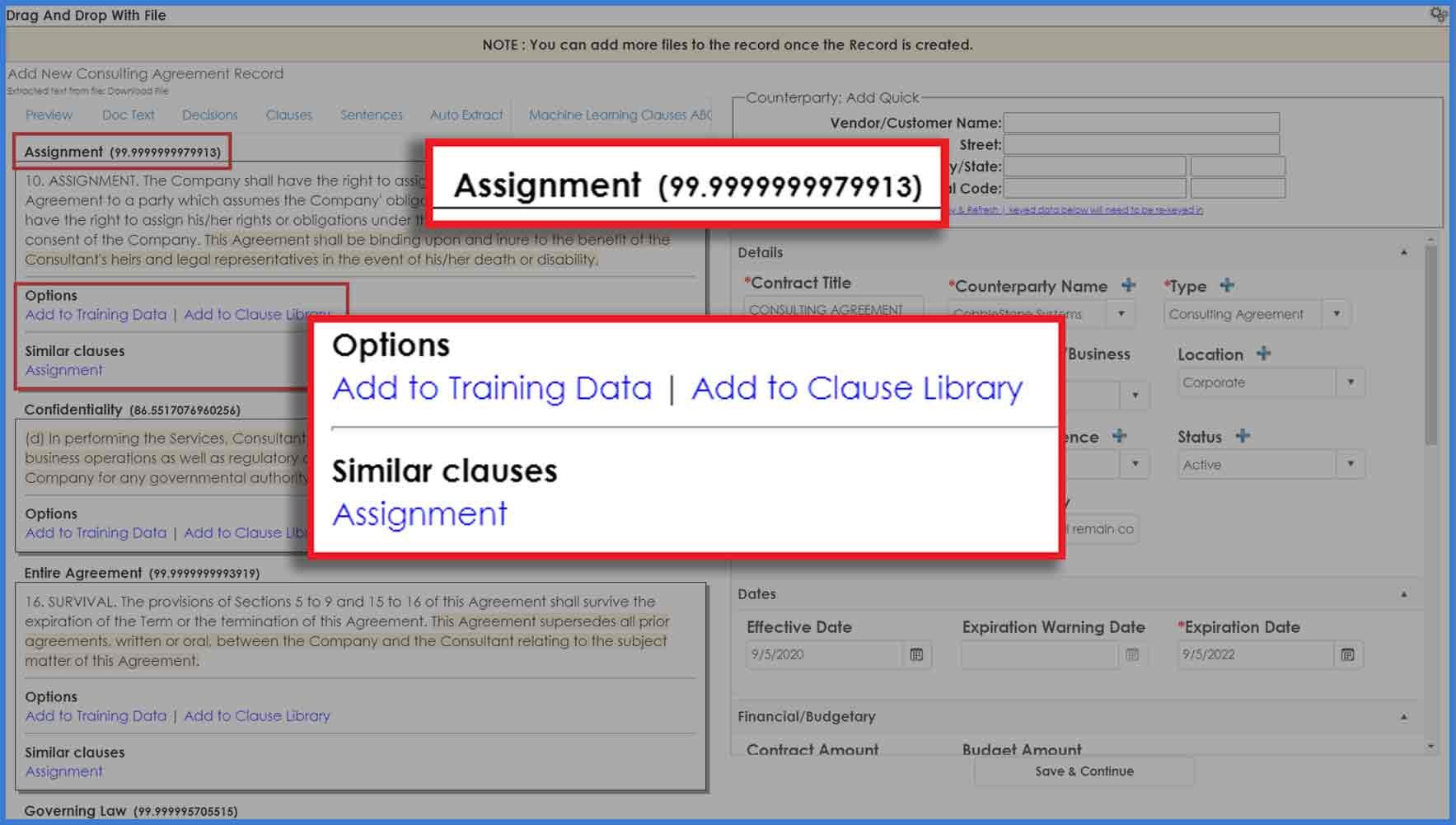 Integrated CobbleStone PC Helper Application
Integrate CobbleStone Software with MS Word for seamless contract management!
Contract Insight 17.7.0 offers a CobbleStone PC Helper application that integrates with MS Word. CobbleStone users can leverage the word plugin to:
upload documents to Contract Insight from MS Word.
find clauses and copy clauses into documents.
access their system clause library.
add and update records for the Core areas of their Contract Insight software system.
link documents to records.
send emails.
access customer/vendor/partner documents.
PDF and MS Word file format conversion.
compare documents.
intelligently summarize track changes.
find lowercase usage of terms
& more!

Simplified Record Creation
Enjoy an easy and direct record creation process!
Creating records for contracts, requests, purchase orders, vendors, companies, and more is simplified with Contract Insight 17.7.0.
When creating a new record within their organization's CobbleStone system, authorized users can enter new reference data in real-time while making that record. This means that, instead of needing to configure a new piece of reference data in another area, users can do it on the add record page.
For example, say Tom is creating a new contract record for a services agreement. He needs to assign his organization's consulting department to the contract record, but, when entering the new contract, he realizes that a consulting department is not available.
Luckily, Tom can quickly create the department type using the convenient in-line information add feature.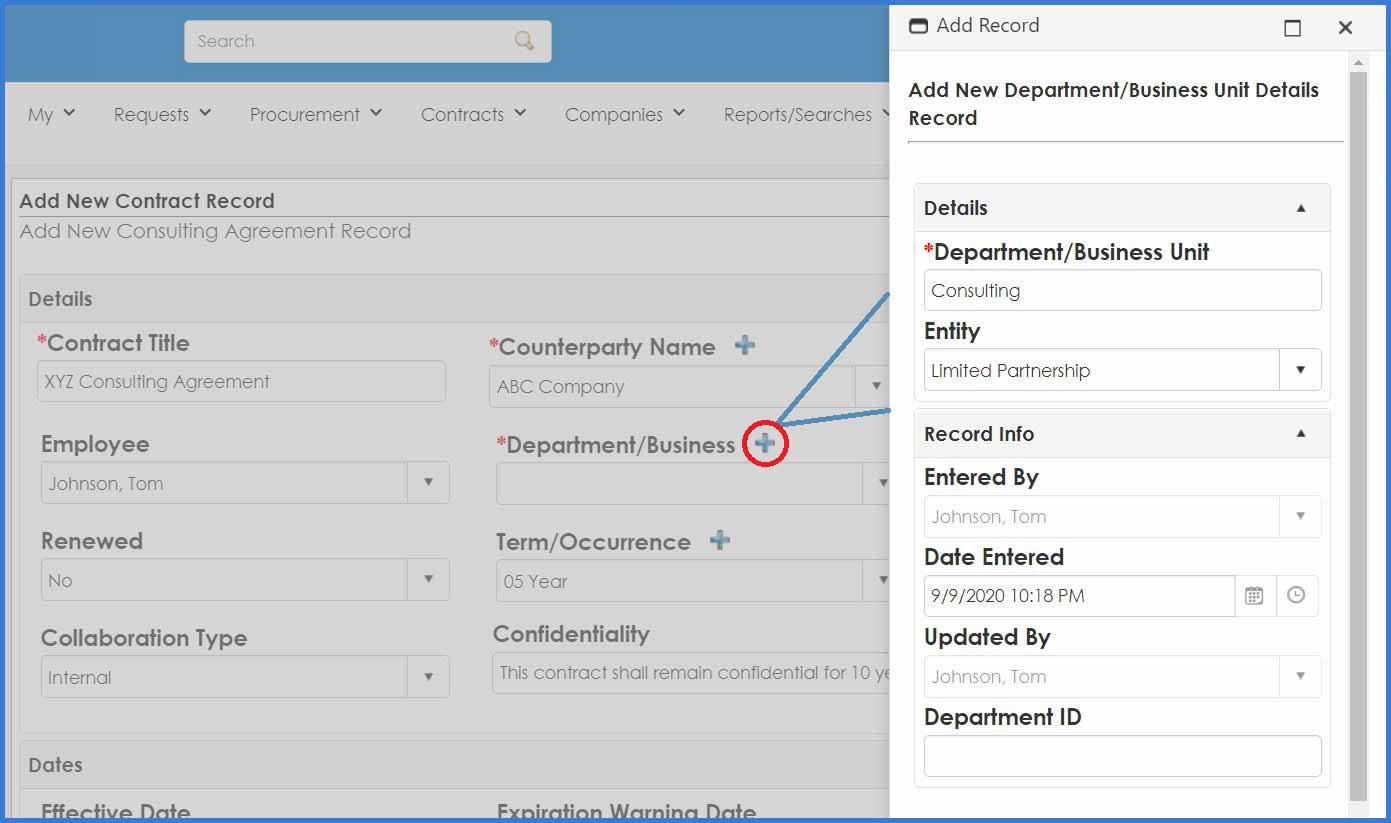 E-Sourcing - Bid Tabulation Reports
With Contract Insight's sourcing bid tabulation reports, users are equipped with a better way to evaluate and compare vendor bid responses. These user-friendly reports can be leveraged to easily compare pricing line items, Q&A, scoring, and more for a rapid bid overview process.
Users leveraging CobbleStone's Bid Surveys can also easily run survey-specific pricing line item bid tabulation reports.
Please note that eSourcing is an optional, licensed add-on module. Please contact your Account Representative today for a demo and pricing.
Easier Contract Type Administration
Experience enhanced field management!
Contract Insight 17.7.0 makes bulk field assignment a breeze. Users can assign "all" contract fields to a record type with the click of a button. This functionality significantly expedites field management when all fields or all but a few fields need to be assigned to a specific Record Type. Create record types for contracts, requests, vendors, employees, solicitations, and more with this helpful feature!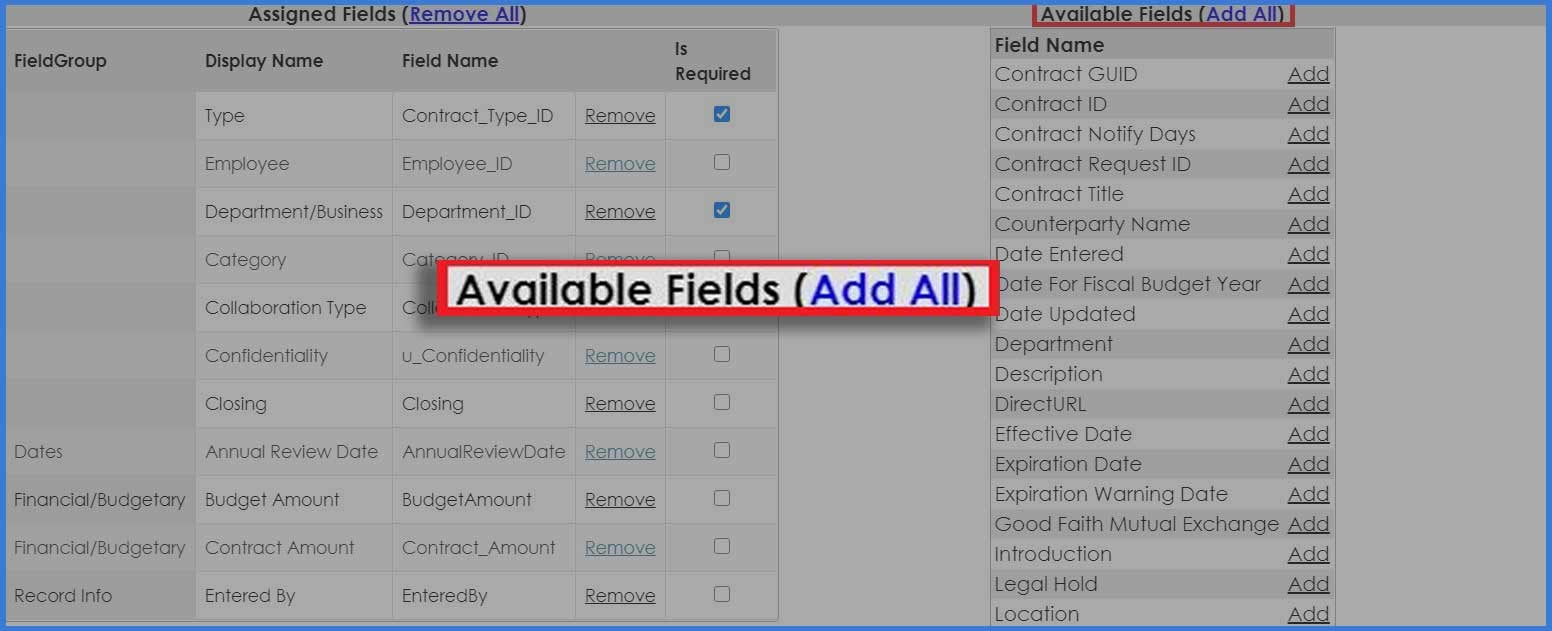 Enriched Spend Analytics
System administrators of Contract Insight 17.7.0 can run an instant analysis of contract spend metrics against other contracts within their organization's system – straight from the Contract Details page. This useful contract financials analysis tool is easy-to-use – with contract spending metrics appearing at the click of a button.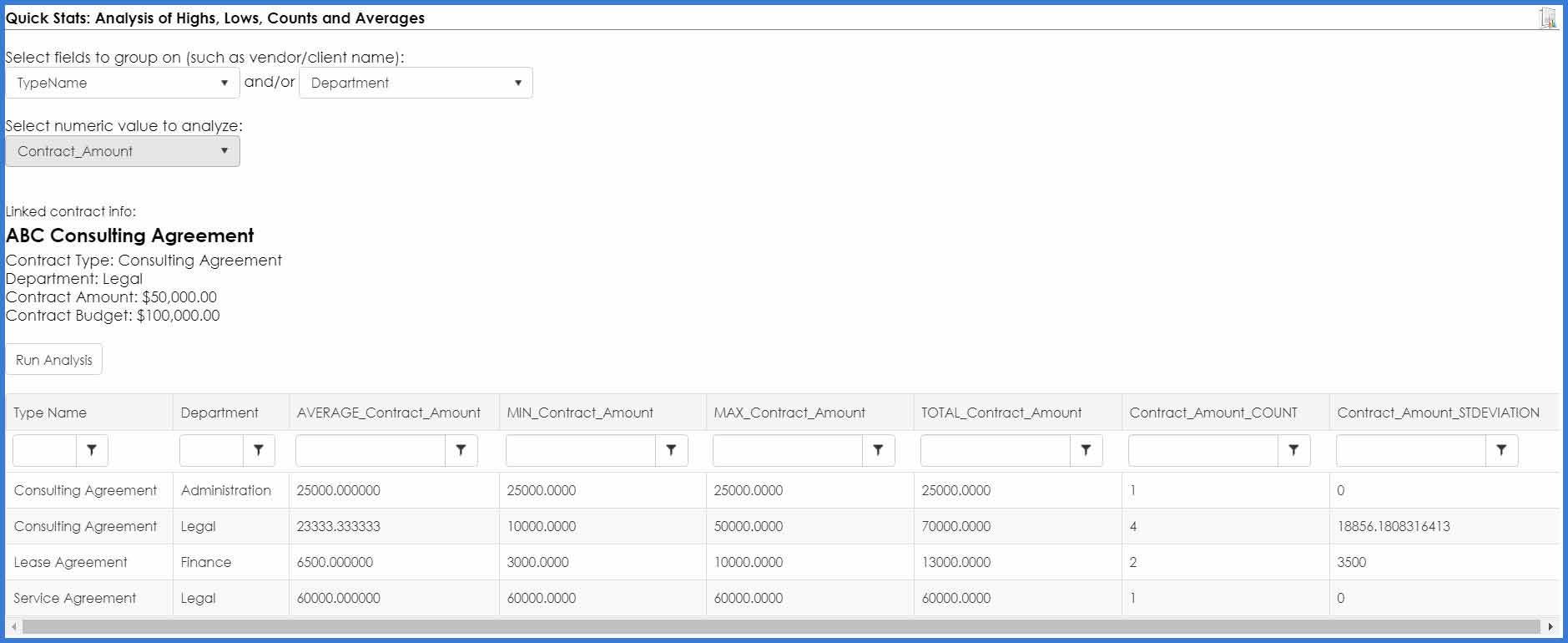 Proactive Date Validation
Contract Insight 17.7.0 users with permissions to add or edit information to a contract will receive a clear message if attempting to save a contract record where the expiration date comes before the effective date. This display enhancement promotes a contract record creation process with fewer errors and increased control.

Streamlined Request Approval
Enjoy seamless integration of request record documents and contract record documents!
Contract Insight 17.7.0 allows for organizations linking a request record's files with a corresponding contract record's files to choose whether to transfer all files when approved or to permit the user to select the appropriate attachments to be transferred individually.
If the option to choose files individually is put in place, then it will become available for the creation of a new contract from a request record. Once the user initiates a new contract, they will be prompted to select files to copy straight from the request record to the new contract record!

Better Visibility for Planned Bids & Opportunities
Leverage better visibility for planned bids and opportunities!
Contract Insight 17.7.0 provides vendors and the general public with the specifics to promote upcoming opportunities prior to posting an active bid.
A new option to search upcoming solicitations on the Vendor Gateway allows potential vendors to proactively view configured public opportunities prior to the bid open date.
When creating a public bid, simply set your bid to show pre-release to prospective vendors.
Available bids for pre-release viewing are displayed and, once clicked, users can see information on that bid.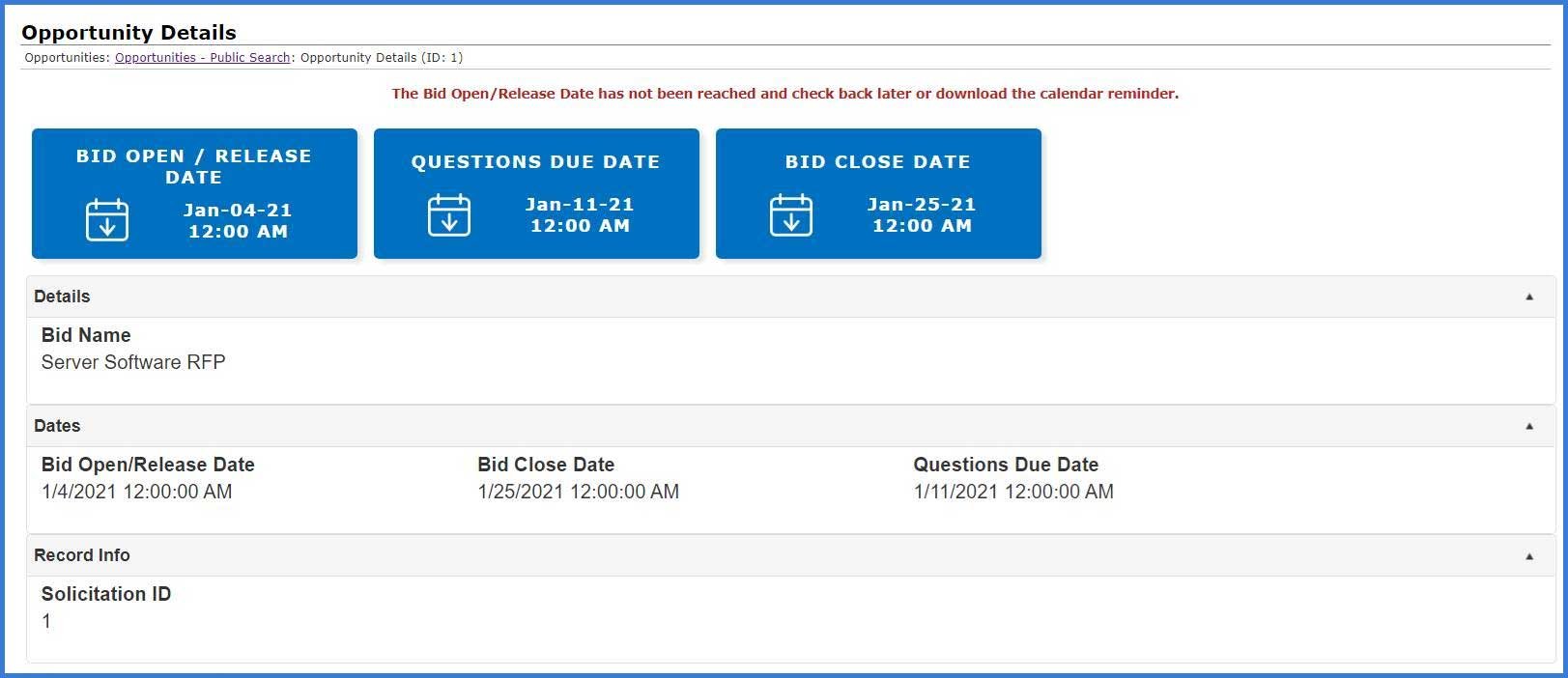 Please note that eSourcing is an optional, licensed add-on module. Please contact your Account Representative today for a demo and pricing.
IntelliSignSM & Document Collaboration User Experience Enhancements
Contract Insight 17.7.0 brings forth UI enhancements to IntelliSign eSignature and document collaboration processes.
For increased accountability and awareness, users can now easily view who created an approval or signature process. Users can see this information at a glance when viewing a list of approval processes and signature processes.
Further increasing visibility and transparency is an enhancement to the viewing experience when merging document templates with contract record data. Users can easily view a list of template options for streamlined, intelligent contract creation. Users can also view the last time a document template was updated in the interest of ensuring that all document templates are relevant and up-to-date.
Please note that IntelliSign is an optional, licensed add-on module. Please contact your Account Representative today for a demo and pricing.
Explore These Features & Many More!
In addition to the robust, scalable, and user-friendly tools mentioned above, CobbleStone's Contract Insight Enterprise 17.7.0 also offers:
more robust user permissions classification options.
API enhancements.
better field manager auditing.
and more!
Get Started with Contract Insight 17.7.0!
Contract management, sourcing, and procurement professionals need to be stocked with the tools to succeed. Get started with Contract Insight 17.7.0 to utilize exciting new features and enhancements that CobbleStone offers for source-to-contract management prosperity! Contact your Account Rep today to see Contract Insight's 17.7.0 new functionality and to review licensing options. To stay up-to-date with valuable and visually engaging video content, subscribe to CobbleStone's YouTube channel!