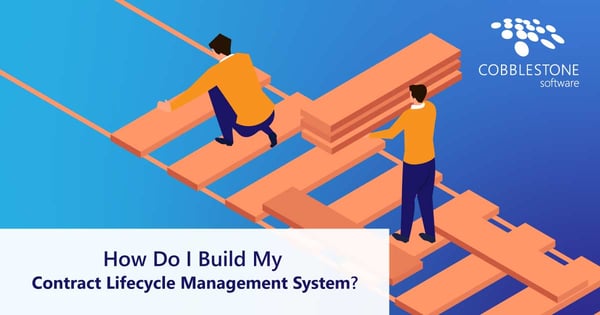 Companies of all sizes within both the public and private sectors often find themselves maneuvering multiple contracts at once - with said contracts progressing at various stages of the contract lifecycle. As such, they must build an efficient, organized, and cost-effective contract lifecycle management process that helps with all stages of the contract lifecycle. Read on to learn how to get started building a strong and centralized contract lifecycle process - as well as how this undertaking can be significantly simplified and improved with the right strategy, rather than the cheapest and most manual.
Establish a Contract Request Process
You Can Manually Manage Requests, but Expect Hardships
If you are looking for a basic, manual approach to building a system for contract requests, you can get by but it may prove difficult to thrive.
1.) You will have to track various request details using (potentially disparate) spreadsheets, MS Word documents, emails, and paper documents - which can leave you and your requestors with a ton of room for incorrect data entry.
2.) To answer extremely important questions from requestors regarding a specific request, you will have to rely on back-and-forth email communication and phone calls.
3.) You will have to rely on manual version tracking methods and route collaboration requirements to a disorganized cluster of stakeholders during the document creation stage - which can lead to misplaced versions and mistakes.
4.) To keep track of request tasks, key dates, and milestones, you will have to rely upon calendars, flagged emails, notepads, and other manual methods for task awareness that can lead to costly oversights.
Instead, Opt for Automated Contract Request Management
To avoid the costly, wasteful, time-consuming, and error-prone challenges detailed above, your organization should build itself up with automated contract request management tools available with leading contract management software. As opposed to the issues mentioned above, your request process can be transformed for a future-minded legal technology landscape.
1.) The simplified gathering of request details with a user-friendly request intake form can revolutionize request intake with digital transformation. This highly configurable form can be set up with data fields so that your organization can easily gather the information needed from requestors. Requestors can quickly fill out fields, which you can set to be required or optional by your users - leaving you confident that you will no longer have to circle back for important request details.
2.) Based on the abovementioned contract request intake pages you've configured, your contract software users can seamlessly establish a request wizard. A user-friendly request wizard afforded by advanced contract management software can allow your team to configure a dynamic questionnaire to assist requestors in determining which request type they need to submit. Step-by-step, preconfigured questions guide requestors through an engaging path toward a more streamlined requisition process.
3.) Full audit trails with the automated designation of numbered document versions make version tracking and contract request collaboration much easier.
4.) For next-level task awareness, key date awareness, and organization-wide accountability, your contract administration team can leverage automated request task alerts to streamline the contract lifecycle with a healthy request workflow supported by automated notifications. You can set pre-configured, rules-based alerts based upon request type and other thresholds such as dollar amount, department, and more to expedite request reviews and approvals. An ad-hoc reporting tool with cutting-edge contract lifecycle management software helps organizations in tracking contract status, contract amounts, contracts by department, key dates and milestones, and more. Requesting organizations can utilize dashboards for reports and status alerts.
Manage Contract Writing, Contract Negotiations, and Contract Approvals
Manually Managing These 3 CLM Stages Is Possible, but Far From Ideal
In a rare moment of a broken fourth wall, I would like to state that I consider these three stages of contract lifecycle management - contract authoring, contract negotiations, and contract approvals - to be the "meat" of the contract lifecycle - since they are highly collaborative and require accuracy and efficient back-and-forth communication between a number of different stakeholders.
Your organization can maybe "get by" with a process built upon manual methods for this crucial triplet of CLM stages, but consider what you might be lacking.
1.) With a manual contract writing process, you will have to manually enter collected key data and try to correctly decide which clause language to use in a given contract. These methods can leave room for errors in the entry of important information, improper use of clauses, compliance issues, and more.
2.) With a manual contract negotiations process, you will have to keep track of appropriate clauses and sections without clause ownership. Manual version control processes will involve stakeholders working on separate computers systems in different locations and saving files locally - which can easily lead to misplaced document versions and lost changes, edits, and suggestions. Manually-tracked key dates and milestones can be overlooked when you rely upon emails, documents, and spreadsheets.
3.) Signatures and approvals done manually are possible, but can be delayed without a centralized location in which to perform them. Setting parameters to meet compliance standards, contract obligations, contract milestones, and special terms of a contract can be a disorganized process if you and your stakeholders are relying upon phone calls, emails, manual tracking, etc.
Instead, Leverage Leading-Edge Contract Lifecycle Management Software
To evade the time-wasting, revenue-squandering, error-prone, and potentially disastrous effects of the manual methods mentioned above, your organization should equip itself with a contract solution that automates, centralizes, and streamlines contract writing, contract negotiations, and contract approvals. Take control with a unified contract lifecycle with the finest legal technology.
1.) Optimize contract authoring with standardized version tracking that maintains a single and unswerving contract - despite how often it circulates. Your team can easily generate contracts and other records from a preliminary contract document with contract intelligence that allows for intelligent data extraction and data mapping. Your organization can track compliance tasks and document versions, optimize clause management with the ability to merge contract data with pre-approved clause templates, improve item management and line-item management, provide flow down clauses and notifications, and much more.
2.) Contract negotiations with trusted contract lifecycle management software can invigorate your budding CLM process. With clause ownership and eApprovals, you can configure so that clauses cannot be edited or modified and notify assigned clause owners for approvals - strengthening security, control, and accountability. Your team can also enjoy organized and streamlined document collaboration tools and full document version control. Intelligent workflow automation can help your organization stay on top of tasks, key dates, and milestones.
Learn how you an leverage CobbleStone's VISDOM® AI, leading-edge contract intelligence, in the video below:
3.) You can experience incredibly efficient, centralized online collaboration and approvals. A streamlined, user-friendly, and highly configurable signing process with workflow automation enabled makes approval workflow management more efficient, alerting the right people at the right time with notifications and automated alerts. Overseeing in-house collaboration and approvals is simplified with the right tools to track processes. Workflow automation cuts contract approval time by eliminating bottlenecks and promoting that stakeholders involved in the approval process perform the right steps in a timely manner.
Oversee Post-Approval Contract Lifecycle Management
Manual Post-Approval Contract Lifecycle Methods Are Quite Ill-Advised
Post-approval contract lifecycle management is critical in ensuring the life and health of your contract after approvals - to see your contract through to its successful end. Manual processes for electronic signatures, contract obligations, contract compliance, and contract renewal opportunities could be part of the CLM system that you are building, but they are HIGHLY discouraged. Why?
1.) You will have to organize manual wet signatures from multiple stakeholders and consistently check - via emails, calendars, and phone calls - that collaborating parties are signing in a timely manner. This can increase send-to-sign times, delay approvals, contribute to paper waste, lead to lost signatures and signed documents, and other disastrous effects.
2.) Tracking obligations and compliance will require you to rely on emails, calendars, phone calls, post-it notes, and other less than advanced methods for tracking obligations and compliance key dates, task alerts, and milestones. Additionally, a lack of reporting oversight can make it nearly impossible to leverage the helpful perspective that comes with obligations and compliance reporting oversight.
3.) You will need to track contract renewal requirements and assets with manual reminders (such as those mentioned above), localized PC folders and/or paper-based folders, disparate and confusing piles of document versions, unclear task delineation or workflow plans, a lack of contract data insight, and - ultimately - squandered renewal opportunities.
Finish Your CLM Process Strong with Leading-Edge Contract Software
The tail end of your contract lifecycle is far too important to potentially compromise due to inefficient, cost-ineffective, error-prone, and reputation-damaging methods. Finish out your contract lifecycle management process strong with a reliable contract lifecycle software solution. The benefits are clear to see.
1.) With a configurable and user-friendly electronic signature software system, your team can keep the signing process moving, whether key signatories are in-office or working remotely. Your organization can leverage future-minded electronic signature software to keep the signing process running smoothly and cut send-to-sign time by up to twenty percent, thanks to:
rapid signing.
simple, one-off signatures.
rules-based electronic signing.
maximize digital signatures with a process that certifies document integrity.
& more!
Learn about CobbleStone's IntelliSign® eSignatures in the video below.
2.) With automated, web-enabled contract software, your team can always be one step ahead. If a counterparty has a compliance standard, regulation, or obligation that they must quickly meet, CLM software can notify parties with automated key date and task alerts, obligation and compliance status reports, and user-friendly contract management dashboards. With visionary tools that promote accountability, your team can rest virtually assured knowing that contract lifecycle processes can ensue without issue.
3.) Your team can utilize highly configurable, easy-to-use, and low-friction contract lifecycle management software that transforms contract renewals with:
Automated task reminders and calendar alerts f

or effective renewal and obligation management processes.
A secure, web-based repository with version tracking to help teams easily search and access the up-to-date versions of agreements.
Full audit trails to track renewal statuses and changes throughout the life of a contract.
Intelligent contract management workflows to automate contract tasks and facilitate rapid negotiation, speedy reviews and approvals, and faster signing.
Contract analytics

that provide broader insight into the value and risk of specific contract types - uncomplicating renewal decisions.
Electronic signatures for rapid and secure signing.
Seamless integration with accounting systems, CRM systems, and other mission-critical applications.
Build a Visionary Future in Contract Lifecycle Management
Now that you know of all of the far-reaching benefits of building your CLM future with leading contract lifecycle management software, the question remains...why should you risk a decreased bottom line, costly errors, wasted revenue, depleted resources, and unmaximized potential on a contract lifecycle process based on outdated, manual methods?
The answer is clear: you shouldn't. As has been systematically demonstrated, centralized, seamlessly integrated, and AI-based contract management software is more than worth the investment. The ROI can be significant, and stepping into the ever-evolving landscape of contract management in 2021 and beyond with confidence from a trusted CLM software solution is the best way to success.
The solution that your organization needs is CobbleStone Software's leading source-to-contract management software suite - Contract Insight® - a Leader in contract lifecycle management software solutions, according to Forrester Research.
CobbleStone's award-winning, visionary, widely-celebrated, and seamlessly integrated contract lifecycle management software solution streamlines the contract lifecycle with reduced friction, higher governance, and more flexibility from contract requests to contract renewals. CobbleStone has maintained its standing as an acclaimed provider in contract lifecycle management software solutions since the mid-1990s. CobbleStone's user-friendly, robust, and scalable platform integrates with myriad mission-critical applications for centralized, unified, and seamless contract lifecycle management.
Discover why thousands of contract managers trust CobbleStone Software with their contract lifecycle management needs. To learn more about CobbleStone's unparalleled contract lifecycle management software suite, book a free demo with a Contract Insight expert today!
To stay up to date on best practices, industry news, and CobbleStone Software updates, be sure to subscribe to our blog and YouTube Channel.
Are you interested in future-minded contract lifecycle management software tools? In our blog - 6 Critical Contract Management Tools for 2021 – learn how to leverage industry-leading CLM software tools for streamlined, user-friendly, and low-friction contract lifecycle management success!