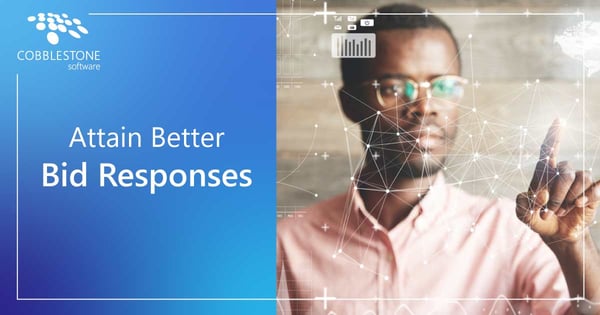 Establishing a bid process with which you can regularly receive optimal bid responses may seem like a daunting task. However, it is quite achievable with the right steps and tools. There are numerous simple ways to leverage scalable, cloud-based source-to-contract management software for streamlined RFP, RFI, and RFQ management, and better bid responses. Here are six ways to get more quality bid responses from vendors.
#1 - Enhance Bid Advertising
The current climate of bid and solicitation management encourages organizations to embrace paperless RFPs. Rather than physically accepting and managing bids, organizations can manage bids and solicitations electronically.
With electronic bid management software integrated with an intelligent online bid advertising platform, organizations are provided with a unified and enhanced bidder and vendor experience. Exposure to a robust vendor community can drive more competitive bid responses to help maximize contract award budgets. Moreover, the seamless integration between bid management software solutions and online bid advertising portals can consolidate the advertisement process and communication between buying organizations and vendors.
Additionally, organizations can choose whether they want to advertise bids publicly or set bids to be accessible by invite only. This strategy can significantly reduce costs that stem from manual and paper-led tasks and can afford buying organizations with more control over their bid advertising process.
#2 - Establish Clear Vendor Criteria
Organizations should not move forward with posting a bid before they have identified their vendor requirements. They should make those needs clear in their bid advertisement because prospective vendors are unlikely to invest their time responding to bids of which they don't understand the scope.
So, organizations should ask themselves: What are my vendor criteria? Is cost the primary factor? What about vendor experience level? How vital are functional capabilities?
Regardless of an organization's criteria, they should document general categories, describe them, and assign a weight (rating and scoring are explained later in this article) to each of those categories. These criteria should be made public to vendors in bid advertisements to set the most transparent expectations as possible.
#3 - Engage in Vendor Q&A
After an organization has authored a solicitation and advertised a bid, they should allow vendors to ask questions. Leading electronic bid management software offers helpful question and answer tools so that buying organizations have a simple and transparent means of communication with their vendor prospects.
Buying organizations can define deadlines for questions and answers and set alerts so that their bid and solicitation management software users receive notifications when a question is asked and/or when due dates for questions and answers are near, improving punctuality and accountability.
Furthermore, there are options regarding how organizations respond to bidding vendors. Buying organizations may choose to answer questions one-by-one on an online portal or provide answers on a spreadsheet. Answers should promptly be made available to participating vendors. This way, potential vendors have an equal opportunity to apply this information to their bid responses.
#4 - Rate and Score Vendors
After establishing the aforementioned vendor criteria, organizations can leverage a tool for vendor response ratings and scorecards, offered by leading-edge eSourcing software. This helpful functionality can be used to quantitatively measure a bidding vendor's response based upon rating criteria and how a vendor compares to other bid respondents.
For even more control, buying organizations can utilize reverse line item auctioning to award multiple vendors for separate components of a bid.
#5 - Set Sensible Vendor Response Deadlines
To get the most from a vendor pool and ensure a fair bid process, organizations should establish bid and solicitation deadlines that give prospective vendors ample time to prepare quality and comprehensive responses. Deadlines may include submitting a notice that shows intent-to-bid, registration for bid events, the submission deadline for questions and answers, bid open date, bid close date, and other bid process deadlines.
Consistent deadlines that allow vendors time to submit fully formed responses can help buying organizations reduce the bias that can occur from overly tight deadlines that may leave some vendors hastily submitting an incomplete proposal or not responding at all.
With due dates that consider fair timelines, buying organizations can enjoy a more extensive and diverse pool of vendors.
#6 - Adhere to Set Rules
As detailed above, there are rules and etiquette to follow when it comes to bid and solicitation management so that it is inclusive for many vendors, and so that it can increase a buying organization's chances of receiving quality bid responses. Criteria for vendor selection, as well as further specifications of vendor criteria as shared through questions and answers, are established before a bid process occurs and, therefore, should be followed.
It is in the best interest of buying organizations to retain credibility and uphold their reputation by adhering to their rules, decreasing the chances of a claim of unfair vendor bias being made, and supporting healthy competition for better vendor responses for future bids.
Overall, if you have an easy-to-understand, fully electronic, and fair bid process that leverages leading bid and solicitation management software that allows vendor prospects to compete fairly, vendors will be more inclined to offer their best prices, present their best offerings, and work fastidiously to earn your business.
Attain Better Bid Responses Today
Now that you know how to win better bid responses by establishing a fair and organized bid and solicitation process, it's time to enlist the help of a robust source-to-contract software platform for better RFx management. That platform is CobbleStone Software's Contract Insight®.
Contract Insight is an award-winning bid management, sourcing, procurement, and contract management solution that transforms eSourcing, RFx management, purchase requisition, eProcurement, contract lifecycle management, government contract management, and much more.
For 25 years, CobbleStone has been highly acclaimed and trusted by public organizations and the private sector as the leading solution in source-to-contract management software.
CobbleStone Software's esteemed contract management suite is conveniently located on the GSA Schedule 70 and has been proven to be a winning solution for government organizations and agencies at the local, city, state, federal, and other levels. Learn more about how Contract Insight can help your organization get better responses - request a free demo today!