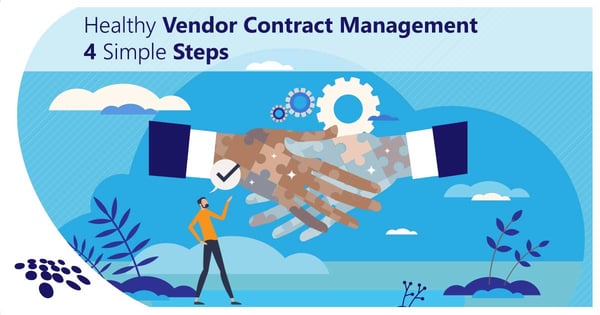 We would venture to say that all businesses from various industries in the public and private sectors need vendors. Vendor relationships help power business processes. Vendors can provide supplies, services, maintenance, and raw materials for generating products. As such, it is important that organizations maintain business relationships with third-party vendors.
Unfortunately – as is the case with most things – there is a right and a wrong way to go about vendor management.
Contract and procurement teams need to sidestep spend leakage, detrimental terms, and soured vendor relationships. On the other hand, proper vendor contract management can set the stage for positive growth and opportunity realization. Here's how.
Vendor Contract Management
Vendor contract management involves overseeing vendor agreements that outline the mutual expectations of a vendor relationship. Vendor contract parties:
outline priorities.
consider costs and commitments.
explore the logistics of mutual obligations.
and ideally set the stage for a fruitful vendor/client relationship.
Healthy Vendor Contract Management Put in Practice
Let's explore how to foster healthy vendor relationships and manage vendor contracts correctly.
1 – Clearly Outline Vendor Agreement Priorities & Expectations
Finding a Vendor
Mutual clarity and understanding regarding a vendor relationship is critical in maintaining healthy business operations.
Even before a vendor agreement is considered – a bid process must be detailed, streamlined, and designed to find the perfect vendor. For example, organizations can leverage integrated vendor and contract management software to source vendors online with automated emails.
Registered bidding organizations should be quickly notified based upon assigned products, services, or commodity codes. A web-enabled portal for vendor and supplier participation makes finding the right vendor even easier.
Depending on a team's needs, they should decide whether to make a bid opportunity private or public-facing. This choice will depend on what the organization feels will be the best course of action given the prospective vendor relationship.
Found a Vendor! Now What?
Once an organization has found a vendor, there must be a healthy dialogue about the expectations of a vendor contract.
Regarding expectations, a vendor contract should serve to answer – to start – the following questions:
Will the vendor provide a product or service at a fixed price?
Does the vendor demand fees for additional work associated with the goods or services agreed on?
Will the relationship be based on a contract, or a subcontract for a broader project?
Should delivery timelines be specific? General? A range?
Do I need a distribution agreement to sell products the vendor was involved in sourcing?
Does the vendor need any input from me regarding specifications of the product or service as it is delivered?
Creation of a Vendor Contract
HOT TIP: Create vendor contracts with ease with contract templates. Using templates within a contract repository can easily merge contract metadata with tidy sections and clauses.
A vendor contract should specify:
Client Name
Vendor Name
Vendor Contract Terms and Conditions
Details of Good or Service
Timelines
Price
Logistics
Payment Terms
Circling back to the hot tip above – merged metadata and clause fields make this easy! Things are especially easy with the use of contract AI that has learned from thousands of important contracts and clauses.
2 – Consider Costs & Commitments
Companies should consider the cost of a vendor contract. Vendor and contract lifecycle management software can help supplement cost analysis with:
advanced reports to analyze the performance of past and present vendor contracts regarding long- and short-term cost savings.
filterable breakdowns of financials, line-items, and budget information.
OFAC compliance screening to ensure vendors are low-risk according to the US Treasury department.
actionable insights through a vendor contract database – not just a filing cabinet with no visibility.
Additionally, market research should be performed to help ensure a company is saving costs if they continue with a vendor contract.
BUT DON'T GET GREEDY!
Building healthy vendor relationships is not possible with hardline negotiations that strictly prioritize the client engaging with a vendor. Instead, a client should try to create a contract that is mutually beneficial to both parties. Negotiating terms that make both a client and a vendor happy supplements a long and fruitful business relationship.
3 – Explore Logistics of Mutual Obligations
Legal provisions and tangible applications of a vendor contract must be clear. Both parties need to know what needs to be done in vendor contract management. Some logistics to explore are:
specifications of the product, good, or service being provided to the client by the vendor.
when the product, good, or service will be delivered.
how the product, good, or service will be delivered.
pricing for the product, good or service.
whether a product or good needs to be returned.
the condition in which the product or good needs to be returned.
vendor access for product, good, or service delivery, maintenance, or retrieval.
Specified logistics within a contract for both vendors and clients greatly diminishes the chances of confusion or failure to meet obligations.
4 – Set the Stage to Maintain a Strong Vendor Relationship
Building lasting relationships with high-quality vendors will foster broad success. This strategy is preferable to enlisting vendors one-off and then throwing a relationship in the trash once terms are fulfilled.
Building a base of trusted vendors can lead to better contract terms in the future – and almost exponential opportunity.
Integrated vendor and contract lifecycle software can help with tracking contracts to choose vendors that meet performance metrics.
Vendor contract management software can allow teams to auto-renew contracts after a certain timeframe. Additionally, automated reminders and calendar alerts for renewal opportunities can foster renewal oversight. Rapid electronic signature processes can automate the signing of vendor agreements set for renewal.
Get Started With Healthy Vendor Relationships
The features and strategies above are a scratch at the surface of what you can do to build healthy vendor relationships. Furthermore, the tools mentioned above and more are available with CobbleStone Contract Insight®. CobbleStone's one-stop contract, vendor management, and procurement solution can help you supercharge your vendor relationships with award-winning tools.
But don't take our word for it. Check out these case studies.
Book a free demo with a CobbleStone expert to see how to easily oversee contract and vendor management. Ready to try CobbleStone out for yourself? Enjoy a free trial of CobbleStone Software today.
*Legal Disclaimer: This article is not legal advice. The content of this article is for educational purposes only. The information on this website may not present the most up-to-date legal information. Readers should contact their attorneys for legal advice regarding any particular legal matter.