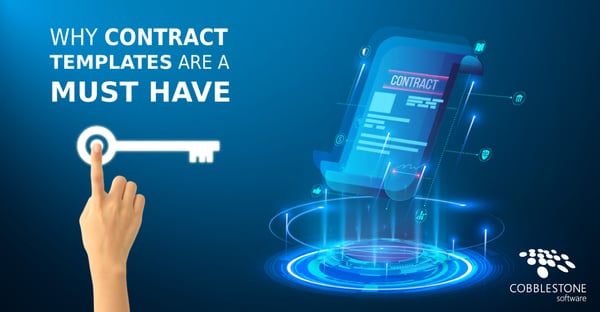 From services contracts to consulting agreements to employment contracts – contracts are an essential part of business relationships across industries. However, writing even simple contracts from scratch can seem daunting.
Without a starting point, drafting contracts can prove time-consuming and challenging. Your contract team can suffer from critical inaccuracies and missed opportunities.
Thankfully, your organization can leverage easy-to-customize and mergeable contract templates to save valuable time and maximize accuracy.
What Is a Contract Template?
A contract template is a standard document that can be filled with contract information and metadata. Contract templates are used to save time and improve accuracy. They are especially helpful for quickly preparing oft-used contract types without the need for a tedious and repetitive process.
When Are Contract Templates Used?
Templates for contracts can be very useful if your organization implements the same contract types time and time again.
Here are some practical examples.
Construction management teams might need templates for

construction contracts

, subcontracts, and addendums related to architecture and building projects.

An organization that has reason to be vigilant about protecting intellectual property, plans, or proprietary information may desire a template for non-disclosure agreements for

effective contract management

.

A busy freelance photographer with hundreds of clients can make their

legal operations

easier with templates for independent contractor agreements or wedding photography contracts.

Service agreements and statements of work (scope of work) have become popular with government contractors due to their performance-based, direct objectives. Templates for these documentation types make engagement with many clients even easier.

Professional cleaners with many commercial and individual clients can leverage templates for the often-utilized cleaning service agreements.

An internet service provider (ISP) is almost guaranteed to implement terms of service so that web users must abide by the requirements of the service provider.
How To Use Contract Document Templates
Document templates can be used for various legal operations – including the creation of contracts, requests, and purchase orders.
Now, let's get into the nitty-gritty of how you can create templates within contract management software.
#1 – Create Contract Document Template Preferences
Contract management software allows you to author a new document template package with:
a template title

that is appropriate for the type of contract or document.
a

description of the template

for more convenient contract drafting operations (if needed).
a contract software

system area

in which the template shall be used (e.g. Contracts, Requests, Purchase Orders).
the

email address

of whoever on your team shall be notified of changes made to the template for increased accountability.
the ability to make the template

active or inactive

for usage by your contract managers.

authentication and access preferences

for those looking to edit or modify your contract template.
electronic signature software

preferences for how a set of resources signs the contract made from templates.
#2 – Establish Mergeable Contract Metadata Fields
After completing the overview of contract document template preferences above, it is time to set up the meat of your templates: the critical contract metadata fields that will be used to merge templates and data to create a contract!
Advanced contract lifecycle management software provides commonly-used contract metadata fields out of the box so that your team can get started with user-friendly contract template management right away.
Your contract managers can specify which fields are included and which ones are not – depending on your organization's needs. Additionally, your team can create virtually unlimited fields for specific contracts that need extra juice afforded by additional metadata.
Contract template placeholders can be leveraged to specify display names for fields. Default display names are shown on document templates to provide an understanding, in context, of where certain field information will populate after merging.
Some popular examples of mergeable metadata fields that you might leverage for your organization's contract document templates include:
Contract Title

Contract Amount

Entered By

Entry Date

Annual Review Date

Budget Amount
#3 - Configure Mergeable Contract Clause Preferences
Contract template management within contract management software does not end with metadata. You can enjoy a truly powerful contract template experience with the ability to merge your document templates with contract clauses and sections within your pre-approved library!
You can configure clause merging with:
a

contract clause title

appropriate for the contract language you are managing.
a

description of the clause

for more convenient processes (if needed).
a

contract clause system area

in which the clause shall be used (e.g. Contracts, Requests, Purchase Orders).
the ability to make the clause

active or inactive

for usage by your contract managers.

clause formatting

, or whether the merged clause will inherit the formatting of the template or keep its original formatting.

content control

regarding access and changes made to contract clauses and sections.
#4 - Import, Manage & Create Contract Clauses for Template Merge
Better clause and template management can come with contract management software.
With leading CLM software, your team can:
Quickly author contract documents that are timely, compliant, accurate, and uniform that merge configured templates with pre-approved clause language and sections.
Efficiently route clause approval with contract metadata, clause and section order, and contract workflow.

Rules-based clauses and sections can be defined for documents.

Manage access with configurable user permissions for clause version access. Additionally, clause approval routing and audit trails can help ensure only necessary eyes see and change clauses. Rules for standard, fallback, and other clauses and sections can easily be configured per your team's evolving needs.
But how does this work in practice?
First off, your team needs to maximize a user-friendly contract database. You can store virtually unlimited clauses and templates to be merged within this contract database for a variety of needs. You can also establish rules around sensitive data and confidential information within your repository for security purposes.
Your team can use powerful contract intelligence that has learned from up to a million clauses to ensure your contract includes real-world, intelligent language to be merged with contract templates!
Specific, situational templates can prepare your contract managers for a diverse pool of situations. For example, templates can be used for interactions that require FAR, DFAR, and GSA documents and clauses. Line items can easily be inserted into your document templates for streamlined CLIN (contract line-item management).
Contract templates containing sections for payment terms, terms and conditions, confidentiality, and other contract necessities make template functionality much more than simply a "contract sample" to fill in. Instead, contract management software can help your team to automate the creation of contracts with a formula of contract metadata and clauses + contract template = accurate, easy-to-create contract!
Easier Contract Template Management With Contract Management Software
Now you know how to relinquish the need to author contracts from scratch – which increases the risk of inaccuracies, errors, and the inclusion of incorrect or outdated clauses and sections.
Since you now know how to streamline contract processes with templates that easily merge with contract metadata and clauses, it is time to choose the solution that includes all of the template features mentioned above and almost countless others.
That solution is CobbleStone Contract Insight®.
CobbleStone® is an award-winning, trusted, and configurable contract lifecycle management solution that affords contract teams an efficient and accurate contract template process. Additionally, CobbleStone offers almost countless other features for contract lifecycle management from requests to renewal.
CobbleStone has been a visionary contract software leader for over twenty years and counting. Users across industries in the public and private sectors continue to enhance processes and increase actionable insights for exponential process evolution.
CobbleStone – as a provider – boasts a litany of user success stories worldwide. It's no wonder why CobbleStone is named the CLM leader in the SPARK Matrix™ for 2022.
Book a free demo with a CobbleStone expert to see these contract template features and other features that can help your organization manage contracts. Ready to try CobbleStone out for yourself? Enjoy a free trial of CobbleStone Software today.
*Legal Disclaimer: This article is not legal advice. The content of this article is for educational purposes only. The information on this website may not present the most up-to-date legal information. Readers should contact their attorneys for legal advice regarding any particular legal matter.